I'm happy to say that these adorable little Halloween goodies from New Hampshire's L.A. Burdick's Chocolate are definitely treats and not tricks.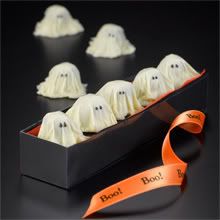 Each ghostly center is made up of the kind of gourmet hazelnut and dark chocolate ganache that makes my eyes roll back into my head, and the white chocolate draping provides a creamy outer layer of awesome.
I love seeing all of these little chocolate ghosts in a row, but you may prefer a coffin of assorted chocolates or some individually wrapped ghosts to hand out as favors to some very (very) lucky party goers. Ideally those who appreciate something a little more gourmet than fun size Butterfingers.
Hurry and get your ghosts now before they, naturally, disappear. –Christina