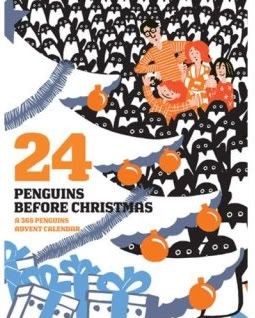 I'm always the one in the drug store on December 5th shopping for an advent calendar–and wondering why the selection stinks. This year, I vowed to start earlier (albeit by just a
few days) and wanted to share three options that I think are way cooler
than anything I'd find in my local CVS.
I love 24 Penguins Before Christmas for its quirky twist on the
traditional Christmas scene. Inspired by author Jean-Luc Fromenthal's original 365 Penguins book, it features the same turquoise-and-orange
landscape which includes little doors which open to one or more adorable
penguins. My kids will love to search for each day's door and guess how
many of the little black-and-white critters they'll find. An
accompanying mini-book tells a rhyme about each day, and I know that
this will be something they look forward to hearing every year.
Since anything I knit is destined for the scrap pile, it would be totally worth it to invest in this
clothesline of tiny elf stockings at Chasing Fireflies. I'd tuck a treat into each of the 24 brightly colored stockings and watch my kids' faces as they reach in to retrieve their daily booty. Even
after the kids have moved on (sob), this will be a great holiday
decoration and a reminder of the days when their feet were elf sized.
For a little more "oooooh", the limited edition advent calendar from
Design Within Reach is like nothing I've ever seen before. At the start
of the month, the round red boxes sit on top of each other to form a
most contemporary Christmas tree. Each day, the kids lift a box to
reveal a treat I've tucked underneath. But, at this price, if I find
them using the boxes as building blocks, I may need to make myself a
stiff eggnog to recover. –Christina
(penguins via
ohdeedoh)