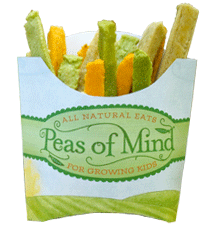 I may smirk like a 9-year-old when I say the name but that hasn't stopped me for devouring Peas of Mind's new Veggie Wedgies, which are all-natural vegetable and fruit wedges cut and baked crispy to look like french fries. Healthy fries! It's like I won the lottery.
Created by the brilliant mind behind Cool Mom Picks' much-loved Puffets,
Jill Litwin keeps her Veggie Wedgies pretty simple with just dehydrated
potatoes, sea salt and baking powder added to the main vegetable or
fruit (plus cinnamon in the apple Wedgies which my daughter loves). There's no fat, low sodium, and they're more nutritious than the ketchup in which they are dunked.
And yes, they do have a real fry texture although they won't trick a fast-food aficionado–best to be upfront with older kids. Or opt for the cauliflower Wedgies which are a safe bet for pickier kids who will never eat a fry in any color other than white.
Because one serving provides more than half of a kid's daily intake of veggies, you don't have to feel the slightest bit of guilt now if your kids refuse to eat anything but the fries at dinner. Not that that eeeeever happens to you. -Christina
Keep an eye out for Peas of Mind's Veggie Wedgies in your local supermarket. If you can't wait, they are available for a premium in four-packs from our affiliate Amazon.