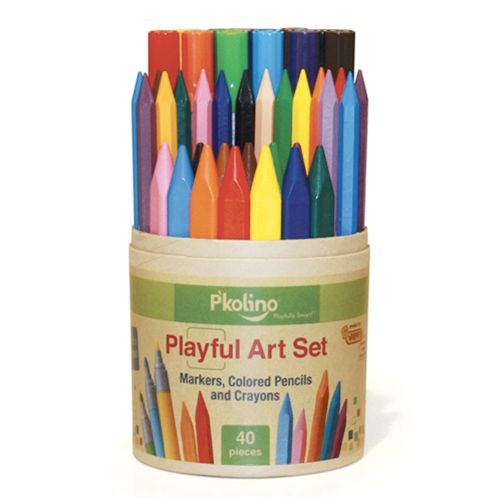 Every December, I take stock of the state of our coloring, drawing and painting supplies and weed out the lost-caps, tiny crayon bits and crusty paints so they can be replaced. It's a great tradition that both keeps us organized, and presents some Christmas gift opportunities.
This year, P'Kolino has introduced enough art supplies to fill the stockings of all three of my kids.
As with their much-loved and CMP-approved Klick Table and Chair Set and Book Buggee, everything from P'Kolino is cleverly designed and looks oh-so-cool, and these are no exception. The tube of five primary-color, no-smell finger paints and the easy-grip triangle crayons are ideal for younger artists who are more "process" than "technique". And, considering how many broken colored pencils I have in a box, I adore the Hexagon Colored Pencils which are 100% color, no wood.
If you really want to start from scratch, or just want to make art supplies a bigger gift under the tree, I love the neatly packaged Playful Art Set that comes with markers, crayons and colored pencils.
The entire line of European-made art supplies comes in neat cardboard containers that should hold them in place when they aren't being used. Or so I'm sure to say about 100 times before my kids finally get it. –Christina

Order P'Kolino's new Art Supplies from their website by December 22 for Christmas delivery (see details for extra charges). And be sure to check out our Holiday Gift Guide Great Gifts Under $12 and Cool Stocking Stuffers Under $10 for even more ideas on how to fill those stockings.

Congratulations to Traci W., lucky winner of the P'Kolino Playful Art Set!