When I had a friend on major bedrest with her second child this past year, it turns out the gift of food (and our company) was the greatest help to her of all. So I simply love the services that are cropping up like Susie's Supper Club, which delivers spectacular home-cooked, family-friendly meals to lucky New Yorkers.
After working as a private chef for a family with three kids for four years, owner Susie Cover figured eh, what's a few hundred more kids each day. I've tried a bunch of her crowd-pleasing dishes and let me say – wow. Even the foodie sigOth was impressed with the likes of turkey meatballs, chicken tikka masala, zucchini fritters, beautiful baby candied carrots, and a seriously awesome side of polenta fries with homemade ketchup. If I could eat her creamy tomato soup every day for the rest of the winter I would.
Plus the menu supports local, sustainable farming with much of it organic, and all of it nutritionally balanced. (Besides maybe those brownies. but ZOMG those brownies!)
A gift certificate certainly makes a special gift for a mom on bedrest or a new mom of a second or third baby who just doesn't have it in her to make much more than a
frozen pizza. (Or check out the new mom gift bag if you've got a NYC friend who really doesn't need another baby blanket). But for parents who work outside the home and just don't have it in them to cook at the end of the day, it's a great luxury to stock the fridge with a few weekdays' worth of nutritious, organic meals and eliminate the guilt.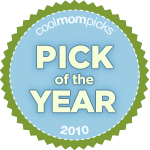 The prices are fairly comparable to ordering in, and certainly more reasonable than having a personal chef preparing organic food for you to order. But if you're not from New York, don't bother looking at the prices. Just continue being grateful that the box of macaroni and cheese where you live doesn't cost $1.89. –Liz
Get phenomenal homemade meal delivery in New York from Susie's Supper Club.
And if you've got a similar service you love in your city? Write to us at info@coolmompicks.com. We'd love to let our readers know about it.