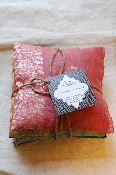 You know that feeling when you pick up an object and can feel that it was made far away, somewhere different and exotic? It seems more real somehow, like it has a story. These shimmering lavender sachets from CMP favorite Raven + Lily have that aura of mystery, and the story behind them is even more magical than expected, making them a superb and inexpensive Mother's Day gift.
Each beautiful sachet is hand-made by a sewing co-op of the Nyati women living in the Himalayan mountains of northern India. The lavender is grown by local farmers, and the exquisite remnant silks come from genuine saris by Indian couture designer Tarun Tahiliani. The Nyati women face extreme weather conditions, spousal abuse, and lack of job opportunities, so the chance to make these sachets is a blessing in their lives. Each sachet is one-of-a-kind, but they're all guaranteed to help the
world while making your drawers smell soothing and sweet
Kinda makes those factory-made satin sachets from the department store seem a bit…bland. And don't even get me started on the pine trees hanging from car windshields. ~Delilah

Purchase 3 hand-made lavender sachets for $20 or browse for other beautiful, fair trade objets d'art at Raven + Lily.
And for more socially responsible Mother's Day gift ideas, don't miss our 2010 Mother's Day Gift Guide, featuring many free trade and eco-friendly gifts for every kind of mom!