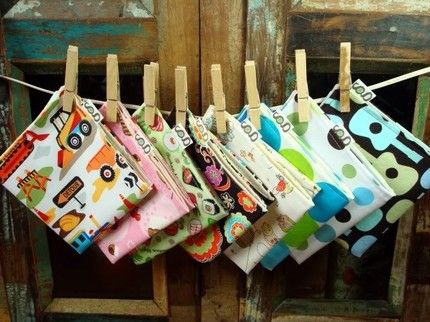 My job as a parent has always been playing defense, which is why I'm the one who slathers the family in SPF 50, sorts the recycling, and saves fifty cents on black beans with a coupon.
My favorite strategy these days is reusing bags, and my favorite reusable bags as of now are these EcoStuffers from Sedilu Green on Etsy.

The reusable snack bags are made with
one layer of adorable 100% cotton and an inside layer of antimicrobial,
waterproof, phthlate-free and BPA-free FDA food-safe nylon. They close
securely with Velcro and are super easy to clean — you can even toss
them in the washer. And I can attest that they hold up to the
unavoidable rough treatment of curious and hungry toddlers.
EcoStuffers
come in three different sizes, and you get a great deal when you order a
set. Estimate that a family of four who replaces plastic food
storage with cloth saves over $250 a year. Wow.
Of course the cuteness factor is a
major plus, too. And
EcoStuffers are especially awesome for snacks in the car, because my
kids actually take care of them. I haven't found a plastic baggie full
of moldy Goldfish in months, and that's pretty much a miracle. ~Delilah
EcoStuffer reusable snack bags are available in the Sedilu Green shop on Etsy.