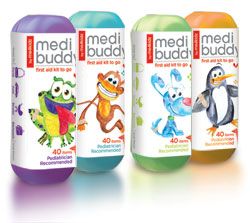 Woe betide the mother who doesn't have a Band-Aid in her purse when the need arises. And the thing is, I've gotten the hint over the years, and sure, there's usually a bandage or two smashed down in the bottom of my bag somewhere.
But do I have antibiotic ointment? Anti-sting treatment? Moist towelettes? Gauze? Ummmm… well, I do now.
[don't miss a great giveaway after the jump!]

Sure, I could probably assemble a purse-sized first aid kit all by myself if I was more on top of things, but I'm not, so I went over to me4kidz and now I have a medi buddy:
a sturdy plastic container (just a little bigger than my sunglasses
case) that holds all the basic first aid essentials we might need in a
pinch.
Everything is latex free, and I get the satisfaction of
supporting a family-owned American company run by people who are way
more organized than I am.
The medi buddies come in 2-packs, so pick up a
pair to add to a shower gift. Or stash one in your car, one in your
purse. Really, wherever you might need a bandage and an animal sticker.
Which, really, is everywhere -Mir
Congratulations to Laura M, lucky winner of a Medibuddy!