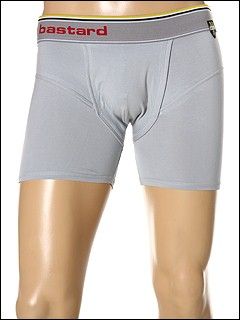 My husband is definitely one to give the spicier Valentine's Day gifts, and you won't see me complaining. Unless he happens to buy the wrong size negligee, in which case I just try to act flattered that he thought I was an extra-small.
This year, I'm thinking about to follow his lead and maybe even up the ante with a little something-something just for his own underthings drawer.

Now, in my humble speculative opinon, boxer briefs look fabulous on any man, so you really can't go wrong with these Andrew Buckler long boxer briefs. What makes them particularly apt though is that the words "aka sexy bastard" are written on the waistband.
They also happen to have a very handy back pocket, which…well, we won't discuss what that's for (wink wink). One part funny, one part sexy–seems like the perfect Valentine's Day gift for him, er, me. Because really, that's who they're for, right? -Kristen
You can purchase these Andrew Butler long boxer briefs at 6pm.com. They're just under $10 mamas. Go for it!