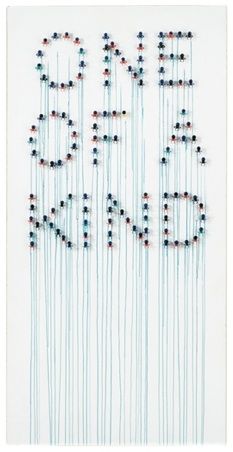 I'm a big fan of all the members-only online shopping sites. I've bought many outfits, handbags and even a vacation through them, but now I can expand my shopping arena to the world of art. Real art. As in, by real artists. And the best part is, it won't break the bank.

Check out Exhibition A, started by one of my fave designers, Cynthia Rowley. She, along with
Bill Powers and Laura Martin, owners of Half Gallery, created this smart service for
bringing art to the masses. Sign up for your free account and start
cruising works by contemporary artists like Julia Chiang, mind behind the One of a Kind
print (shown). Although a lot of the art available on the site is
amazing, this one in particular seems like it would be equally
appropriate in a kid's play space as it would hanging in your living
room.
The print shown is actually inkjet printed on wood, but most
pieces are on stretched canvas and come ready-to-hang. Most of the editions
are limited to 100 prints or less and are numbered and signed
by the artists. With prices starting around $100 and maxing out at $500, I'm thinking it's a good excuse to take down any
framed posters you might be still hanging onto since college.
The one challenge, as with all the flash sale-type sites is that you have to sign up to be able to browse around. If you're an art fan, I say go for it. -Betsy
Sign up for your free membership at ExhibitionA.com and start your fabulous art collection today!