With Teacher Appreciation Week, it's time to celebrate some of our favorite people in the world. Even this homeschooling mama has loads of teachers, coaches and instructors in my kids' lives, making this a week I care a lot about too.
And while Teacher Appreciation Week starts today, don't worry; you have all week to help your kids do one of these great (and mostly free!) projects. Just make sure you turn it in on time.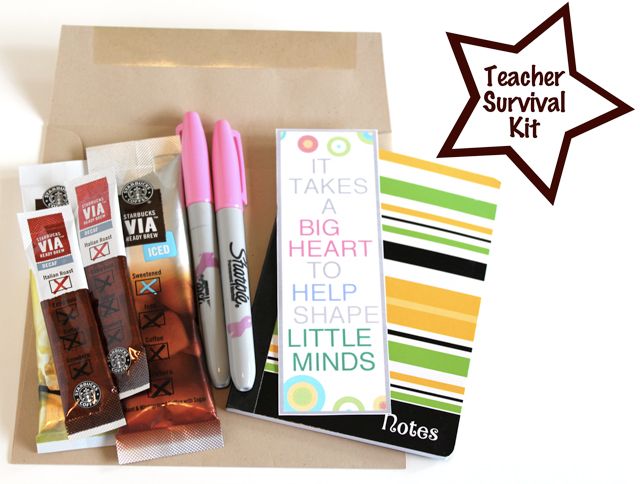 Modern Parents Messy Kids has some great ideas for creating a Teacher Survival Kit with items you'll find at your local Target or office supply store. Pull it all together with their free printable bookmark (top) and label, and you've got something way more useful than another "You're #1" coffee mug. My only suggestion? Add something chocolate.
I like so many of the 20 (!) crafty Teacher Appreciation Gift Ideas that have been running on Skip To My Lou. One of my favorites is the smart Homemade Note Pads by How Does She? I appreciate the step-by-step tutorial for us craft-phobics, and the kids would love decorating the sides of the pads.
Though the gift tags from Chickabug Blog could become anything from cupcake toppers to tags on a gift bag, I love seeing them hanging from the stem of a bright red apple. And if you can sneak into the classroom a little early, hang their tiny pennant banner from the front of the teacher's desk for a little public display of affection.
A hastily-grabbed coffee gift card is one of my go-to gifts, and I just adore how eighteen25 has taken something so ho-hum and made it super-special looking with this Thanks a latte card.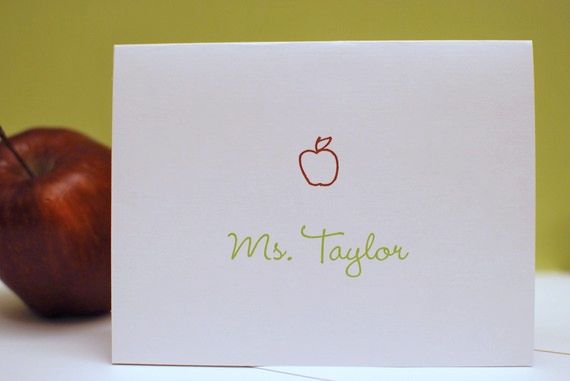 Though none of the above crafts are crazy-complicated, there are weeks I'm lucky if I have time to shower never mind create a homemade teacher gift. So while I'd still have to hit "print" to create these Printable Note Cards from Anna and Blue Paperie, I think I can handle it. ($8 for custom PDF)
For even more ideas, check out last year's Teacher Appreciation post.