We are honored to once again be working with our sponsor, the American Cancer Society, on their More Birthdays campaign since if we could make one really big wish, it'd that cancer never steals someone from us again.
But wishes alone will not cure cancer, so we think one wonderful way to help fight for more birthdays is to find ways to give back with our family's own birthday parties.
Here, five ideas we're really digging.

1. Ask for donations instead of gifts
If your kids are already swimming in toys, let party-goers know that in lieu of gifts, you will be collecting new, or like-new, children's books and DVD's to donate to the local pediatric cancer ward or another favorite charity. Put all of the items in a big box and let the kids decorate it during the party. You'd be amazed at how much kids love doing things for other kids in need.
You can also employ a service like Echoage which can help do it for you.
2. Have a lemonade stand party!
Theme your party around lemonade–or hot cocoa, depending on the weather. Older kids can build and decorate a stand out of cardboard boxes, or use a ready-to-go kit for a quicker set-up. Have fun making signs, decorating cookies to sell, and then staffing your stand, with all money going to your favorite charity. Don't forget to take a break for cake!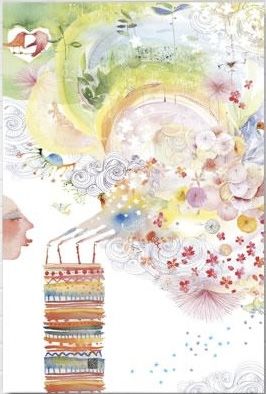 3. Set up a card-making station
Brighten the day of an adult or child undergoing cancer treatment by letting them know someone is thinking of them. Set up a card-making station at the party, with lots of stickers, glitter glue, stamps and markers and let the kids create a masterpiece. Older kids could sew a small craft like a teddy bear to be donated to a pediatric cancer ward.
4. Forgo the goody bags
Let's face it, most kids still love leaving a party with some sort of gift. Instead of raiding the dollar store for more disposable stuff, take the money you'd normally spend on favors and make a donation to an organization of your choice.Then give out helium balloons that say "thank you." Our kids tend to love the balloons even more than the plastic slinkies!

5. Walk or run for cancer
We find that older kids tend to be wildly charitably-minded. If yours is, find a local charitable walk or run that meets on the day of the party. Meet beforehand for a birthday breakfast (and make plans to have cake afterward). Instead of walking or running in the event put the kids in charge of a pit stop station and let them hand out water or orange slices to the runners (talk to race organizers ahead of time for permission). Instead of typical party favors, buy each guest an event tee shirt, and have all the kids sign each other's tee for a wearable momento. (via Birthday Party Ideas 4 Kids)
While we're specifically thinking about cancer, you can of course support any charity that's important to you. But we'd suggest getting your kids involved in the decision-making process so they excited about all the ways to help.
Also, encourage family members and close relatives to still give your kids a
small gift; after all, we aren't trying to take out the celebration from
their own special day! We think every birthday is one worth celebrating.
Thank you to our sponsor American Cancer Society for their continued efforts to bring us all More Birthdays.