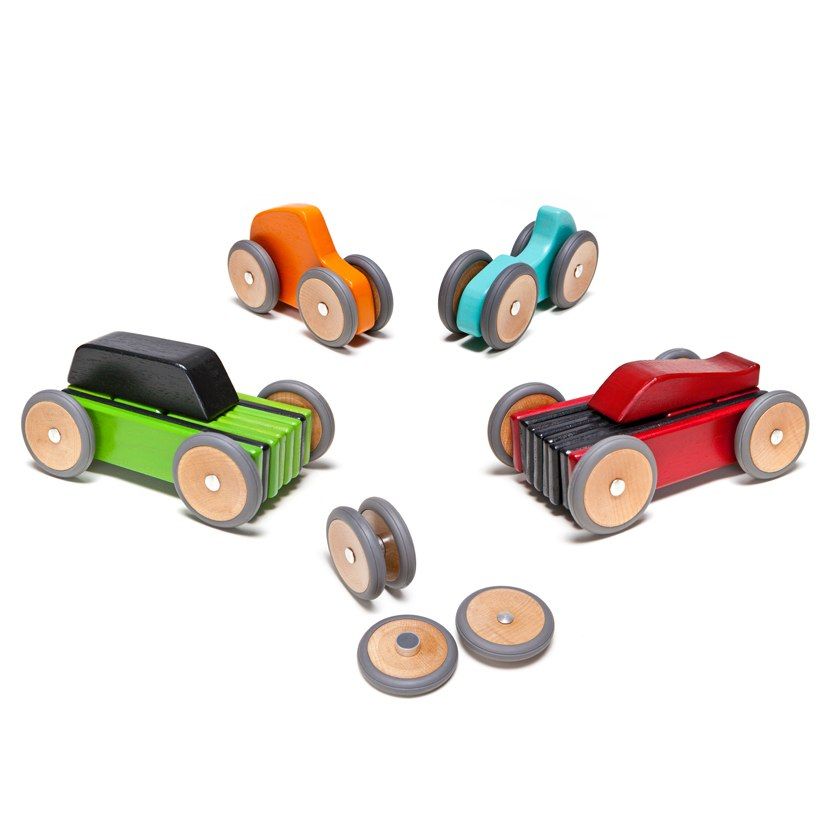 When we find something as smart and cool as the magnetic blocks by Tegu, we keep an eye out for whatever they come up with next, because we know it's going to knock our socks off. This time, they're knocking our blocks off by adding— drumroll– wheels!
[don't miss a chance to win your own set after the jump!]

We, like pretty much every parent out there, fell for the fun, eco-friendly, magnetic blocks the first time we saw them. But now that they've added the new Tegu Mobility line, building takes on a whole new dimension.
You can buy the Hatch or Dart set for a build-it-yourself car that smoothly integrates with all of your other Tegu blocks to make anything that can roll. Or you can grab a Riley Roadster or Maddie Micro for a zippy little car that's great for travel. If you don't want another big investment (Tegu blocks are indeed pricey), you can just buy a set of four magnet wheels and create your own vehicles from your existing Tegu collection.
What I love so much about Tegu Mobility is that it's not just a car. With a little bit of imagination, you can make anything roll merrily along, thanks to the beauty of magnets. And you don't even need tracks or special sets. Just snap on those wheels and go, baby. And if you've got a car-crazy kid with the next big idea, maybe you can
help design the next Tegu car
.
What next, Tegu? Are we finally going to get those jetpacks we were promised?~Delilah
Find the Tegu Mobility line exclusively at the Tegu website. It ships in December, just in time for Christmas.
Congratulations to Jill W! She won a Tegu Mobility Dart set.