My seven-year-old can tell you whose lightsaber is purple (Mace Windu) and what sound a Droideka makes (em! em!), but he's never been able to sit in a movie theater and see one of his beloved Star Wars movies on the big screen. Until now.
The two of us were fortunate enough to be invited to spend an out-of-this world weekend with other media types at Skywalker Ranch and the Presidio in advance of the big release of
Star Wars: Episode I The Phantom Menace 3D.
If you have a young (or old) Jedi who is quaking in their shoes to see it, keep reading for my honest thoughts on the film.
It's very different seeing
The Phantom Menace
with an eager grade-schooler as your date, and not a cynical boyfriend who's there to critique the SFX. You probably remember this one as the first in the trilogy of prequels that take us back to the time before the "Luke Skywalker years."  In
The Phantom Menace
, we meet young Anakin Skywalker as a self-assured little slave, long before he becomes a Jedi and then goes all dark and Darth Vader-y.
My son likes this story in particular because Anakin is a little kid who races pods, and there isn't a lot of icky falling-in-love stuff. Plus the fight scenes, while intense, are not too tough for most younger kids to handle. Though keep in mind that, as with all movies on the big screen, things are, well, big. If your kids have never seen an action movie in a theater be forewarned that it can be overwhelming, even for those who know the movie well enough to quote lines.
When I first heard that
The Phantom Menace
was coming out in 3D, I admit I may have rolled my eyes a bit:
Another 3D release?
But where a lot of filmmakers seem to add 3D as a here-comes-stuff-flying-at-my-head afterthought that has nothing to do with the story
(cough, Gnomeo and Juliet)
, here the 3D
actually works to bring gorgeous depth to the scenes. Possibly because every frame was converted from 2D one by one.
Whether flying over the city of Coruscant or swimming to the underwater city of the Gungan, it's as if the screen extends back in space, rather than zooming up to slap you in the face. Which is fortunate as I have a kid who isn't the bravest when action scenes turn into "duck and cover" moments in 3D.
That doesn't mean the movie isn't intense. I was literally on the edge of my seat during the pod racing scene even though I obviously know how the race ends. And this guy is scary, even in 2D: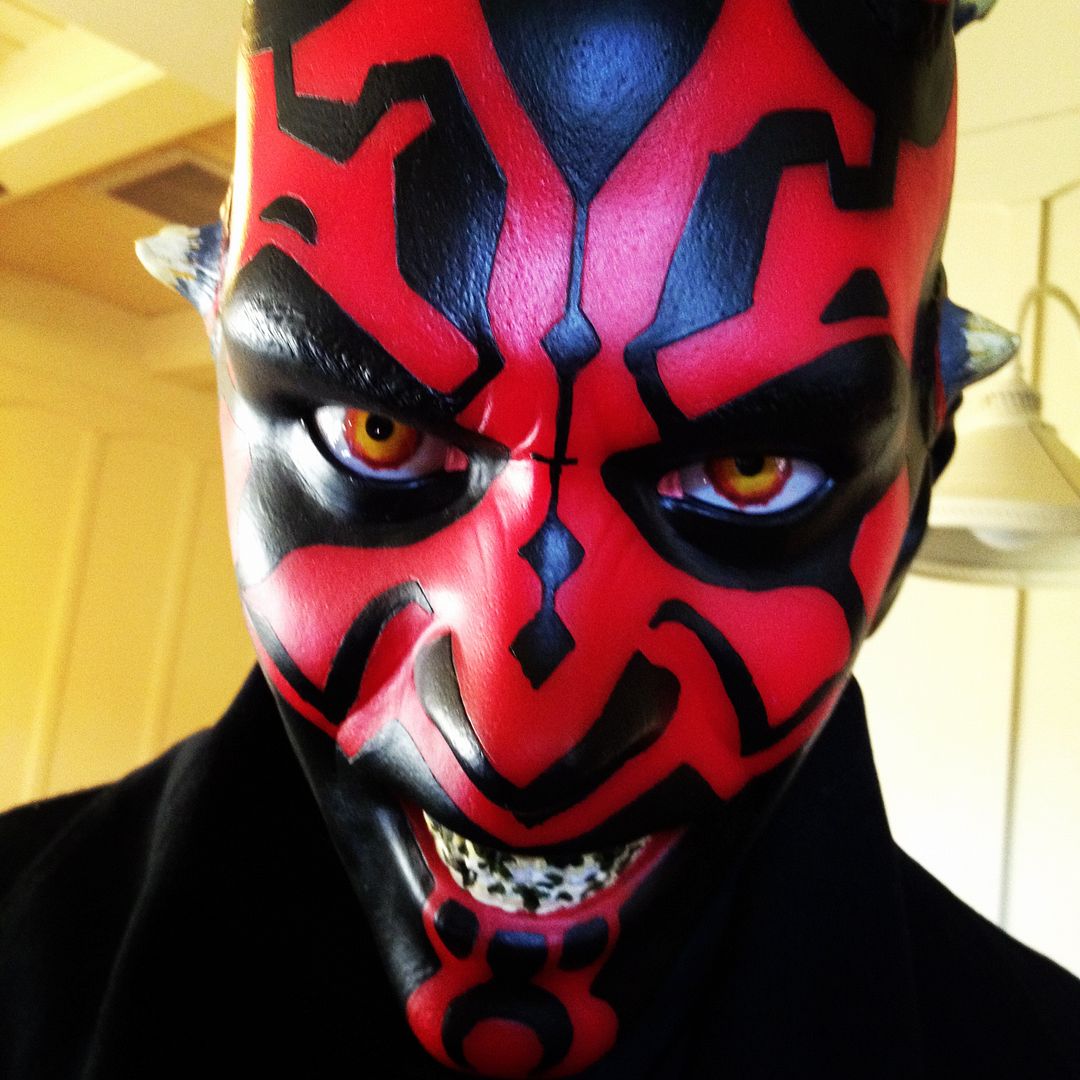 And, yes, Star Wars purists, this is the film that introduces us to Jar Jar Binks, for better or for worse. I'll admit that after our weekend touring Skywalker Ranch, I was so under the George Lucas spell, I would've gladly worn a Jar Jar Binks is My Homeboy tee-shirt. For kids, however he is the perfect goofball, so swallow your critique if he becomes your child's favorite.
The movie isn't perfect, as any Star Wars aficionado is quick to point out, but there is something special about sitting next to your offspring and sharing
Star Wars
on the big screen together. Even in those goofy glasses. 
–Christina
———————
Since I had such a unique chance to visit Skywalker Ranch and tour the Letterman Digital Arts Center in the Presidio, I wanted to share some of my favorite moments from the weekend with you Star Wars devotees:
-R2D2 really is as cute in person as you think. The children followed him around like the Pied Piper, though all of us who grew up with him were just as smitten.
-Skywalker Ranch is h-u-g-e and mostly just undeveloped land, with its own lake and herds of cattle grazing on the hills. In other words, it's really a ranch. It even has its own fire department to serve this property and help out their surrounding neighbors when needed.
-Those lightsaber toys your kids have? Yeah, they can whack the heck out of them. They are pretty tough, even when fighting a Jedi master like ObiShawn.
-Matthew Wood of Skywalker Sound got his start as a video game tester which my son reminds me of now daily. My son also remembers Matthew as the cool guy in front of the largest sound board we'd ever seen who helped turn my son's voice into a robot. Oh, and he plays Bib Fortuna in the series
-And speaking of games, if our sneak peek of Star Wars Kinect is any indication, it's going to be a big deal when it's released later this year: Very active, very fun and tons to do. And, yup, there is a 3D feature. Expect to read more about it on Cool Mom Tech.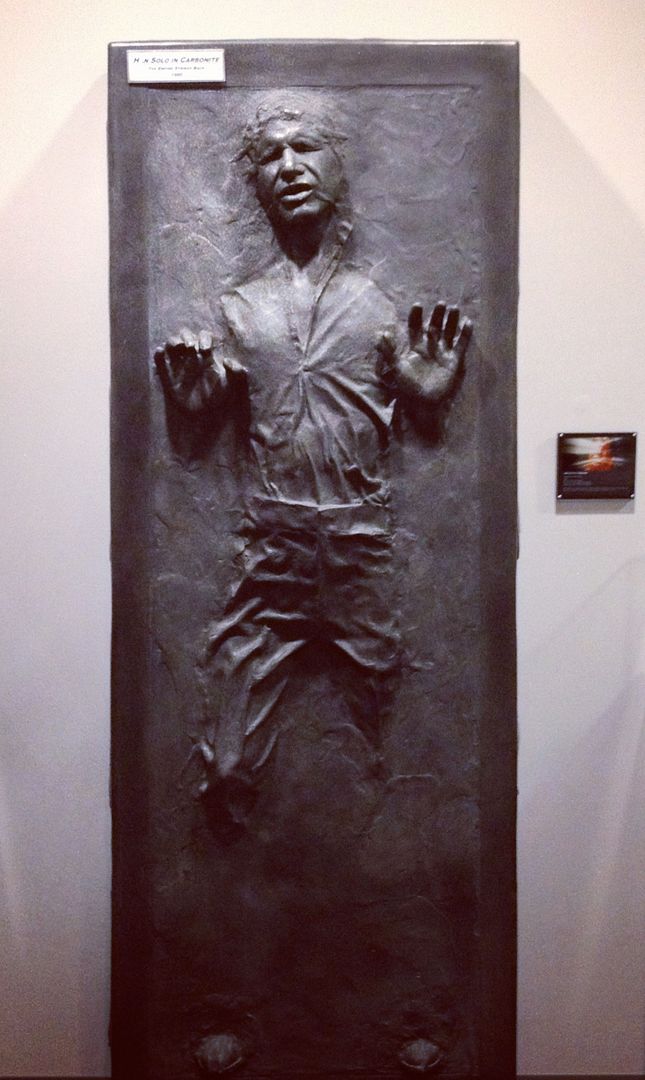 -Oh, poor Jar Jar Binks. A fan made George Lucas a huge, "life sized"
model of Jar Jar Binks in carbonite, probably as a sign of how he feels
about the character. However it's displayed proudly, right next to this
well-known movie artifact.
-And, in case you are wondering, yes George Lucas is planning to turn all the Star Wars movies into 3D. It's a frame-by-frame, painstakingly detailed conversion, but hopefully someday our kids will be able to say they saw the entire series on the big screen.
A million thanks to 20th Century Fox for including Cool Mom Picks on this junket and covering expenses. Also thanks to all our fabulous guides and speakers for an unforgettable weekend.