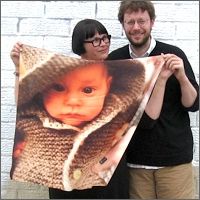 In the search for custom photo Mother's Day gifts, there's a fine line between creepy and cool. (Hint: you do not want to wear your baby as a hat.) But bespoke scarves from one of our favorite hip accessory designers? We think that's cool.
The custom photo scarves from Hayden-Harnett, a Cool Mom Picks favorite, can be a very creative way to celebrate a child or grandchild. The Brooklyn designers will transform a photo (even one right from your smart phone) into a beautiful scarf in either sandwashed silk or sheer silk chiffon.
If you're not the photo-on-a-scarf type, you can upload one of their own eye-popping prints and photographs but I think your own photo can be very cool, if not an actual baby portrait. Get creative and use a favorite vacation photo, or a black and white photo of the baby's little hands intertwined with Grandma's. Just think of the kind of image that would make a wearable accessory and not just a keepsake.
I also love the idea of uploading piece of artwork your kid made. That could be amazing!
The scarves range from 20 x 20 up to 40 x 40 and the whole process takes up to three weeks, so if you're interested, get in touch and see if you can still make a Mother's Day delivery. If not, you can always order a gift certificate so a lucky mama can order her own scarf, just the way she likes it. That might be even better, in fact. –Melissa
The custom scarves from Hayden-Hartnett start at $110. Order yours immediately and get it in three weeks.