Jeff Koons may have popularized the balloon dog as pop art icon, but as a figure in so many of our own childhoods, its no wonder we're starting to see all kinds of artists and brands finding inspiration in them. Here are a few super cute balloon dogs that are finding their way into home decor and modern design.

Balloon dog wall decals?
Magical! These, from CMP fave Wall Candy Arts, look like they're
floating around
the room. The set comes with all five colors that you can reuse and
reposition. And the best part–no long line of other kids in order to
get
your hands on one.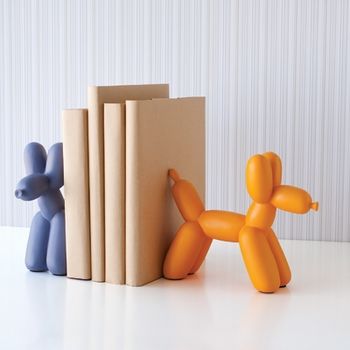 These balloon dog bookends we found at the SF MOMA store recently are so cute, I've been thinking about them all this time.
"Dog pillow" gets new meaning with this duo of balloon dog pillows on cotton canvas. (Not sure you'd want your actual dog to sit on them.) They're so funky, I wouldn't even limit them to a kids' room; they'd look great in a living room that's yearning for a little levity. (h/t dusty burrito)
A nursery gets a poppy burst of color with this pop art balloon dog print from Etsy's Happy Brat. It's a digital illustration, so yo can customize it with your own colors, should you be more in a pink or blue frame of mind than orange and turquoise.
If you're looking for an alternative to a piggy bank, how about a doggy bank in polished silver? It would look great on a shelf or as a bookend. Nice touch: padded feet to protect your furniture. Unlike real dogs.
Finally, if you're getting any of these as gifts, consider adding this sweet balloon dog birthday card from San Francisco stationers Sable & Snow. They're relatively new to Etsy, and considering they specialize in wedding invitations and custom work, I'd imagine the quality is lovely. In other words, it will last longer than an actual balloon dog. As your kids surely know. –Liz