The start of blueberry season has arrived, calling for easy, fabulous blueberry recipes that make delicious use of the little blue dynamo.
Grab several pints–since it's peak season, you'll need some to nosh on naked (the berries, not you) then use the rest to give any week in July some sparkle with one of these easy blueberry recipes.
–Stacie

Cool down from the heat with this Blueberry Peach Sorbet recipe from Tutti Dolci. The
recipe requires only three steps and any old ice cream maker. Don't
have one? Turn it into granita! Instead of chilling the mixture in the
fridge as directed, pour it into a freezer-safe container and freeze
until frozen in parts. Use a fork to mash the frozen parts, cover, and
freeze again until firm. Scrape granita one last time to form icy flakes
and serve.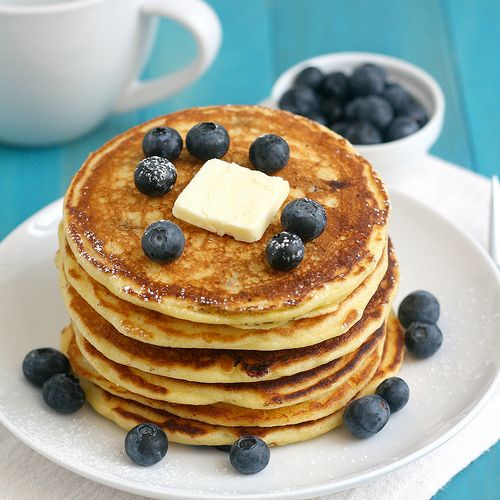 These
Blueberry Cornmeal Pancakes
from
Tracey's Culinary Adventures are also pretty low maintenance, and does
it get any more festive than pancakes?! I plan to follow Tracey's lead
and make a double batch to stock my freezer for next week.
Want an easy blueberry recipe? Like something so easy that it comes together in the blink of an eye? How about this
Blueberry Maple Syrup
by
Stephanie of Eat Life Whole? All you have to do is simmer blueberries
and maple syrup for about 3 minutes. Simple! Then just pour over waffles
or a scoop of vanilla ice cream. Maybe both at the same time?
A festive breakfast for summer houseguests shouldn't mean elaborate. I love this healthy
and delicious
Lemon Blueberry Baked Oatmeal
from Nicole at Prevention RD. Mix a bunch of ingredients, pour into a pan
and bake–perfect. The recipe calls for Meyer lemons, but any fresh
lemons will do.
Of course fresh, ripe blueberries also make for the perfect smoothie ingredient. That's why I love this
One-Minute
Blueberry Citrus Shake
that we recently featured in our roundup of must try
fruit smoothie recipes.
I also can't talk about blueberries without mentioning one of my favorite children's books, Blueberries for Sal. I recently wrote a post about kids' books about food
and suggested recipes to help bring them to life including a gorgeous
Blueberry and Corn Salad to help bring McCloskey's story to life.
You can also check out fun ways to use blueberries in our easy Fourth of July recipes (they make the blue in red, white and blue!) and
Happy July! Or as I like to think of it, Blueberry Season.