It's about to start–talk of back-to-school, sweaters, and other signs of fall–but, make no mistake: summer's going strong. The heat is still on and we've got seven refreshing gazpacho recipes to cool you down.
It used to be that you could only find tomato based versions of the classic chilled Spanish soup, but now you'll find it made with everything from strawberries to almonds, watermelon to vodka. (Yes, vodka.) So break out your blender and check out these gazpacho recipes. There's something for everyone. And no, it's not salsa. -Stacie
The Yellow Tomato Gazpacho from Joylicious (top) comes together in one step. One! If you've got more in you, try making her cilantro oil and cutting an avocado, too. They are the perfect topping for her soup. So worth it, and pretty, too.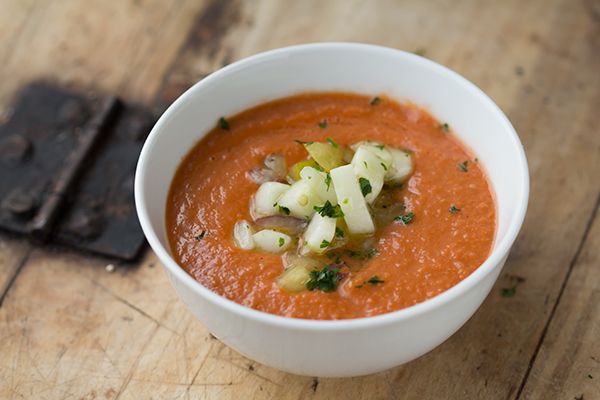 If you're willing to cook, but don't want to stand at the stove sautéing ingredients, this Roasted Tomato Gazpacho from The Tomato Tart is your recipe. Turn on the oven, slow roast tomatoes and then, once they've cooled, whiz them with a handful of other ingredients to make this smoky riff on the chilled soup.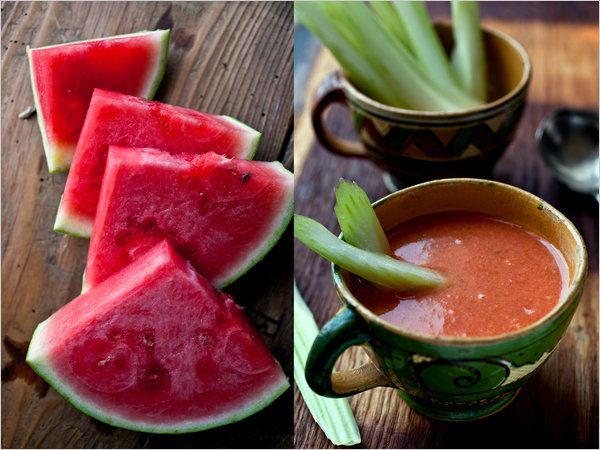 Watermelon Gazpacho may be a little unconventional, but this one, printed in the NY Times and adapted from Anya von Bremzen's book The New Spanish Table, plays with traditional gazpacho flavors. The result is a surprisingly satisfying sweet and tangy soup. (Photo: Andrew Scrivani)
Speaking of fruit, Emily at Five and Spice made this delicious Strawberry Gazpacho. Sure, she had to turn on the stove to sauté a few ingredients, but that's as hard as this recipe gets. And how much will the kids love eating strawberry soup?!
For a break from the red, look at this gorgeous White Gazpacho from Green Kitchen Stories. Made with grapes, cucumbers and almonds, this soup is rich and bright at the same time. Seem too fancy for you to make? No chance. This soup is raw–as in no cooking required.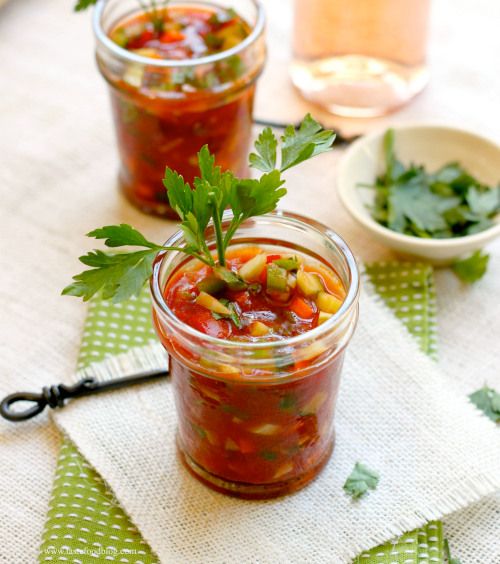 Feeling spicy in more ways than one? Give this Bloody Mary Gazpacho from TasteFood a try. You can serve it for dinner, sans booze, of course. Or put the kids to bed and add vodka to make shooters. Great for a grown up BBQ as we drink in the last month of summer and enjoy those awesome seasonal tomatoes.