It took a while for me to get the appeal of no-carve pumpkin ideas. However every year, we grab some pumpkins in anticipation of carving them into fabulously silly or scary faces–then reality hits, and I remember that carving pumpkins involves my children wielding sharp, pointy things. And a guarantee that we will all be covered in pumpkin gunk in about ten minutes. And studded with sticky, slimy seeds.
Now I get it.
A lot of the no-carve pumpkin ideas that I've seen on the web are uh…advanced, to say the least. So here, I've rounded up a bunch of fun, kid-friendly, easy ways your little artists can decorate their pumpkins, minus much of the the hassle, the mess—and sharp, pointy things. –Christina
No, it won't make preserve your pumpkin for all of eternity, but this easy tutorial from A Little Bit of This & That helps you make a funny DIY mummy pumpkin with just googly eyes and cheesecloth.
Real Simple is so clever with these Washi tape pumpkins that add color and pattern to standard pumpkins. I like how kids could do this on their own, choosing to make straight plaid patterns as shown, or even zig-zags, words, or other crazy designs.
Another great idea using tape: these chevron pumpkins seen at My Sweet Savannah. All you need is tape to block off the zig-zag pattern, spray paint, and some time to let it dry. So very 2012, right?
If you have as many leaves in your yard as we do, send the kids outside to collect a few of their favorites to decoupage to their pumpkin. The finished result is so pretty and elegant, these would look nice enough to put on the Thanksgiving table in another month. And they're easy!
What a clever use of chalkboard paint: a quick coating is perfect for kids who can't make up their minds about their pumpkin decor. Make a face or write words on chalkboard pumpkins for Halloween as in this tutorial from My House Talks, then erase and scribble something else on the pumpkin tomorrow.
If you've got lots of little pumpkins instead of one big one, just glue (or double-stick tape) a pretty ribbon around each, as in this no-carve pumpkin idea from Good Housekeeping.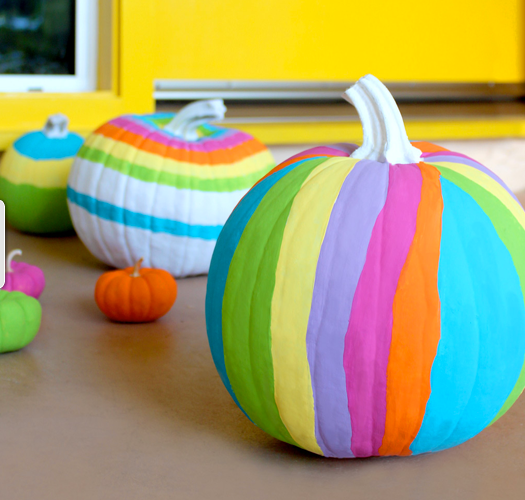 Paint isn't always a "no mess" option, but if you have older kids with a steady hand, I love how 
bright neon rainbow stripes
 really make these painted pumpkins pop. An idea for the little ones: Paint the entire pumpkin one solid color, let dry, and let them paint a design in a contrasting color.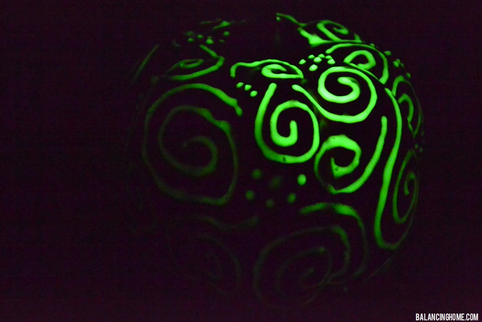 Puffy paint tubes, as in this
glow-in-the-dark pumpkin tutorial
from Balancing Home make whatever design your kids create really pop, though we really love what happens when the glow-in-the-dark versions are used.
The easiest idea of all: hand the kids a Sharpie and the roundest orange canvas you can find and let them go nuts. My tween would especially love to take on this DIY graffiti pumpkin, seen at The Swell Life. Just keep an eye on the whereabouts of that Sharpie if you're handing it to little kids.