Hanukkah is around the corner. That means it's time to get our best latkes recipe on! The humble potato pancake is a traditional Hanukkah food loved by Jews and non-Jews alike, and with good reason. Who can resist crispy fried cakes of shredded potato and onion served with sour cream or applesauce? Certainly not me.But what if we veered off the traditional path? What if we maintain the basic principles of latke-making, but ditch the classic recipe, which calls for little more than potato, onion and egg? Then…magic, is what.
Here are 7 amazing latkes recipes to prove it, made with glorious ingredients from beets to pears. I dare you to tell me you're not ready to experiment.
First of all, there's nothing wrong with making a classic potato latkes recipe and this is one of my favorite recipes. But let's go a step further. If you ask me, celery root is woefully underrated. The aromatic root adds a bright flavor that pairs beautifully with earthy mushrooms in these Celery Root and Mushroom Latkes (above) from Bon Appetit. The recipe also comes with directions for making onion applesauce. Though I'm sure the extra work is worth it, these will still be delicious served with plain applesauce or sour cream. Trust me.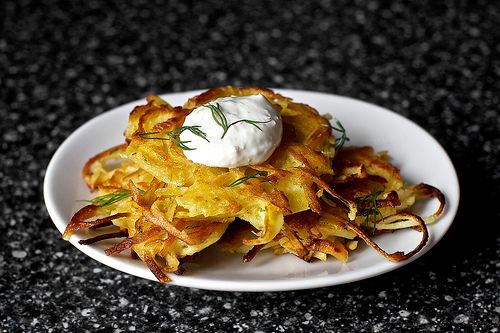 Like celery root, I also think that parsnips also need more love. Lucky for us, latkes give parsnips the perfect opportunity to shine. They contain less water than potatoes and fry up beautifully for it. They also have a weet flavor that when added to latkes allows you to spice up the accompaniment. Deb from Smitten Kitchen pairs her Potato Parsnip Latkes with Horseradish and Dill. Genius.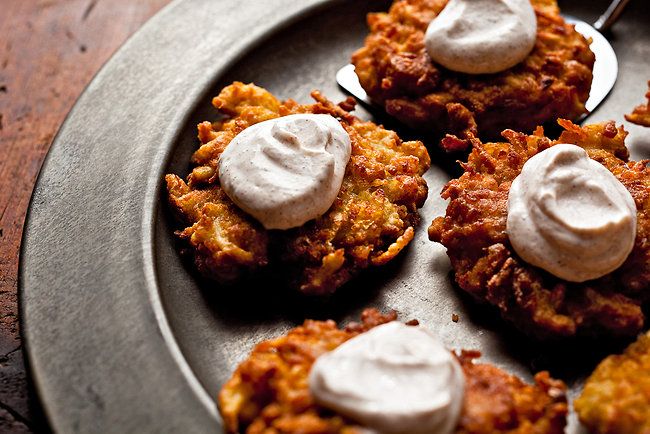 Food writer Melissa Clark is pretty much a gift from the heavens for home cooks. She also claims that her mother is a "latkes innovator." The combination makes her a go-to source for latkes inspiration and she does not disappoint with these Apple-Potato Latkes with Cinnamon Sour Cream, published in the NY Times. I love how fresh this recipe feels while using nothing more than the traditional set of latkes and latkes topping ingredients. A true twist on a classic.
While we're throwing fruit into the mix, take a look at this recipe for Potato-Pear Latkes from Eating Well. Going light on the cooking oil and adding a touch of fresh sage make these a somewhat healthier but still totally delicious option, and kids will love the touch of sweetness.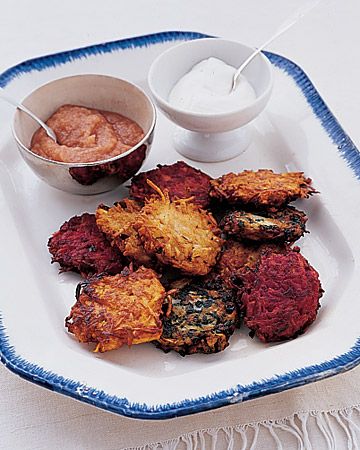 Experimenting with your latkes doesn't have to take you so far off the beaten path. It can be as simple as throwing sweet potato in the mix like with these simple Sweet Potato Latkes (above) from Martha Stewart, or a colorful combo like Carrot and Beet Latkes from Eggs on Sunday.
So what do you say: is this the year we we take latkes beyond the potato?  –Stacie