We're dreaming of white…walls, that is. A white wall in a child's room just begs to be noticed. You can go crazy expensive and find a muralist (we can dream!), or make a statement in a much less pricey way, like with these cool, quirky, totally new designs from a mom-run business in France.
I am smitten with this group of
wall decals
featuring little illustrated birds from the new shop,
Bumoon
.
I even clicked on the French version (there are English, Spanish,
French and Italian vinyl applications) and am quite tempted to go that route. In France,
birds don't
tweet
, they
cui
. Love.
Black and white means it's perfect for a baby's room, but they're sophisticated enough to make the transition as your kid gets older. As for prices, they're not as cheap as some wall vinyls, but they're definitely way less expensive than hiring a painter.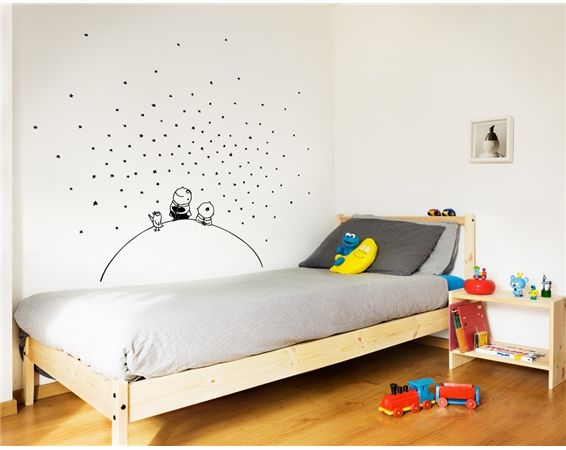 I love the star wall decals featuring a sweet scene of kids looking up at the sky. Living in Los
Angeles where stars are hidden by smog, I appreciate the simple beauty
of the night sky and will settle for having it on my walls if not above
me.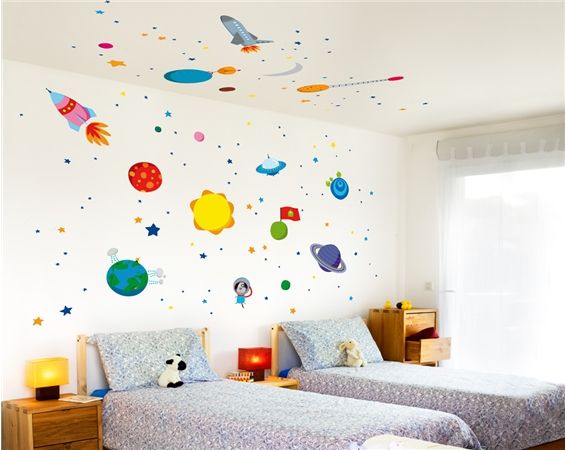 This
spaceship wall decals
takes the cool illustrations into color, and it takes my breath away. Planets, space
shuttles, astronaut dogs? Yes, please. This vinyl is bigger than the
previous ones and this is reflected in the price. Although 100
euros ($130, roughly) hopefully they'll stay on your kid's wall–and ceiling–much longer than some movie cartoon character.
-Eva