Happy Mardi Gras, mamas! Even if your kids won't go near crawfish etouffee, or do anything with those shiny beads except put them in their mouths (don't let them, by the way), you can have a fun Mardi Gras celebration at home tonight by making some colorful masks. Then, crank up some New Orleans-flavored tunes and have your own little parade around the living room.

You can use blabla's Mardi Gras Bird Mask template for a mask with lots of room for creative license. I like that the template prints out all on one page, though you could probably free-hand a template too. Then, just trace out the shapes onto colored construction paper and get decorating!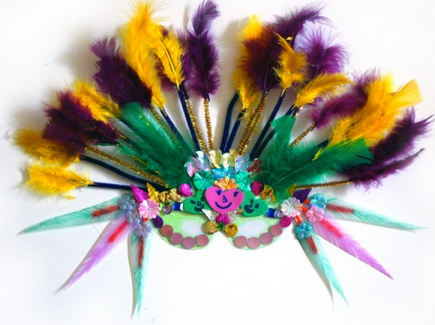 So gorgeous and colorful, it's hard to believe that the masks above were created with some plastic packaging found in the recycling bin, and crafting odds and ends. Check out the DIY mask tutorial at Alpha Mom and then go wild.
If you have a child who'd rather be King of the Carnival, I love how an old soda liter bottle transforms into a festive Kids Mardi Gras crown.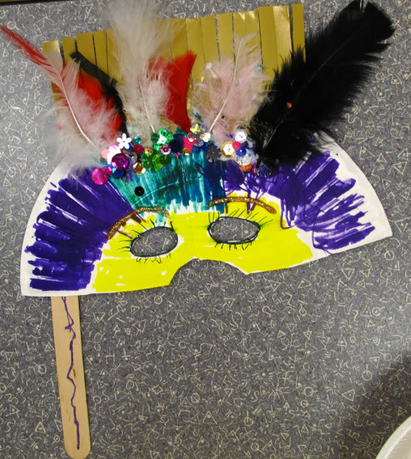 A plain old paper plate gets an easy makeover in this Mardi Gras Mask diy project from  Laugh, Paint, Create! Like the use of a popsicle stick for kids who don't like to have things tied around their faces. Plus, you can then put the mask in front of the dog for a photo op. Just don't forget to hook up the photo booth.
[via Kiwi Crate]
Laissez les bons temps rouler!