Decorating Easter eggs is a tradition in our household, but after doing it the same way for over ten years, we're thinking of changing things up. Instead of dropping white eggs into colored dye, I've rounded up a bunch of non-dye Easter egg decorating ideas that look fun (and pretty easy) to do with the kids.
So grab your hardboiled eggs, your wooden crafting eggs, or even your plastic paint-your-own eggs and get cracking. I mean, crafting.
Grab a few rolls of colorful tape, and that's all you'll need to recreate Washi Tape Easter Eggs from Bliss Bloom Blog. Pretty!
Black Sharpie Easter Eggs are an easy way to convert those white eggs into modern works of art, courtesy of Obviously Sweet (site no longer active). This is clearly an idea that is best left in the hands of older kids with some patience and an artistic eye, but the final results are pretty striking.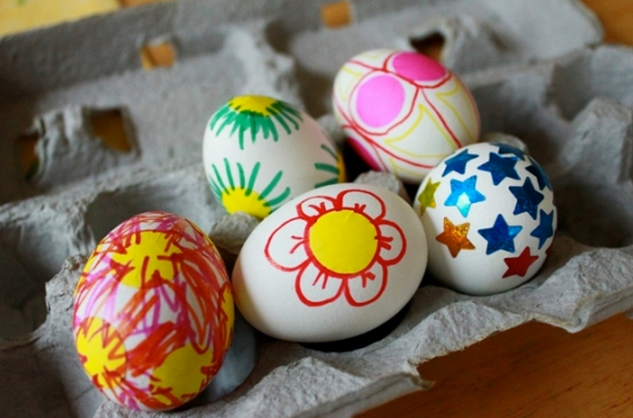 Want more color? Here's a simple Easter egg decorating idea from The Artful Parent: Grab a bunch of colored Sharpies plus a bunch of stickers, and let the kids have at it.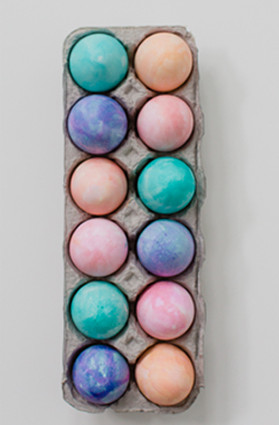 Perfect for kids who love to paint, Modern Parents Messy Kids describes easy watercolor eggs (also pictured at top) give you the look of a dyed egg, but with the fun of painting. Just use food coloring and vinegar instead of paints and water.
Everything is better with googly eyes, which is why I love One Charming Party's overuse of them to create googly eye Easter eggs (site no longer active). A permanent marker can further personalize the eggs. My oldest would love to create little egg portraits of her family to place on each plate.
Ordinary office-supply store neon dots become bright spots of color on plain white eggs in this easy Easter Egg craft idea at BHG.com. Create flowers, as shown, or the first initial for everyone at your Easter table.
Even brown eggs can look Easter ready with some minimalist dots using a water-based paint marker (available at craft stores). Love how white looks against the brown, though knowing kids, they'll want to go multi-colored too.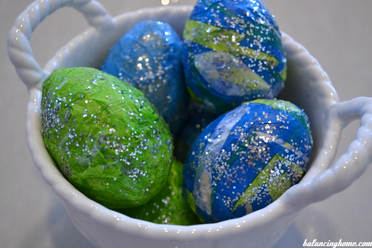 Decoupage may sound like Advanced Crafting, but with some colored tissue paper and a jar of Mod Podge, you can have colored eggs like this Easter Egg craft DIY from Balancing Home–glitter optional. We'd probably do this on wooden, ceramic, or even plastic eggs, since your guests might break a nail trying to crack the shells off. Unless you're the type who blows out your eggs first? That's where I tend to draw the line.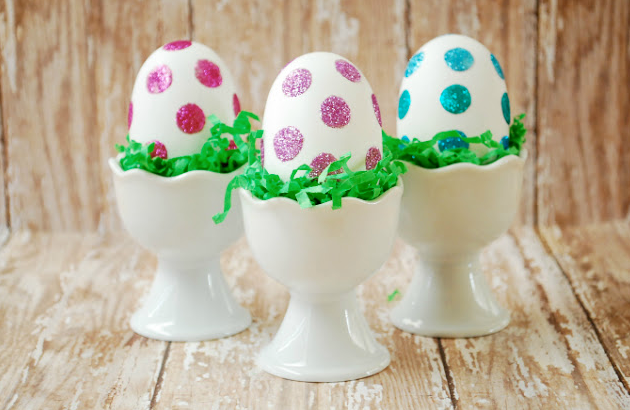 If you aren't afraid of glitter—and have kids old enough to keep it relatively neat—A Pumpkin and a Princess shows how she created pretty Glitter Easter Eggs with glue dots and some loose glitter. Just have the vacuum handy.
Still on the hunt for Easter gifts for kids? Need help planning your Easter party? How about recipes for easy Easter cakes? We've got you covered! Plus: don't miss our Easter Collection for tons of Easter crafts and food ideas.