We've gone cuckoo for coconuts. According to my last count, there are a million and one coconut snacks on the market today. (And, yes, that's official market data, ha.) Turns out, pure coconut is pretty healthy stuff. It is still high in saturated fat, but also in lauric acid which boosts good cholesterol, which gives an overall positive healht impact. I know: blah, blah, blah. The point is that, eaten in moderation, all-natural coconut snacks can be a good choice–certainly better than candy or chips!–for both you and kiddo.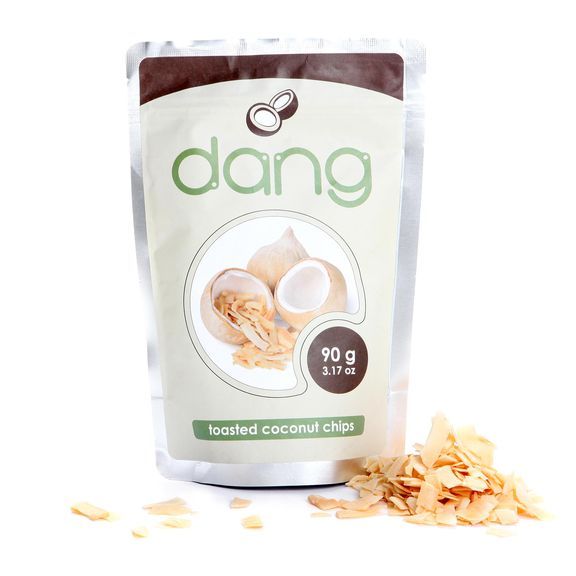 These are four of my favorite coconut snacks that have also gotten the seal of approval from my kids. So, yeah, they are healthy, but also yummy. Have these on hand all summer and into next year's lunchbox season, too. Even if we're talking your lunchbox. –Stacie
Dang Coconut Chips (above)
I haven't been addicted to a snack like this since being hooked on kid-crack pixie sticks when I was 8-years-old. This sweet and slightly salty snack (the combination kills me!) is made from crunchy slivers of toasted coconut. I'm not talking dried out shredded coconut; these hefty slices are about as thick as a potato chip and with just as much crunch. These are a real afternoon snack all on their own. Though I'd be lying if I didn't tell you that they also taste amazing sprinkled on nearly everything from ice cream to salads.
Find out where to buy these coconut chips on the Dang website.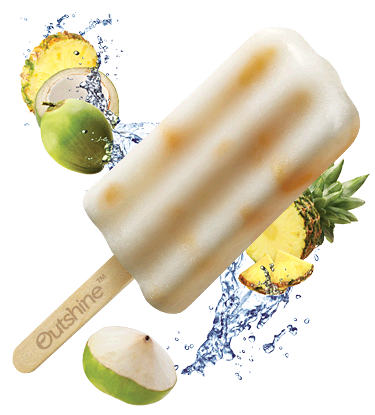 Edy's Outshine Coconut Water Pops
Edy's has come out with the first (but probably not the last) frozen snack made with healthy, hydrating coconut water. Their pops come in two flavors: one with pineapple chunks and one with banana. The coconut pineapple is like a super light, deliciously refreshing pina colada without the booze (good for the kids) and without the heavy cream (good for me). I'm not as into the banana flavor, but my little monkeys agree with each other that they are just as good as the pineapple flavor. So basically, these pops are a win-win.
Find out where to buy Outshine Coconut Waters on the Edy's website.
Blue Monkey Coconut Water with Guava
As much as I love coconut, coconut water has never been my thing. I've been lucky enough to sip it it straight out of a fresh, young coconut which is amazing. But out of a tetra pak box? I know it's popular but here's one I prefer more: Blue Monkey coconut water with guava is sweet and light, the perfect thirst-quenching combination for me. If guava isn't your thing, try one of the many other Blue Monkey coconut water 50/50 blends. They are all all natural and free of added sugar and preservatives (which can often be found in coconut products). And, P.S. Blue Monkey just started making coconut chips, too!
You can buy Blue Monkey Coconut Water with Guava from our Amazon affiliate.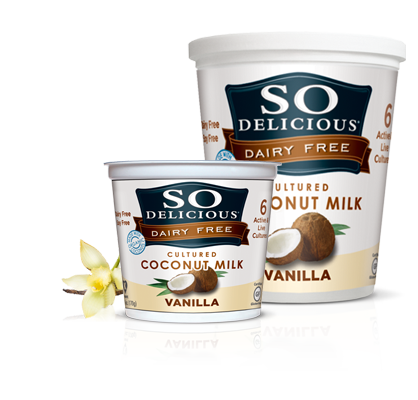 So Delicious Cultured Coconut Milk
Cultured coconut milk is a dairy-free coconut milk yogurt, not to be confused with coconut flavored dairy yogurt. I've got to admit that, as a yogurt fanatic, this stuff took a little getting used to, but I kept trying it because my kids are fans. Once I got that they were loving this stuff because they saw it as it's own snack, not as a dairy-free yogurt substitute, I started to understand their affinity for this yummy stuff. Vanilla is our favorite flavor, and now we're itching to try the So Delicious Greek-Style cultured coconut milk in vanilla, too. Not to mention the So Delicious Minis Coconut Almond frozen dessert bars. Yum!
Find out where to buy their products on the So Delicious site.