Want to get in on the superfood fun, but have no clue what to do with a bag of chia seeds? (Other than turn them into a grassy novelty pet?) I've got five delicious ways to enjoy these wonder seeds, which were once the go-to survival food of Aztec warriors. Almost as cool as astronaut ice cream, right? –Stacie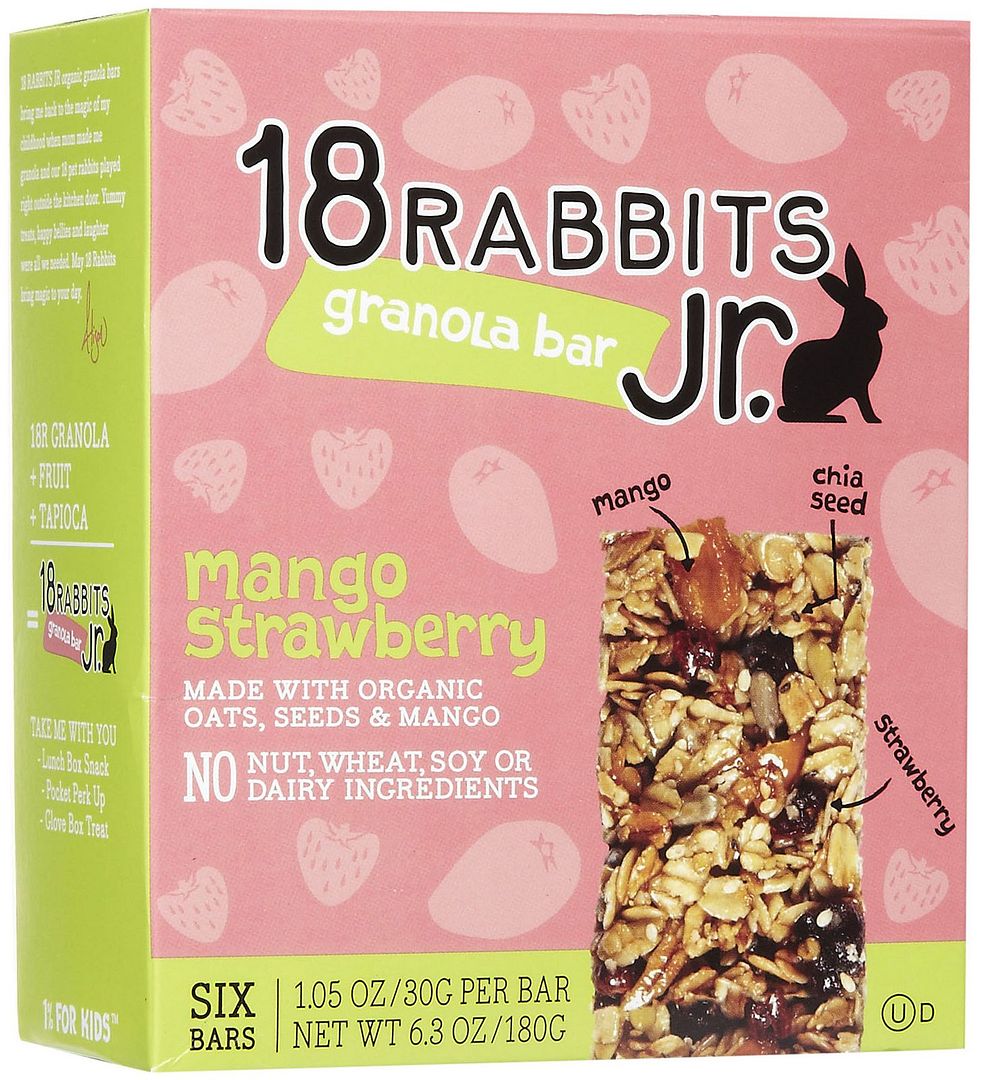 So rumor has it that one tablespoon of chia seeds could sustain your average buff Aztec warrior for 24 hours. Not sure how many chia seeds it takes to sustain a busy mom on the go, but get this: chia is even more rich in omega-3's than flax seeds and is packed with antioxidants.
I'm a huge fan of 18 Rabbits granola and snack bars (above). I love this junior granola bar that's the perfect size for kids. Much better than the monster bars that spoil my kids' appetites before dinner. All 4 flavors of the 18 Rabbits Jr. granola bars–Mango Strawberry, Chocolate Cherry, Cranberry Apricot, and Chocolate Banana–are made with their nut-free, chia-boosted Felicitas Granola, which is also sold separately. (Please note that these products are in fact made in a facility that processes nuts.)
Find out where to buy these granola and granola bars on the 18 Rabbits site.
Mamma Chia claims to be the "original" chia drink. Well, I'm not sure which chia drink was first to market, I do know that Mamma Chia is my favorite, thanks to delicious flavors like blackberry hibiscus, cherry lime, grapefruit ginger and cranberry lemonade. Lovers of thick protein smoothies and shakes are likely candidates to enjoy chia drinks, which have a thicker consistency than juice and a nutty texture.
Find out where to buy these drinks on the Mamma Chia site.
Mamma Chia makes a line of Chia Squeeze snacks as well. They come in four flavors: strawberry banana, green magic, apple cinnamon and blackberry bliss. I have to admit that as a sucker for green juices and smoothies, I'm a fan of the green magic. The kids, not so much. But they are super into apple cinnamon, though, which tastes as good as any squeezie snack I've ever had.
Find out where to buy Chia Squeeze on the Mamma Chia site.
Smooch also makes fruit puree pouches with added acerola (a kind of cherry super high in vitamin C) and chia seeds. These all-natural fruit snacks are being marketed as fruit squeezies for grown-ups, but my kids liked them even more than I did. With combinations like mango, pineapple, banana, chia and acerola and strawberry, blueberry, banana, chia and acerola, it's no surprise.
You can buy the two Smooch flavors listed above through our Amazon affiliate store.
New York Superfoods makes three Chia Moxie peanut butters: classic chia peanut butter, coffee chia peanut butter, and chocolate chia peanut butter. Yum! These peanut butters were developed as a super food for athletes. I'm not sure that anyone in my family qualifies, but we happily reap the benefits and enjoy the good taste of these vegan, soy-free, dairy-free, and hydrogenated oil-free nut butters.
Find out where to buy Chia Moxie peanut butters on the New York Superfoods site.