As soon as school wraps up for the year, my kids want to know when the ice cream truck is going to come jingling down the street. But I know they'd scream even louder for their very own ice cream truck to manage any day of the year.
Famous OTO's cardboard ice cream truck is a little playhouse with special details and a clever design that turns it into a mini food truck. The neighborhood kids will come running to play (even without the bells), but unlike the real thing, this one is even better it only requires imagination to keep it going.
Oh, and it also takes funding — which is coming to a close on this Indiegogo campaign. [edited to add: the campaign has ended but they're available for sale from Famous Oto.] The cool thing is that you can pre-order this cool truck now and have it on your street, or in your living room, before any one else.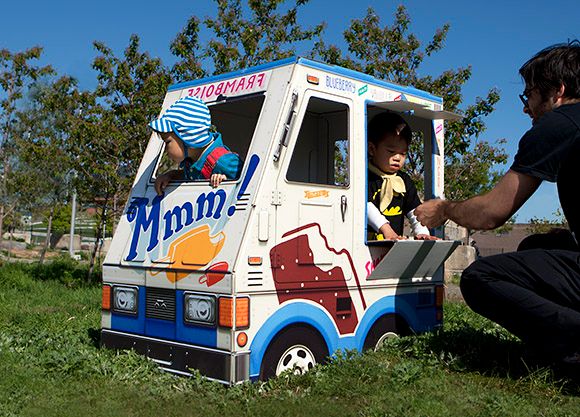 I love that the construction is totally recyclable and biodegradable (although that also means this truck needs to get into a garage before it rains). And it's roomy enough to fit a "driver" and a second employee in case you have two little ones who want to play inside, with neat little features like a fold-down shelf for passing "money" and "treats" back and forth.
Perhaps best of all is Famous OTO's plans to create an entire line of food truck playhouses for kids. Better make space in the garage.
Find the Famous OTO Cardboard Ice Cream Trucks on their website