Sure, we all know what song to sing when the cake comes out, but the day becomes even more special when the music cranking at the party is all about your birthday girl or boy. And, when some of our favorite kindie artists get together to make an entire EP of birthday music? Well, that's definitely something to celebrate.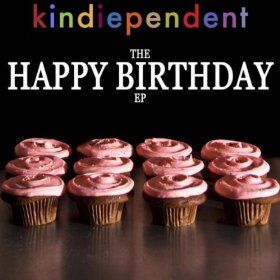 Four of our favorite kids' bands from the Pacific Northwest, Recess Monkey, The Not-Its, The Harmonica Pocket and Johnny Bregar, recently collaborated on a unique (and totally original) collection of birthday songs for kids. The result is Kindiependent's The Happy Birthday EP, with six songs ready to download for the party…or just to make the birthday boy or girl feel extra special throughout the big day.
From the humorous and upbeat Beautiful Mess, a story about what kids will do your house during a party, to the poignant Four Candles, about getting one more candle on the cake, The Happy Birthday EP captures much of what makes birthdays such a big, awesome deal for kids.
I completely adore the rocking Cupcake Revolution and the 50's beat and whoa-oh-ohs of Don't Forget About My Birthday.
If these songs sound just right for a party, it's because the bands were having their own party while making it. I love that this EP was created in only two days of friendly collaboration, recording, and pizza. Hopefully they ended their 48-hour session with a big cake to celebrate. –Christina
Download a copy of Kindiependent's The Happy Birthday EP from our affiliate Amazon.