Lately my kids and I have been snuggling up on the couch in front of the fireplace and browsing through a stunning new coffee table book featuring exquisite hand-drawn maps of countries around the world. It's delightfully wonderful. I really, really love it.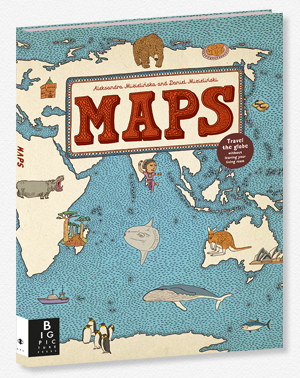 Maps, by Polish artists Aleksandra Mizielińska and Daniel Mizieliński, is a lavish collection of 52 maps of countries from every continent around the globe. But you're not just getting topography and political markers with this book. The pages are filled with winsome illustrations of cultural icons from that region.
Germany's map, for example, shows a girl with braids serving drinks at Oktoberfest, a Mercedes Benz car, Snow White, and about 100 other illustrated details, including facts about the country, like its flag, its name in its own language, land size, and so on.
The art is both really fun and sneakily educational. My kids are trying out their reading skills on all the little labeled pictures, and we love getting a quick glimpse into other ways of life–from the food to the clothing to the transportation.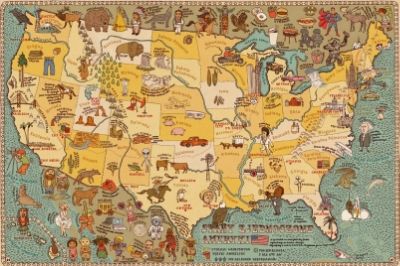 Of course, we love looking at what's featured on the United States map and laughing at the little iconic aspects of our culture–from gold prospectors to teepees, grizzly bears to King Kong, the Brooklyn Bridge to Cinderella's castle, and MLK Jr. to the aliens at Roswell. It's the perfect mix of sentimental, significant, and silly.
I can't imagine the years of research that must have gone into creating this captivating volume, but I certainly do appreciate it. This is a book I think my kids will be fighting over for a long time…and I mean that in the best way possible. –Kate
Maps is available in hardcover for $35.00 at your local bookstore or our affiliate, Amazon. While you're there, check out their other books that look just as imaginative and fun too.