We've given you some delicious turkey, mashed potato, stuffing, and cranberry sauce recipes, now let us help you finish up your planning with some easy Thanksgiving printables for gift tags, decor, even coloring pages and craft projects for the kids that will have your guests wondering "however did she find the time?" We'll never tell how easy it was.
Recently, Liz talked about making holiday tables fun for kids, and I agree! In fact, you can set your entire table with a family-friendly Thanksgiving printable set including a table covering, coloring pages, placemats, and napkin pouches all designed by our friends Mike and Alma Loveland of Ollibird. I love that it looks festive as is, but the pages will really come to life when your guests, young and old, add their own creative touches to it.  ($8 for PDF file; larger items can be printed at printing shop)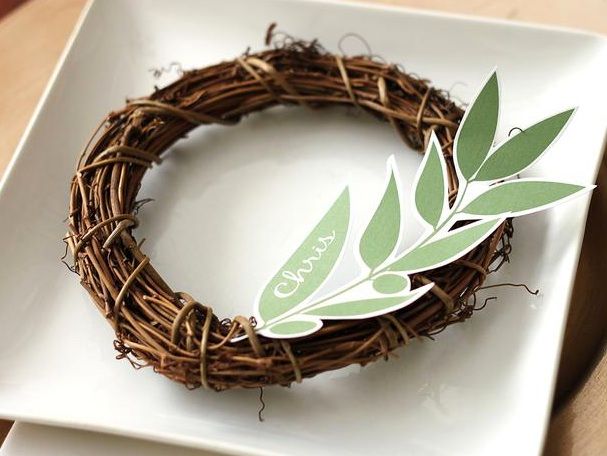 Such a pretty way to assign seating for Thanksgiving, these delicate and customizable printable Thanksgiving place cards  from Paper & Pigtails would look nice as is, or tuck them into a small twig wreath for a little contrast.  UPDATE: Unfortunately these place cards are no longer available.
Send off your leftovers in style with great-looking printable Thanksgiving take-home containers. Just be ready to do some folding. Plus they're made even nicer with Coco & Kelley and Marabou Designs' printable Thanksgiving leftover stickers that will remind them of your hospitality when they are sneaking a bite at midnight. UPDATE: While the printable take-home containers are still available, the printable stickers are not. Try this link instead for another great options.
We adored Confetti Sunshine's printable Father's Day poster, and I know my kids would love to write all over this printable Thanksgiving poster. If you make it extra-large, then there's room for everyone to jot down all they are thankful for this Thanksgiving. UPDATE: Unfortunately, this site is down and we don't think the free download for the poster any more. Sad face.
 Related: 6 of the cutest DIY Thanksgiving treats for kids.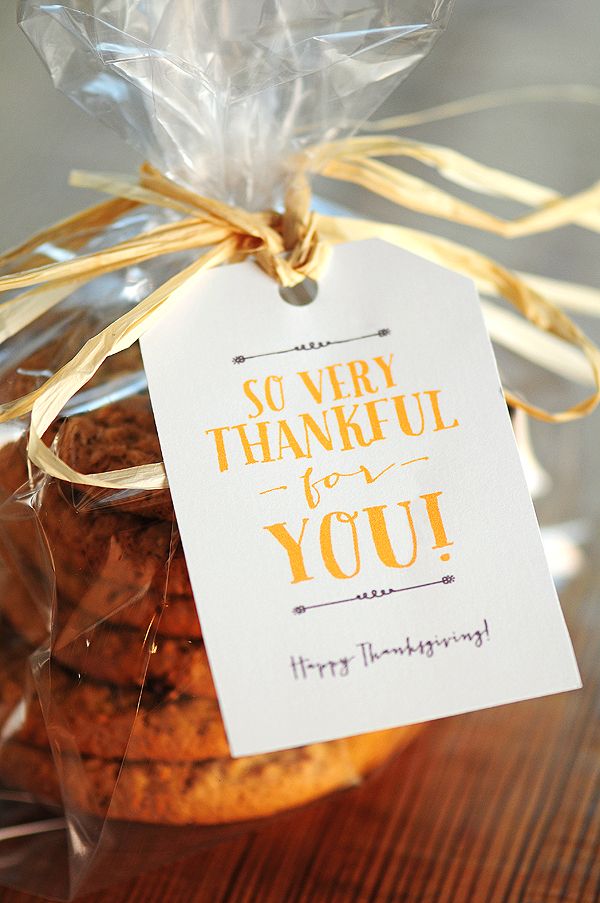 I love the sweet simplicity of these printable Thanksgiving gift tags from She Wears Many Hats–great if you're bringing over some handmade food gifts (we have so many ideas for you!) or for the hosts to send their guests home with lots of leftovers. The design is also available as note cards for those faraway relatives who we can't share dinner with this year in person. (free)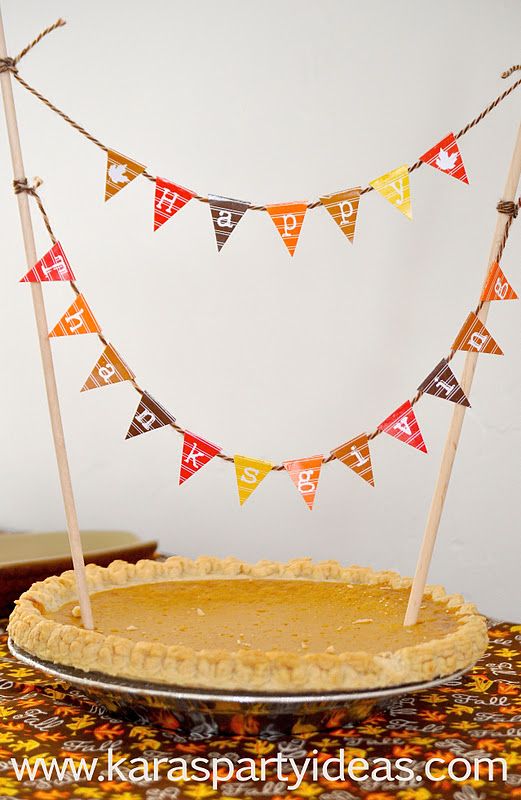 Dress up your favorite pie with this printable Thanksgiving mini pennant bunting from Kara's Party Ideas. You can also spell out your own message with her printables in case you'd rather say "Don't touch until after dinner." Heh. (free)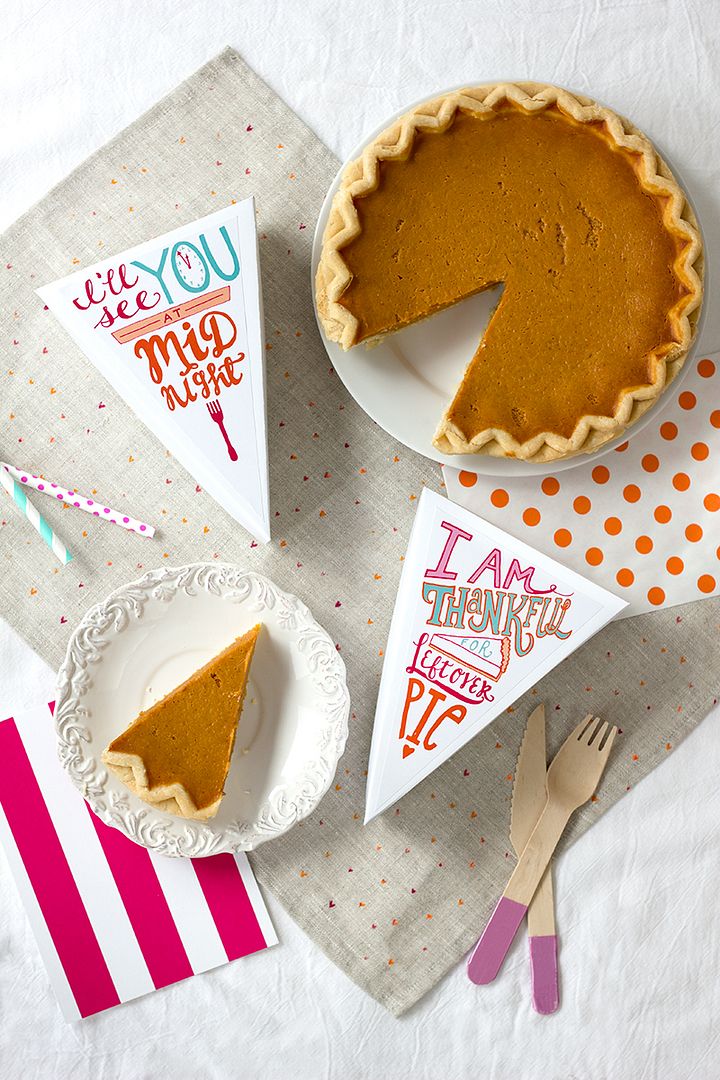 And, hey, there's nothing wrong with saying it straight like on these two printable Thanksgiving leftover pie labels by Striped Cat Studio. I think your guests will smile extra wide Friday morning when they see this treat peeking out of the refrigerator, that is if they can move. (free)
And if you don't have a pie-shaped box lying around? Follow the link to Martha Stewart's tutorial to make your own paper pie box.

Related: Easy Make-Ahead Thanksgiving Dishes
Last year we found these gorgeous Thanksgiving printables from the talented designers of TomKat studio, who are gracious enough to offer their elegant designs for free. So, we're thankful for them too. (free)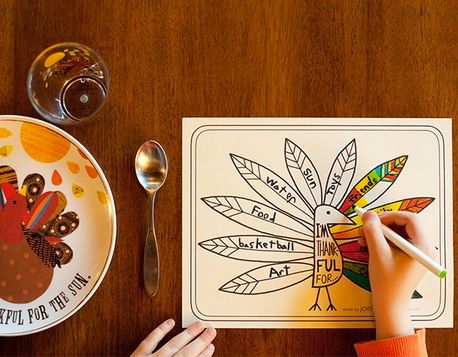 Pottery Barn Kids is giving the kids something creative to do while they wait for turkey, with this adorable printable color-your-own Thanksgiving placemat. Created by Made by Joel, kids can write in all the things they are thankful for on each turkey feather. If one of them writes food, food, food, food, food, food, feed him first.  UPDATE: Unfortunately these placemats are no longer available.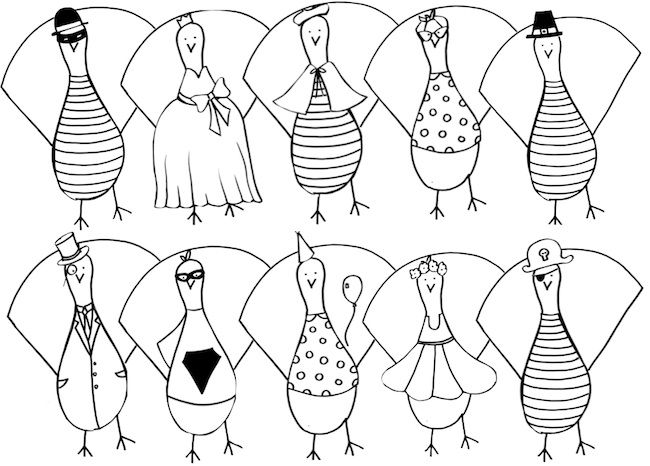 Well this gives new meaning to Thanksgiving dressing.  A Lovely Lark's free printable color-your-own Thanksgiving turkeys is be a great activity for kids who love paper dolls.  And we know lots of them. UPDATE: Unfortunately these printables are no longer available.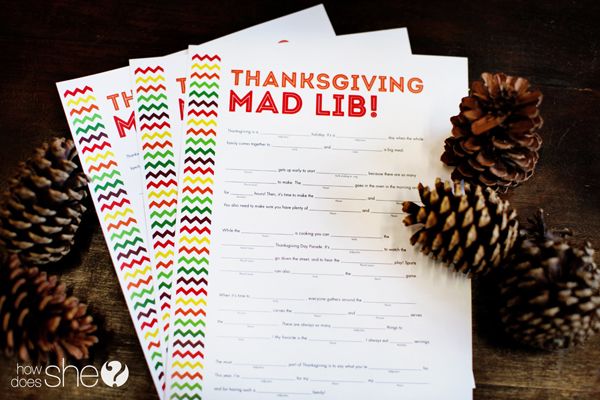 If Uncle Joe brings up a touchy subject or the kids look ready to start a food fight, pull out copies of this Thanksgiving-themed MadLib printable which can refocus the conversation towards thinking up the funniest noun, verb, or adjective. (free with mailing list registration)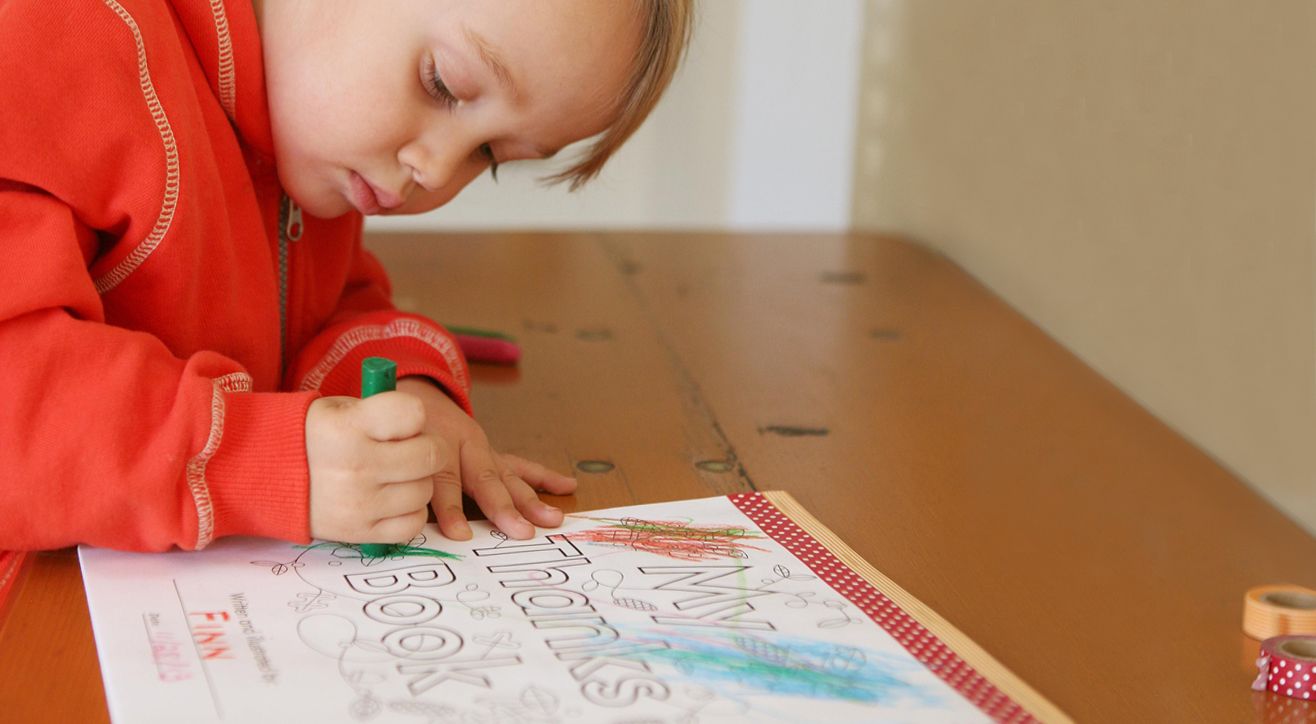 One more that's perfect for little scribblers, Wee Society's printable My Thanks Book is a free download that would also make a great day-before-Thanksgiving project in preschool classrooms. In our home, we'd set up a few near the little kids' table to keep them busy before dinner. The open-ended pages of this nine-page booklet can be decorated with crayons of course, but if the turkey's taking longer than expected, add washi tape, stickers, and even colorful leaves collected from outside and set up a whole craft table for the kids. (free)