I can never eat too many hot, yummy, heaping forkfuls of mashed potatoes. We're the kind of family that has both homemade stuffing (often more than one kind) and potatoes on the Thanksgiving table. If you're not running away from me in a carb-phobic panic right now, then we can be friends. Also, I hope you'll enjoy these awesome mashed potato recipes for Thanksgiving–and way beyond.
Oh, and because my totally insane youngest daughter refuses to eat mashed potatoes (I told you–insane) I am forced to take on the hard task of eating her portion myself. So I have double the reason to want them our taters to be excellent.
Stacie, in her post on the best way to make homemade pie, turned me onto Melissa Clark's awesome interactive Thanksgiving guide in the NY Times, which is where I saw this bit of mashed potato heaven: Mashed Potato Casserole with Sour Cream and Chives. My mom taught me that Yukon Golds are the most flavorful for mashed potato recipes, but she recommends you combine them with the fluffiness of Russets for a nice balance.
While you're there, scroll down for Sam Sifton's adaptation of Bobby Flay's Mashed Sweet Potatoes with Maple Syrup and Chipotle. Oof.
Take three of my favorite foods ever, put them together, and you get Mashed Potatoes with Caramelized Onions and Goat Cheese. (Also the photo at the very top.) No wonder this recipe was a Food 52 contest winner. For best results, she suggests using Russet potatoes and a ricer instead of a masher. And, fear not the half-and-half; that's what makes this creamy and perfect.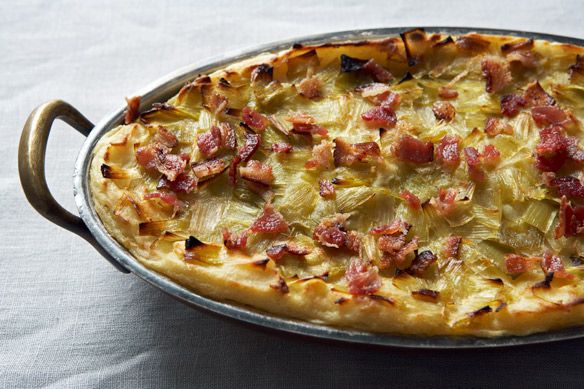 Another winner (says me) on Food 52: Potato Mash with Leek Confit and Bacon. This one is definitely for the carnivores among us. There's the extra step in making the leek confit, but if you're tasked with bringing "a side dish" to a Thanksgiving dinner, let this be your grand opus. It looks like a turkey show-stealer.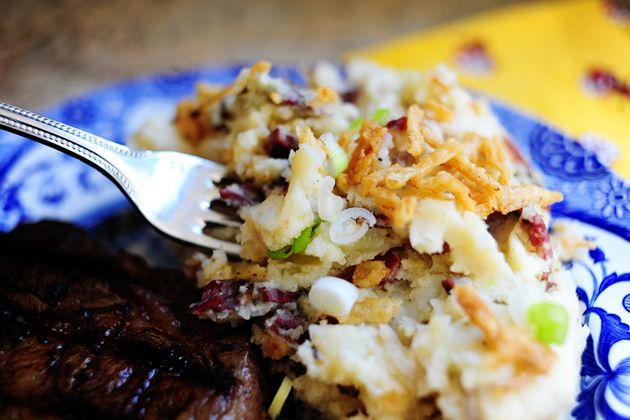 If there's one cook I trust with a mashed potato recipe, it's our friend Ree from The Pioneer Woman. If you're not above breaking out a can of those French fried onions (and I am totally not above it; not even close) you have to check out her Restaurant-Style Smashed Potato Recipe. Of course you can also make your own crispy onions from scratch. Just be sure not to leave out all that figure-friendly (ahem) sour cream, butter, and fresh bacon.
Related: 7 Fantastic Cranberry Sauce Recipes for Every Taste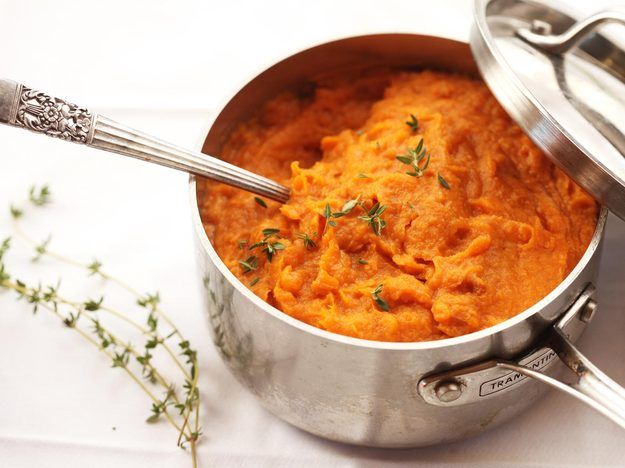 If you're more of a sweet potato fan,  I really like this easy recipe for what Serious Eats describes as The Best Mashed Sweet Potato Recipe. It may in fact be true. At least if to you, simple is the best. This recipe only calls four ingredients. Sweet! (Potatoes.)
If you want to get a bit adult with your recipe–or make Thanksgiving a little more tolerable (kidding! I love you, family…) these Boozy Smashed Sweet Potatoes from Paula of bell'alimento look outrageous. Add a little Maker's Mark, top with pecans, and keep away from the kids.
Another mashed sweet potato option comes from our own food editor, Stacie. If you're cooking tons of dishes this year or a single potluck dish, you have to check out her entire post on make-ahead Thanksgiving recipes that can save you a ton of time. It also happens to include her own recipe for Holiday Spiced Sweet Potatoes. The combo of cinnamon, cardamom, nutmeg and ginger against the sweetness of vanilla and maple? Divine.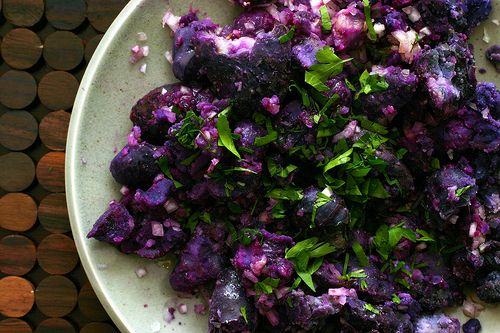 This one strikes a personal note for me, because my mom somehow always manages to find these gorgeous purple potatoes at her local farm stand or gourmet market or secret black market trading post–I'm not sure; she hasn't let me in on her secret. While they're good just roasted all on their own, I think another yummy way to put them to use is in this gorgeously simple Fork-Crushed Purple Potato recipe at Smitten Kitchen. It's a simple, rustic recipe.
And I have a feeling my daughter just might be more inclined to eat potatoes if they're purple.
And if you are making mashed potatoes any time at all, check out this post at The Kitchn on how to keep mashed potatoes warm. There's a very good slow-cooker method, a few alternatives, and then some great tips from readers in comments. After all, no use slaving over a hot stove making spectacular mashed potatoes only to serve them cold.
Be sure to visit our Thanksgiving Dinner Pinterest board for food to go with your mashed potatoes!