Let's face it: Thanksgiving is for feasting. Dinner may be the main attraction, but this holiday is about grazing on deliciousness all day long. The food doesn't have to be fussy or labor-intensive either–save the hard work for your turkey dinner. And in the case of Thanksgiving day treats they just need to be delicious and ideally, kind of cute.
Here are six adorable Thanksgiving Day treats to have around turkey day. Some make a great afternoon snack, while others make fun kid desserts. No matter when you serve them, these delicious munchies will keep little tummies happy until dinner time.
They're also so easy to make that they can keep little hands busy–and out of the way!–until dinner, too. –Stacie 
(Above) This isn't your ordinary turkey sandwich; this is Tommy Turkey, an irresistibly cute, Thanksgiving-inspired, turkey-shaped sandwich  created by bento master Jull Dubian. When serving this on Thanksgiving day, I'd skip the cold cuts since plenty of turkey will be eaten at the dinner table, and instead used the opportunity to fill this sandwich with hummus, a slice of cheese, or PB&J instead. I can't think of a better way to serve a healthy, balanced lunch before the big meal.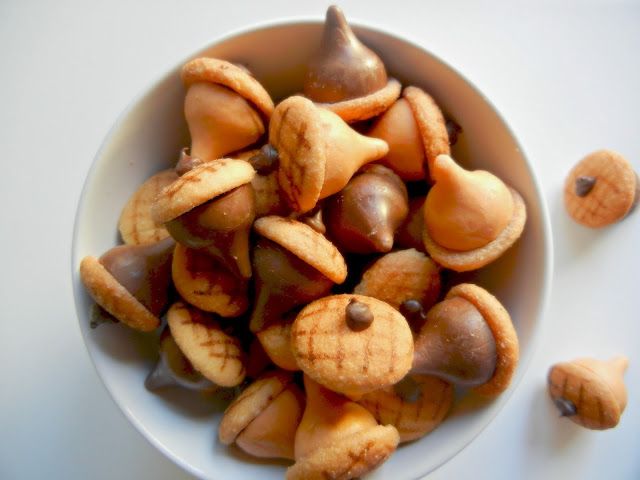 These chocolate acorns from Sugar Swings are too much. Who knew that a chocolate kiss, a few chocolate chips, and a mini Nilla Wafer (or Nutter Butter Bites) could so easily be transformed into an autumnal treat? Forget serving biscotti with coffee. These sweet bites are for the grownups too! A whimsical way to end your Thanksgiving meal, for sure.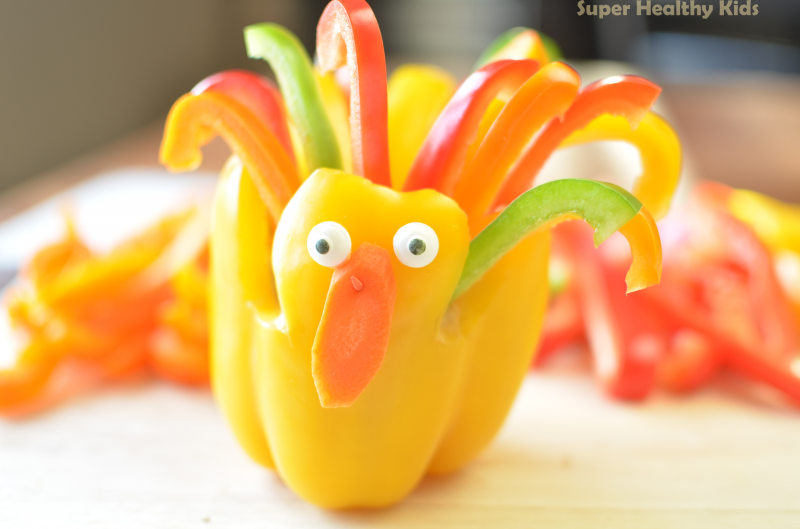 Move over, crudite, there's a new veggie snack in town. Save the good cheese and artichoke dip for the big folks and let the little ones dig into these fun Thanksgiving turkey peppers and hummus appetizers from Super Healthy Kids. Look tricky? It's not with the super helpful step-by-step photos that Amy provides. Six simple steps: phew.
If six steps seem like too much, stick with crudite–with a twist. Download this free free Thanksgiving turkey printable from Chickabug. Quick ahead-of-time assembly means that all you have to do when it's time for a snack on Thanksgiving day is fill a cup with carrot and pepper strips.

This is, hands down, the piece de resistance in my mind: a fully loaded Nutter Butter turkey cookie from 7th House on the Left. These require a bit of assembly, I cannot lie. But it's pretty simple business. Gather the goodies and stick them onto the main cookie with store-bought cookie icing. If the picture isn't enough to guide you, check out Ashley's step-by-step PDF for specific instructions.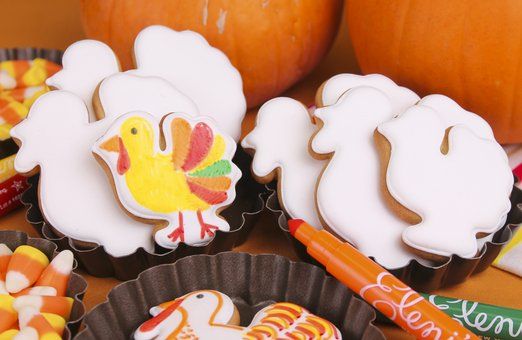 If you cannot possibly take on another Thanksgiving kitchen task, then a tin of nut-free Color Me! Turkey Cookies from Eleni's New York is in order. Hand-iced sugar cookies shaped like turkeys are cute, but hand-iced sugar cookies shaped like turkeys and decorated by your kids are even cuter, and it's a fun dessert activity for the kids to boot. You know, so you can have that one last glass of wine in peace. They're not cheap but if you can't imagine using your oven for one more thing, this is one almost-ready-made solution for you.