There was a time when Cinco de Mayo meant tequila, nachos, and, well, more tequila. But, now that we have kids, we've dialed back the drinking and dialed up the family-friendly fun so that we can all enjoy a Mexican fiesta on the fifth of May. If you feel like getting in on the action, check out these easy Cinco de Mayo party ideas—over 24 finds from decorations to activities, songs to recipes—to help make your day fun for all ages.
Comida (Food)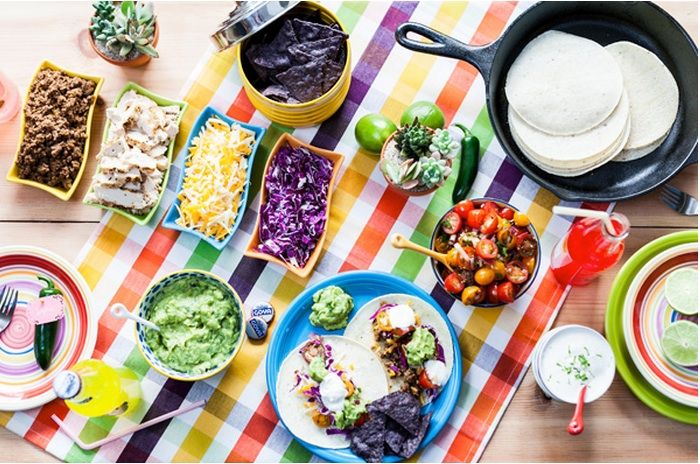 First and foremost, in my house, Cinco de Mayo means Mexican food. If it does in yours, too, set up a colorful taco bar like this one featured at Maché Magazine along with recipes for taco beef, lime chicken, chunky salsa, and a soda bar (pictured top). You may find that even your picky kids are more willing to try some new things when they are displayed beautifully like this. We love that you can choose to make this as fancy or as basic as you'd like, using homemade or store bought ingredients, with as many toppings as you have time to put out.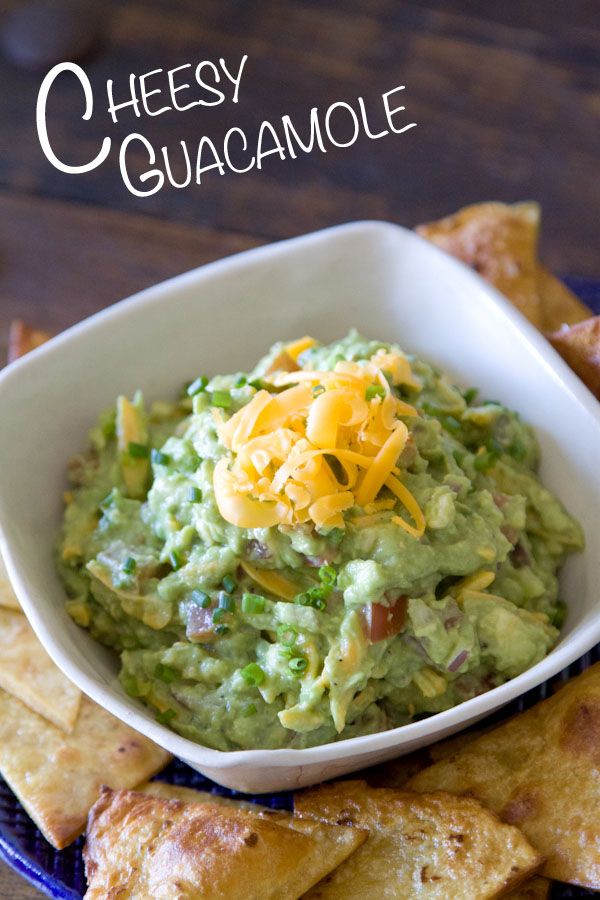 What could make guacamole even more delicious? How about a healthy dose of cheesy goodness like in this Cheesy Guacamole recipe from the Absolutely Avocados cookbook? And if you'd like even more guacamole, check out the other four amazingly unique guacamole recipes that we found to surprise and delight your party guests. You'd better make a double batch. Of all of them.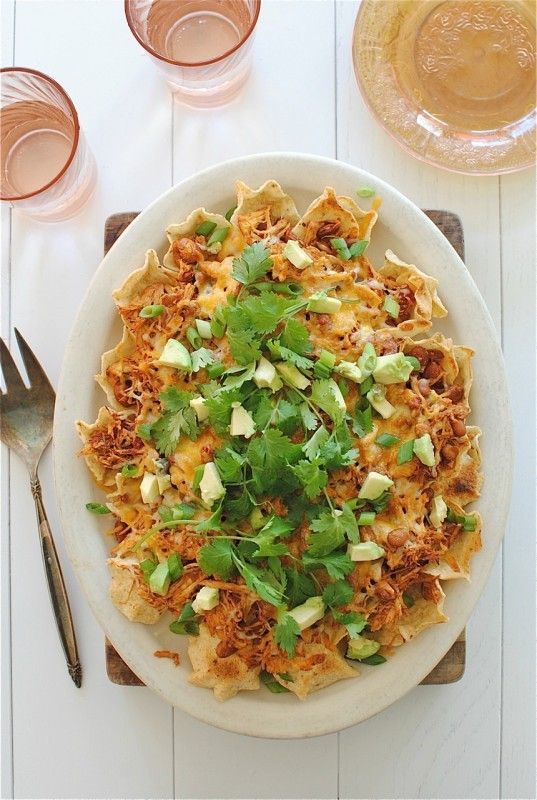 Hey kids, it's okay to eat with your fingers when nachos are served! This recipe for Slow Cooker Chicken Nachos that we found at Bev Cooks makes it easy to get a festive dinner on the table after a busy day. And you don't even have to take time to set out forks and knives.
Related: 5 totally amazing guacamole recipes.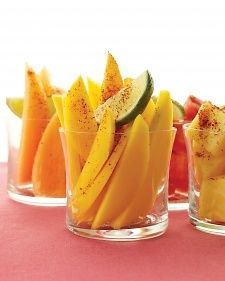 Sliced fruit gets a kick with a splash of lime and sprinkle of chili powder to recreate a popular Mexican street-food snack in this Cinco de Mayo Fruit Cup at Martha Stewart. Not sure if your kids are adventurous enough? Leave off the chili powder and let them just enjoy a healthy dose of Vitamin C as they snack.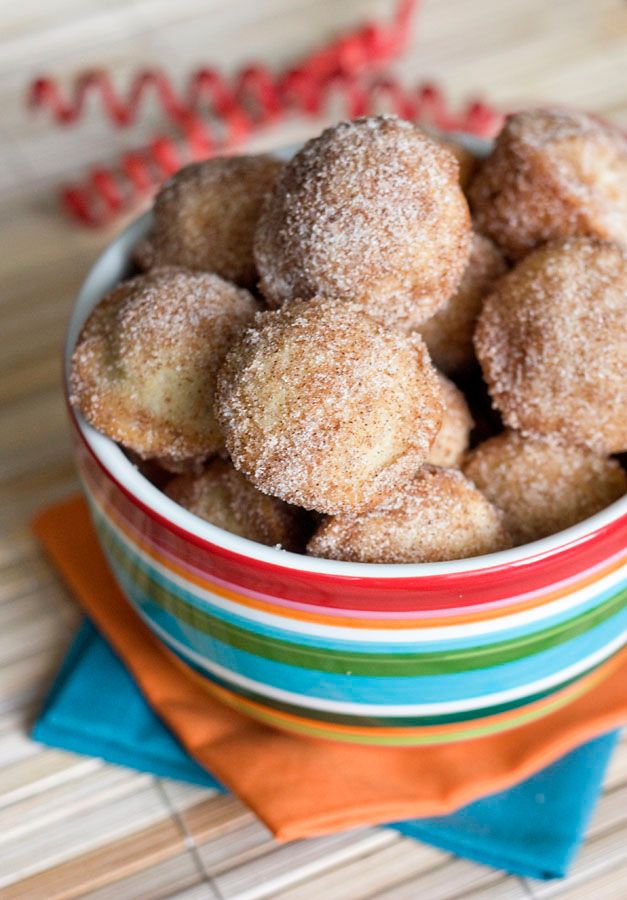 Sweet, delicious churros may look intimidating to make, but the Baked Mini Churro Bites at Erica's Sweet Tooth looks easy enough for even the casual baker. They are the perfect size for little fingers and little appetites, too. Serve dusted with generous amounts of cinnamon sugar and with a chocolate dipping sauce, if you want. (We want! We want!)
Here's an easy and eye-catching treat that the kids can help prepare for you. These Cinco de Mayo strawberries spied on the Candiquik site are striped in the colors of the Mexican flag using white candy melts and green sugar sprinkles. So cute and colorful!
Bebidas (Drinks)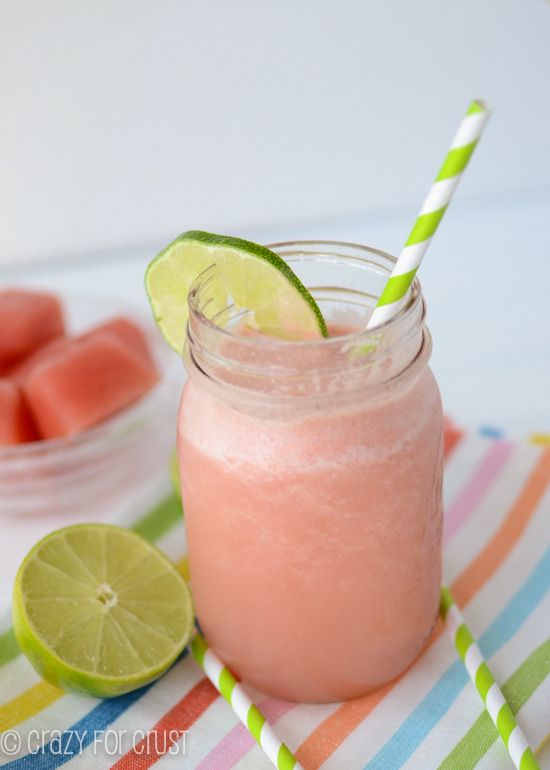 It wouldn't feel like Cinco de Mayo without festive beverages and we especially love the kick of a good margarita to get our party started. It seems you agree given our muy popular post for 10 Margarita Recipes for Cinco de Mayo. But, if you're looking for something that everyone can share, check out the kid-friendly recipe for Watermelon Lemonade Margaritas on Crazy for Crust. Delicious and so easy.
Sweet and full of fresh strawberries, The Cookie Rookie's Strawberry Margarita Punch makes enough for a crowd, or just a few very thirsty adults. We like that it is super simple to make and can easily be made kid-safe by leaving out the alcohol.
Related: 10 margarita recipes to put the "ayyy-oh!" in your Cinco de Mayo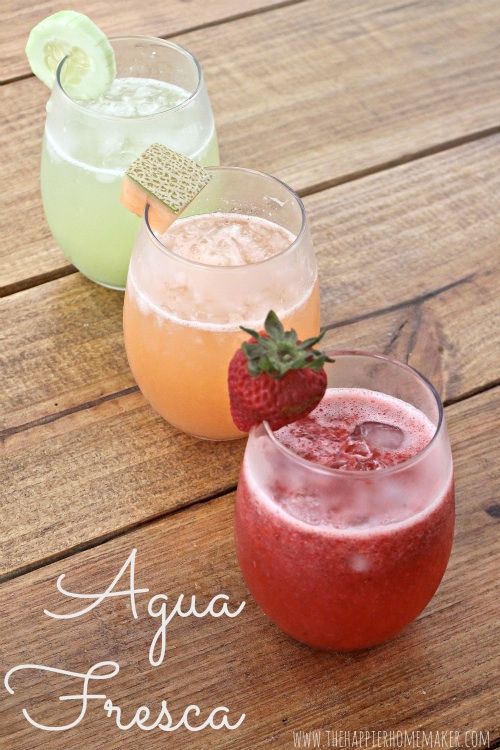 Making agua frescas, a light and refreshing combination of fruit, sugar and water, is easy, especially with these three recipes at The Happier Homemaker. With a quick read of the recipes, you'll see that you can even develop your own using any combination of fruit that you have on hand. This is a great option for Cinco de Mayo this year since a non-alcoholic drink may be the smart choice for a Tuesday night. Or add a splash of your favorite spirit for a little kick.
It may say May on the calendar, but some of us northerners are still feeling the chill, so a mug of creamy Aztec Hot Chocolate like this one that we found on A Beautiful Mess may be just the thing to close out your Cinco de Mayo bash. Kids may prefer their own more traditional cocoa recipe, but try to get them to sip this Mexican version. They may just find they prefer their hot chocolate en Espagñol, at least for one day of the year.
Decoraciónes (Decorations)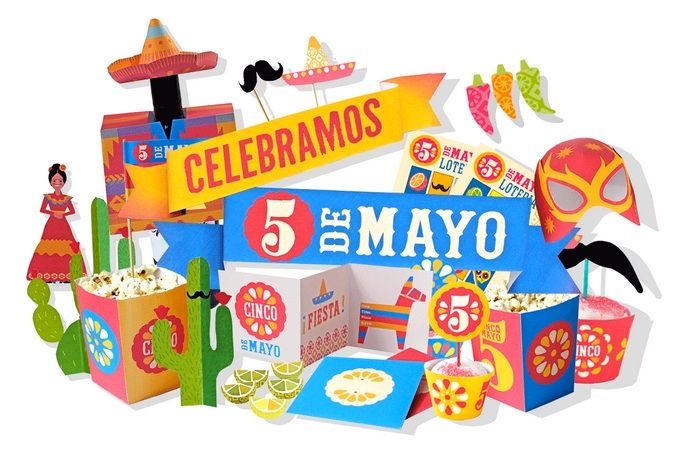 Celebrating Cinco de Mayo with amigos? If you'll be hosting more than just your immediate family, check out the huge printable Cinco de Mayo party pack at Happy Thought. For $5, you can print fab party invitations, signs, cupcake wrappers, wine bottle decorations, wearable Lucha Libre masks, and even a bingo game. Print as much as you'd like and enlist the kids to help cut with their own set of safety scissors.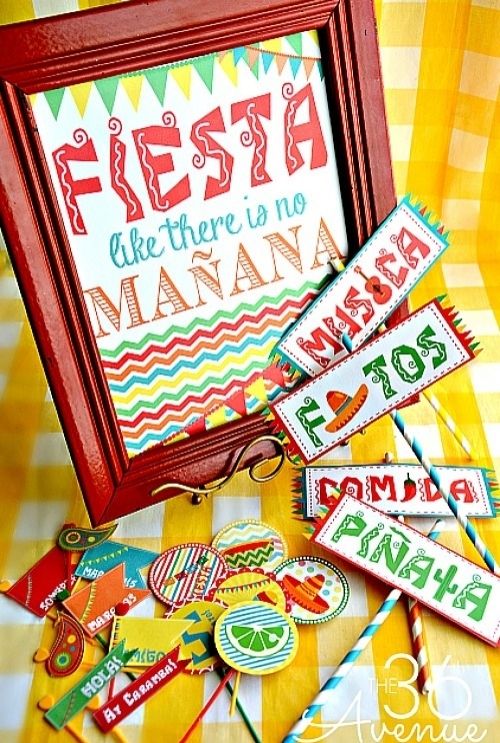 The free printable Fiesta Party Kit at The 36th Avenue makes it easy to add flair to your Cinco de Mayo. Put the colorful food toppers and tags onto decorative toothpicks or straws to make even the most casual gathering look like you spent hours planning. And we love the Fiesta Like There is No Manaña sign, though just remember that your kids will likely still be up before 7 a.m. on the Sexto de Mayo.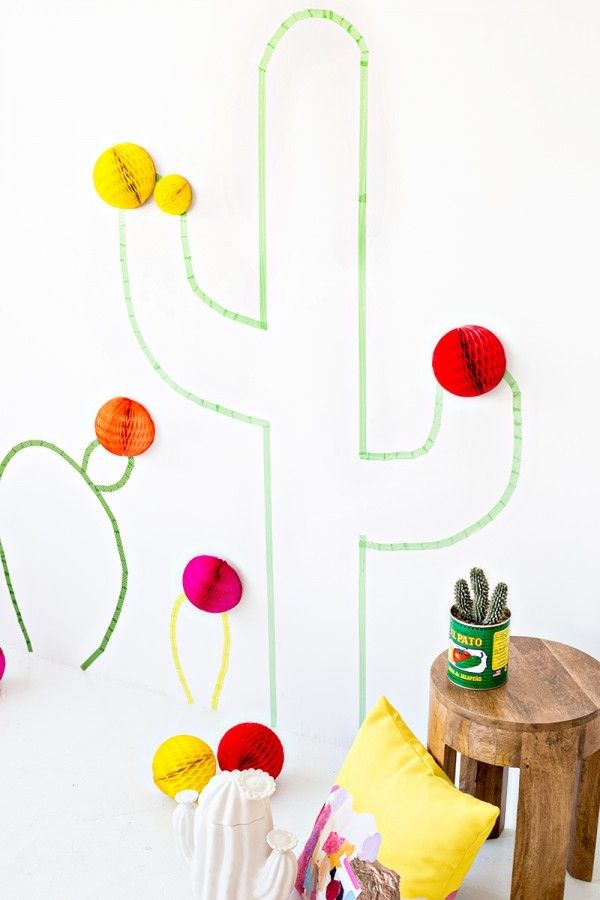 Bring the desert indoors without pricking yourself with thorns by following these clever directions at Studio DIY for creating Washi Tape Cactus Wall Art. This is such a cute and easy way to dress up the walls temporarily. Our older kids would have fun helping make the cactus outlines, while younger ones could help stick on the colorful round "flowers."
Related: Fantastico fiesta ideas for Cinco de Mayo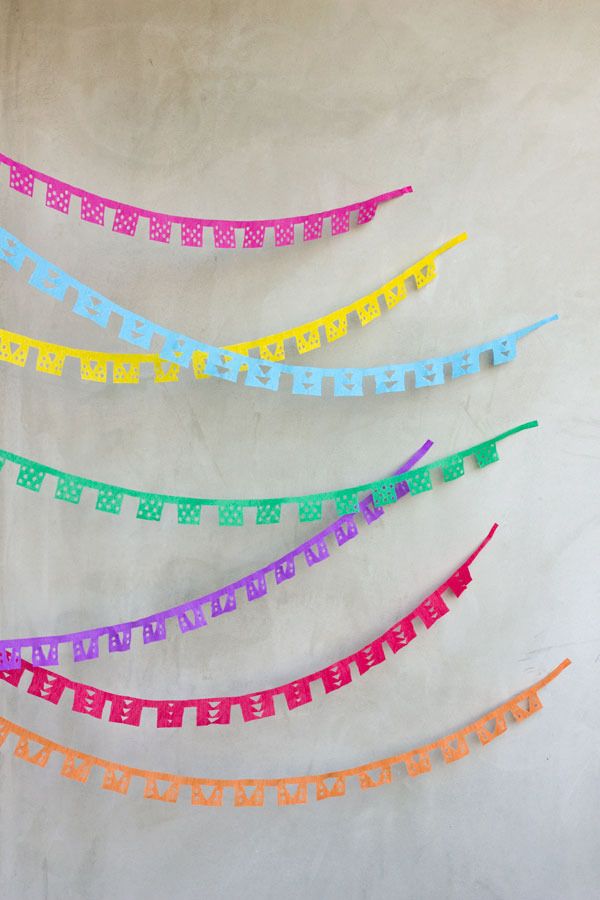 Traditional papel picado streamers are amazingly detailed and not something we'd attempt while simultaneously chasing toddlers or helping kids with homework. But Studio DIY's free tutorial makes creating a mini papel picado easier using colored streamers, clever folding, and a few snips to make quick, yet pretty, decorations for our Cinco de Mayo gathering.
Take it one step easier with these free printable "faux" paper picado Cinco de Mayo flags from Tatertots and Jello. String together for a garland or group on sticks tucked in a vase for a quick tabletop decoration. Hey, now you'll have more time to get those margaritas just right.
Actividades para los niños (Activities for kids)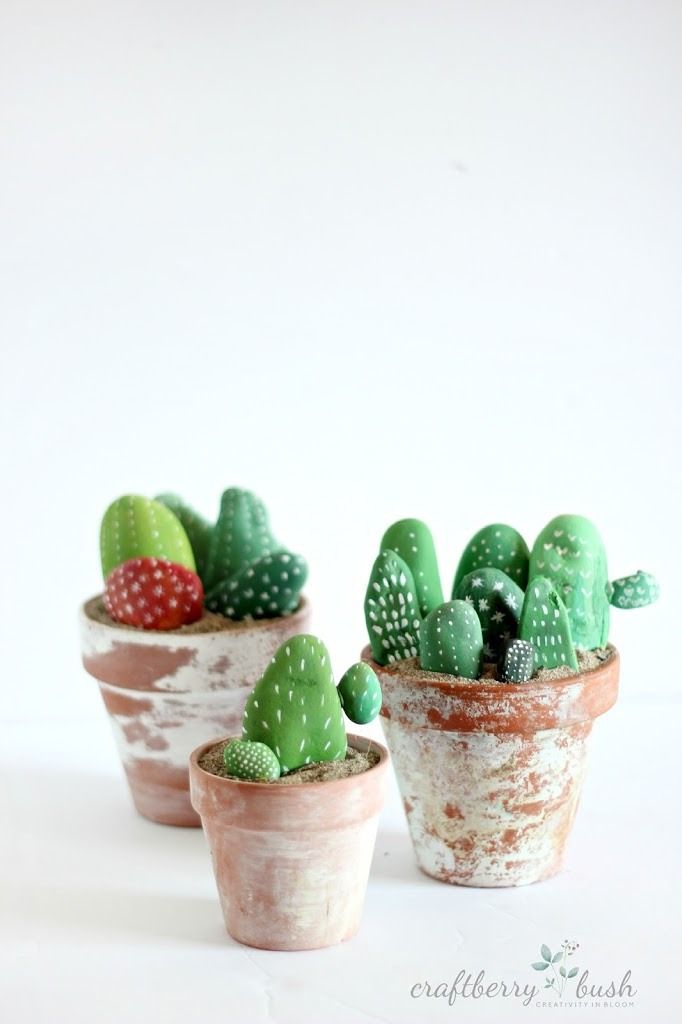 Get the kids involved in decorating the table with these pretty little cactus pots made with painted rocks. Kids can help collect the rocks, as well as paint them. This activity from Craftberry Bush brings a little south-of-the-border scenery to your north-of-the-border party.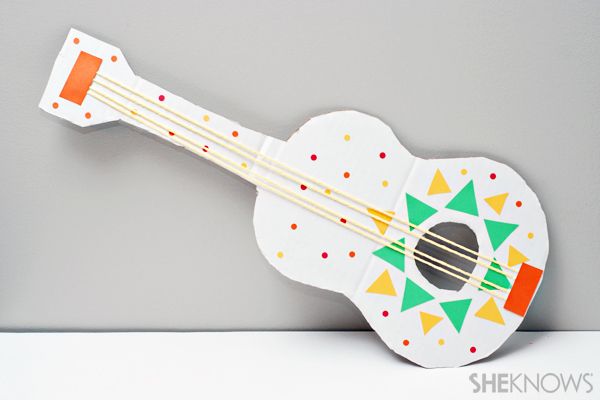 This cute DIY Mexican guitar craft at SheKnows will make a great addition to your kids' pretend mariachi band. Since it can be decorated to their style with colored tape and markers, this makes a great group craft if you have a bunch of kids coming over for your Cinco de Mayo gathering.
Every Mexican band needs some maracas and this make-your-own maraca craft at SheKnows uses easy-to-find supplies to create a kid-sized shaker. They'll love that they can decorate this using the art supplies you have on hand. Then get ready for them to shake, shake, shake the night away.
Related: Easy DIY Cinco de Mayo party ideas and recipes.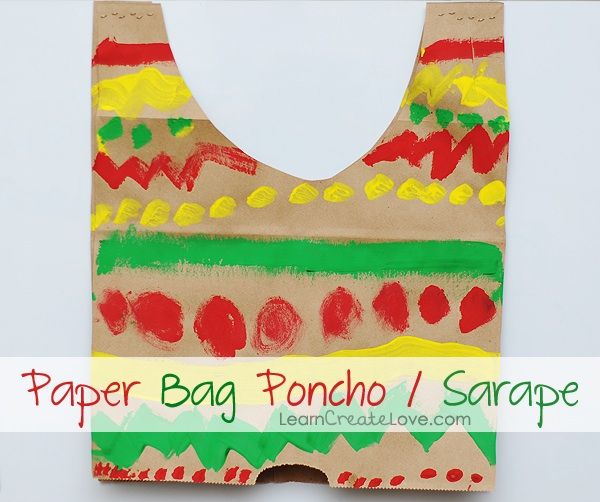 Get the kids all dressed up in a traditional Mexican sarape, or poncho, with Learn Create Love's colorful craft idea that uses just a paper bag and paints. Or use thick colored markers if you'd like the kids to be able to wear their creations right away. Feel free to use any colors you have on hand since so many sarapes include an entire rainbow of hues.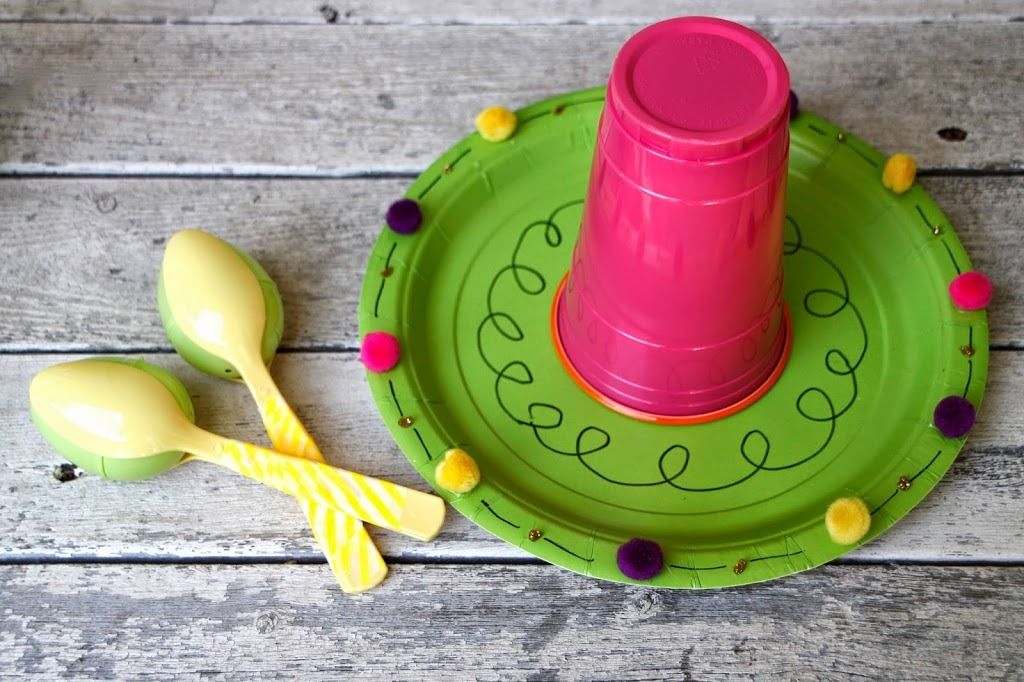 With some leftover picnicware, your kids can make themselves a festive Cinco de Mayo sombrero and maracas for shaking around the house. The free tutorial at We Have Aars leaves lots of room for your partygoers to personalize their items with extra pom poms, markers, glitter paint, and colorful tape.
Música (Music)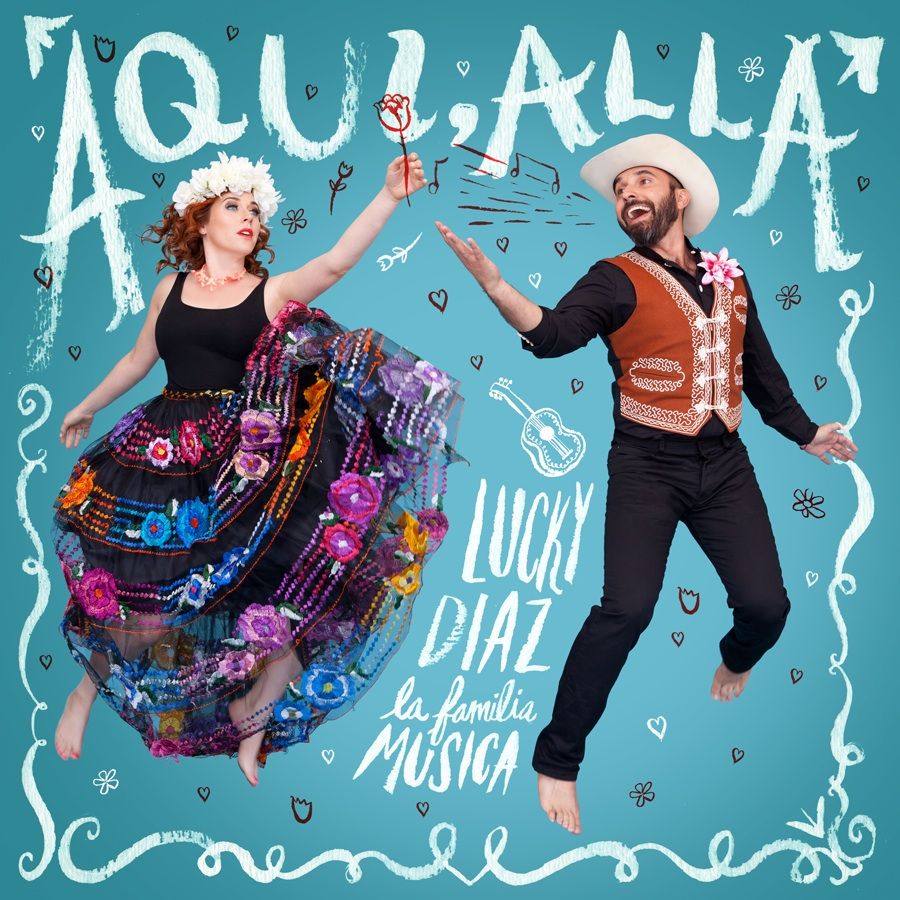 Any  Cinco de Mayo fiesta needs great music and Lucky Diaz and the Family Jam Band have two Spanish-language albums that will get your party hopping.  Both ¡Fantastico!, which won a 2013 Latin Grammy award, and Aqui, Alla have a mix of sounds and tempos to keep things interesting and, most importantly, fun.
Related: 4 "fantastico" children's CDs in Spanish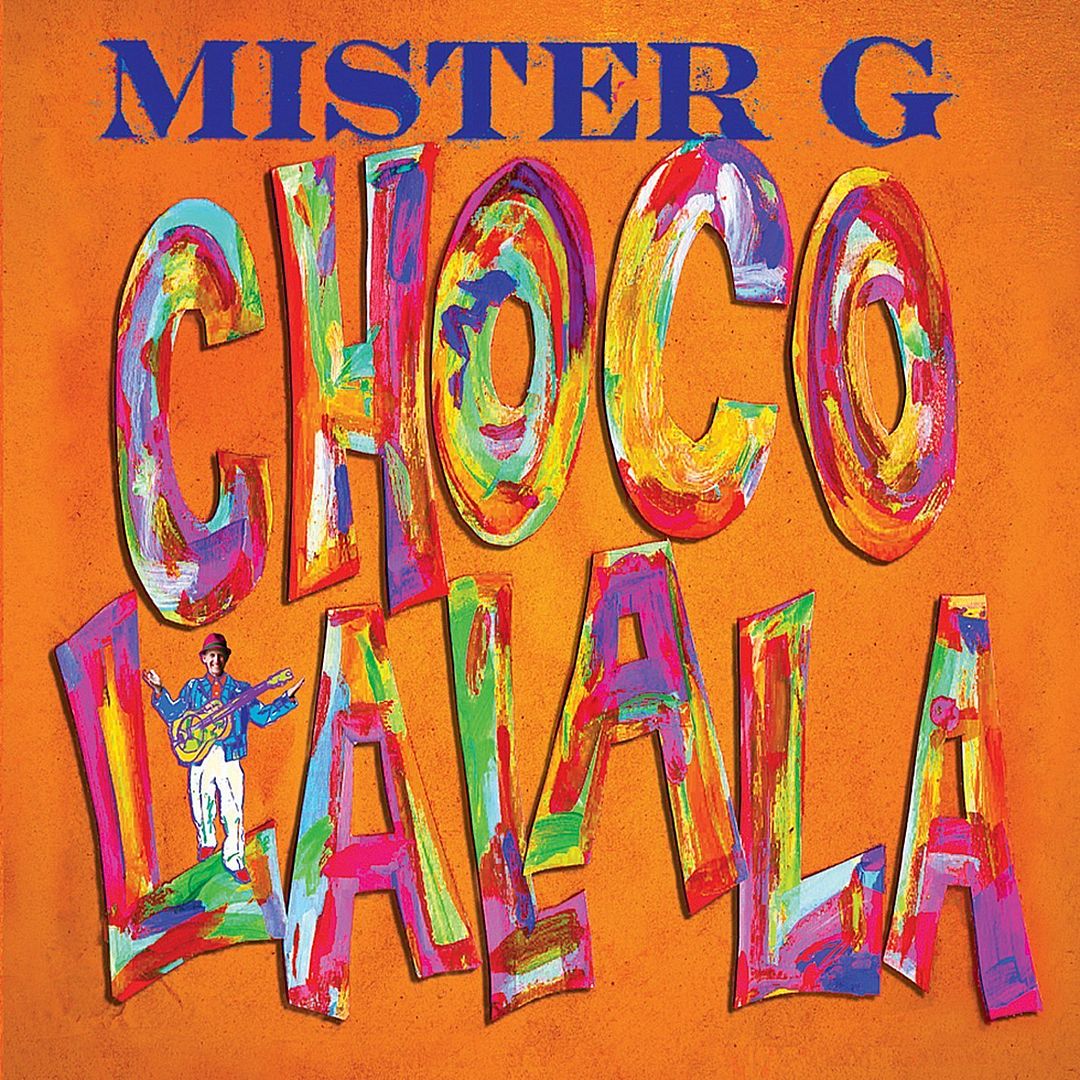 Mister G's bilingual albums, Chocolalala and ABC Feista are both wonderful for kids of all ages, with plenty of English interspersed so it's easy for even non-Spanish speakers to follow along. You'll all pick up some Spanish words, too, as the choruses get stuck in your head. In a good way.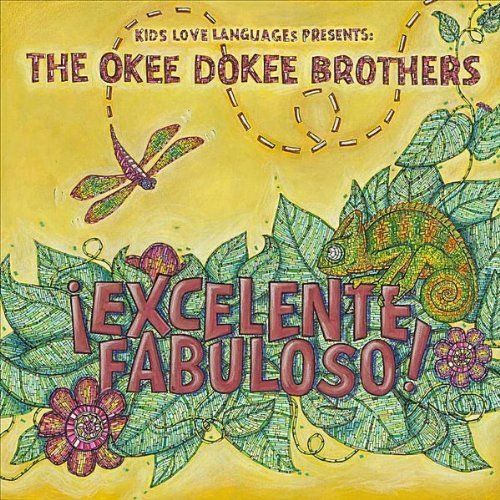 Before they were Grammy winners, The Okee Dokee Brothers released an excellent and fabulous Spanish-language album called ¡Excelente Fabuloso! It's filled with songs about numbers, days of the week, fruits, and other terms that will give kids some new words to add to their vocabulary en Espagñol. Most importantly, though, it's a blast to listen to even if your kids are more interested in partying than learning.