Our kids are all officially back to school this week — whoo! — but that also means that some of us now have bored preschoolers at home part of the time, missing their big siblings. They don't want to miss out on the excitement their big brothers and sisters are experiencing, and our terrific sponsor KinderCare is here to help. We are so happy to discover tons of cool activities and craft tutorials on their Adventure Ahead website, which is inspiring us to help our preschoolers get creative with what nature has to offer us this season.
Our readers know we're all about messy imperfection when it comes to kids' crafts; we don't care if it makes your child's wall or your refrigerator door look Pinterest-worthy, as long as our kids have a fantastic time doing it, and maybe learn something in the process. So we love that KinderCare shares our perspective — you can tell the site really encourages you to let go of complex step-by-step instructions and let your child's own inclinations take the lead instead.
And yeah, we know it's hard considering preschoolers make messes. But as experts in early child education since before most of us were born, we figure KinderCare knows a thing or two about the right way to go.
So on their behalf, we've really enjoyed putting together some wonderful fall nature crafts for preschoolers that we know ours would totally get excited about Our tip: pull up a chair and make your own crafts too. Your kids will be more focused and you'll be less likely to micromanage their projects if you're working on yours. Not that you'd do anything like that.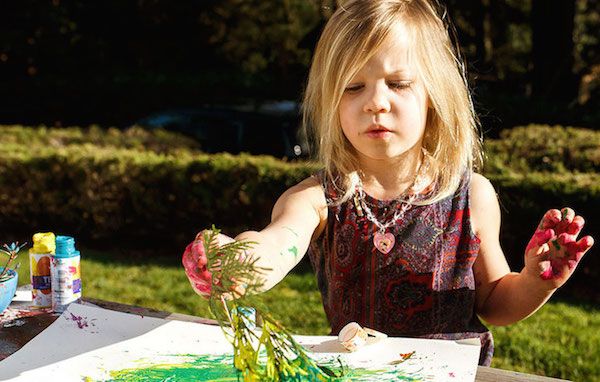 1. Paint with branches
Send your kids out to the backyard or take a quick walk with them to a park to find small, fallen branches that they can use as paint brushes. We really like this simple nature painting activity (also at very top) at Adventure Ahead by KinderCare which lets them explore different textures as they create, and discover why some branches give them more control than others. Based on our own experiences, this is one fall nature craft that will keep kids busy for a long time.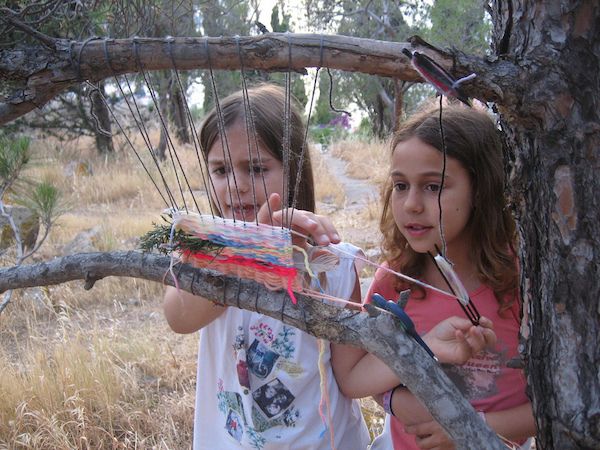 2. Try stick weaving
Hey, remember yarnbombing? Let your kids try their hand at tree branch weaving like in fantastic photo we found from Ergani Weaving on Flickr, which is pretty amazing. You can follow this branch-weaving tutorial at Instructables for a little help. When you're finished, snip the ends with scissors and let the kids know that birds will pull the yarn away to use for their nests this fall. There's something wonderful about a child making a nature craft that they know they can't keep but will give back to nature.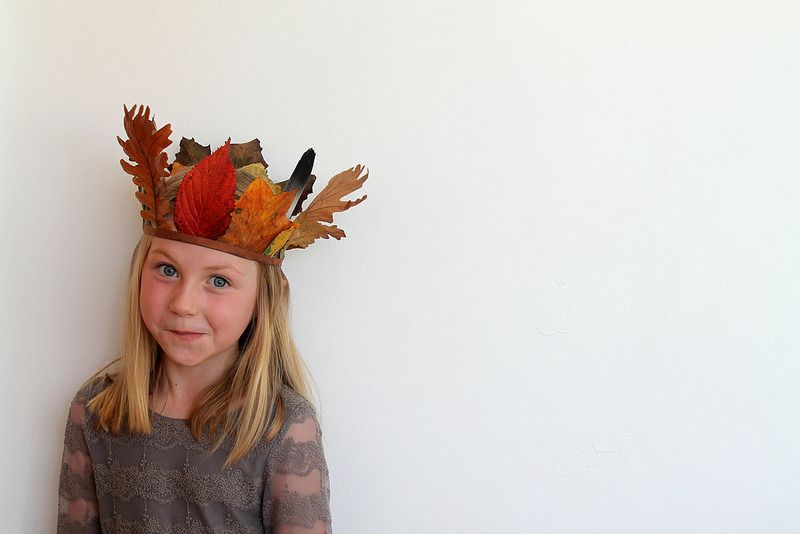 3. Make your own leaf crowns
We can only imagine the stories our kids would come up with as kings and queens of the forest wearing the gorgeous leaf crowns found at Scraps of Us. She has terrific step-by-step instructions plus some tips to keep yours from wilting. But let it be the jumping off point to make any kind of crown at all. Even if it's just gluing leaves of all kinds onto construction paper crowns.

4. Build a stick fort. Or teepee. Or yurt. Or yet-to-be-named structure.
If your kid is less Georgia O'Keefe and more Maya Lin, we've recommended Stick-lets before for fort-building of all kinds. They're essentially silicone rings (now even stretchier than before) that help kids attach sticks and branches together so they can construct something cool — whether you recognize the structure or not. It's a good excuse for kids to get out and play in the cooler weather coming this fall, and you can even assign the artists in your brood the job of making a very cool welcome sign to hang on it — or a keep-out sign, as the case may be.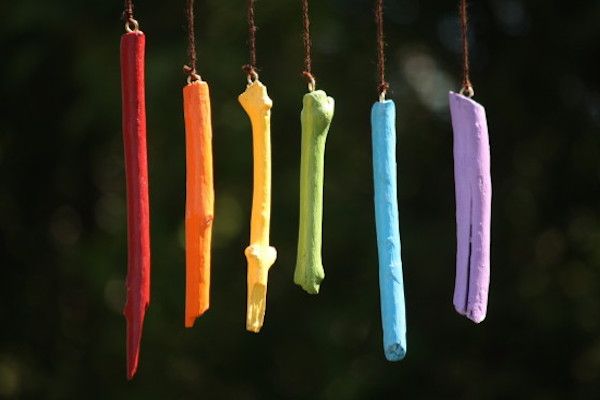 5. Design a painted stick wind chime
We love this painted wind chime craft at Happy Hooligans, because it's so, so easy. And yet you still end up with a project you'll be happy to display when you're done. (Of course we kind of are inclined to display every craft our kids make. You know what we mean.) The rainbow color scheme is bright and pretty and, of course, it gives you a chance to teach Roy G. Biv to your kids. But you could switch it up and use fall colors, red white and blue, or their favorite sports team's colors. Or, show them how to add a little more white to each successive monochrome twig for an ombre wind chime. Trendy!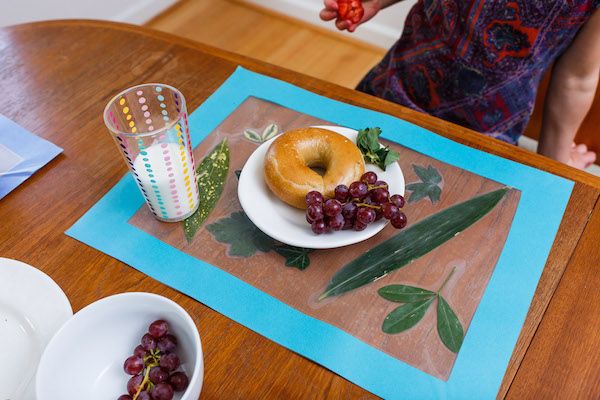 6. Make nature placemats with found leaves
Our kids squabble less about dinner table seating when they have their own placemats to mark the spot. Take a walk through the neighborhood with your preschooler and let her pick out the leaves she likes., whatever they may be. Talk about what makes them the same and what makes them different. Then  when you get home, you just need a roll of clear matte contact paper on hand to make this DIY nature placemat craft for preschoolers. You'll find all the tips at Adventure Ahead by KinderCare.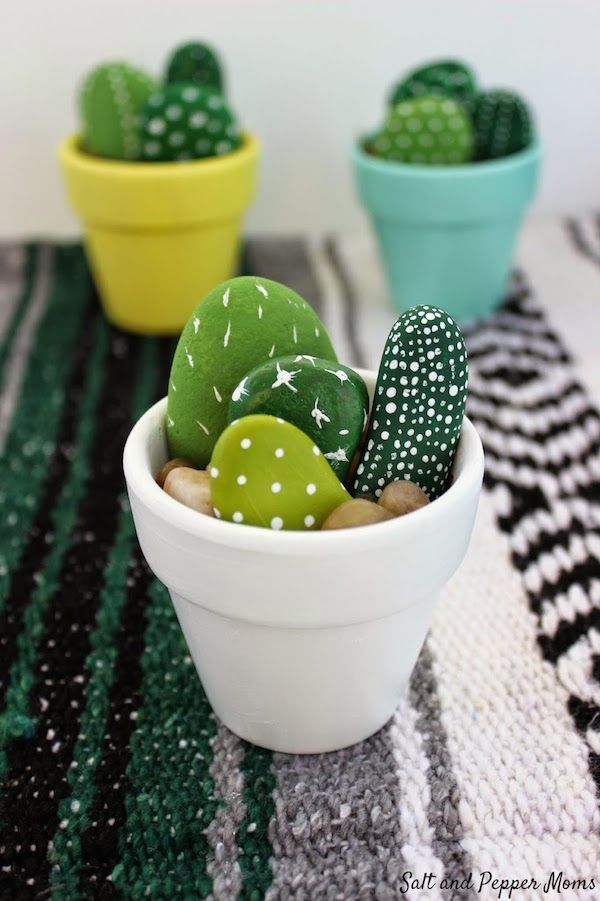 7. Make a painted rock cactus
This painted rock cactus at Salt and Pepper Moms is so cute, it could be a fantastic craft to do in preschool, not just at home after school is out. Gather some smooth rocks outside (or find smooth natural stones at our affiliate Amazon or a local crafts store) then cover the kitchen table with paper and let them paint. This is great for teaching fine motor skills, especially when kids are putting the white dots on. The back of an eraser or the tip of a pencil dipped in white paint might make that step easier. And if they need some reference, a Google image search of various cacti makes may provide a little inspiration.
8. Paint leaves like animals
We were blown away by these painted leaves by artist Hazel Terry last year, and now that the leaves are falling again we're inspired to make this nature craft again. We love to see the way our kids' brains work, when they examine the pre-determined shapes of the leaves to come up with some really imaginative creatures. This is the kind of nature craft we'd probably mount and frame.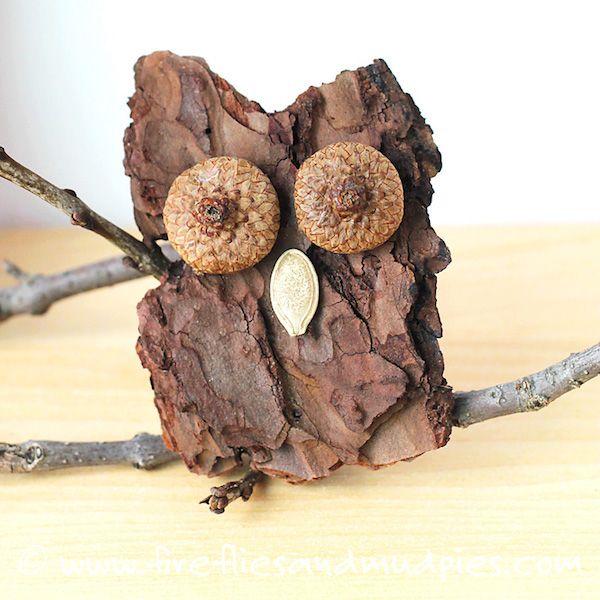 9. Create tree bark owls
This one definitely requires a little more step-by-step, but these tree bark owls from Fireflies and Mudpies are super adorable and deceptively easy. Take a bag on your next walk through the park so you can collect the supplies you need, then pull them out on a rainy day at home. You'll want to help your preschoolers with the glue gun work, but they can do the design all by themselves.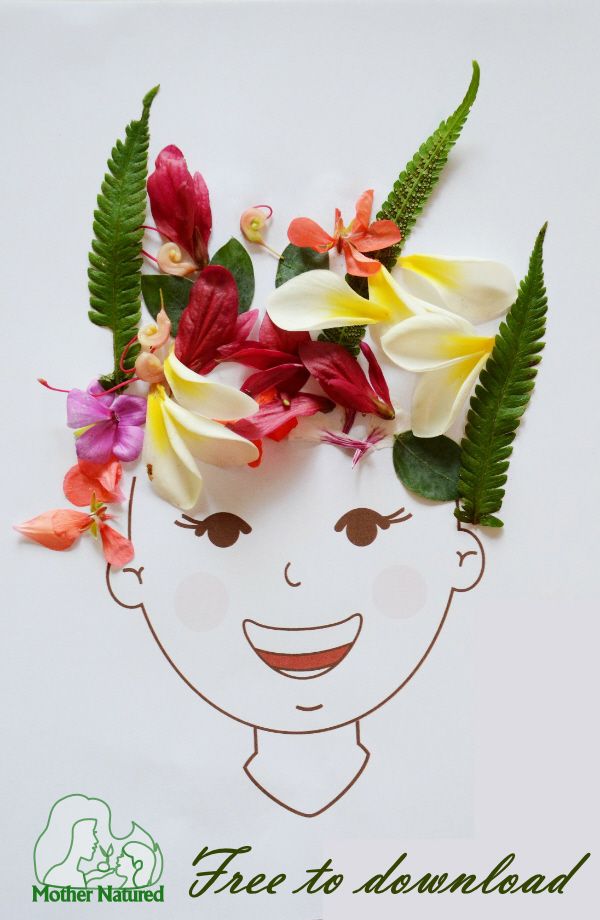 10. Make a 3-D drawing with petals or leaves
No, you do not have to arrange flowers into an Easter Parade-worthy chapeau. Instead, download these free boy or girl face printables from Mother Natured. Kids can grab fallen leaves, grass, or even weeds from the garden; or if you have a flower arrangement that's starting to wilt, let kids pull them apart to make fun floral crowns and headdresses. We think this is a great nature craft idea for those of you with kids' art storage issues; just snap a photo of it and it will look as great in a year as it did the day they made it. (Plus, wouldn't the grandparents love to see their handiwork?)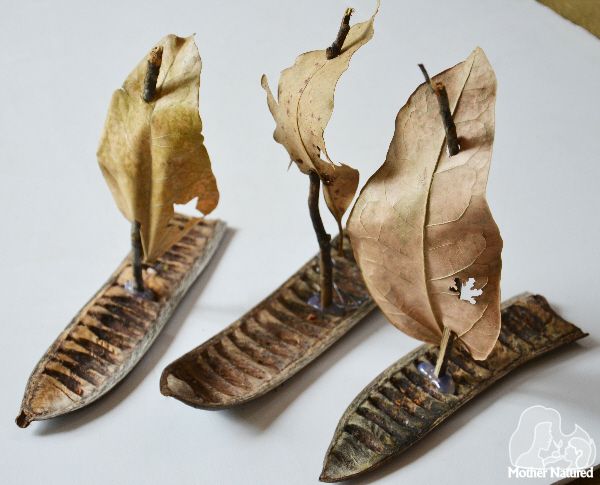 11. Set seed pod boats afloat
These seed-pod boats from Mother Natured will actually float down a river, which is pretty awesome if you're a kid. (Or really, an adult!) Our kids have been known to overdecorate theirs, which results in sinking ships but hey, that's cool too. Then it becomes a creativity lesson that turns into a physics lesson. Still make a few that you know are light enough to float, because watching them race down a stream or float around a kiddie pool or even a bucket in the front yard is pretty neat.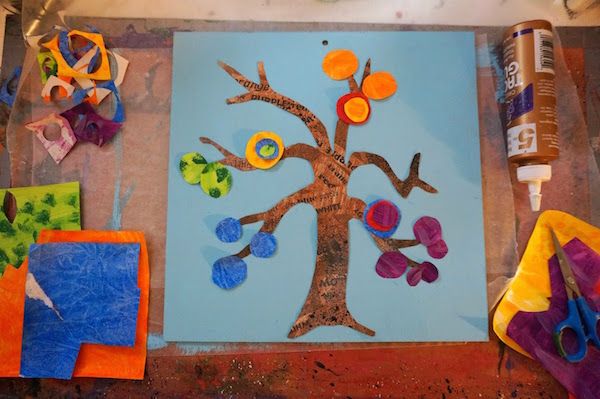 12. Make a color wheel tree craft
While your kids are learning their colors, you can also teach them about basic color theory, color wheels, and complimentary colors. A fun way to drive this home is letting your kids try their hands at this color wheel tree nature craft by That Artist Woman. This is actually a craft she created for her first and second grade students, but you can easily simplify it and make it work for a preschooler.
UPDATED: This contest is now over.
Visit the Adventure Ahead website from our sponsor KinderCare for tons of free craft and activity ideas. But! They're giving away more than that. To celebrate the adventure of going back to school, they're giving away $1200, $800, and $500 cash prizes. Think of all the craft supplies you could buy with that!

To enter, submit your back-to-school photo with the hashtag #FirstDayAdventures on their Facebook page where you'll find all the sweepstakes entry details. It's easy, promise. And good luck! We hope one of our readers wins!