Oh, bless you paper snowflakes! For all we need to make them are scissors, paper, and if you want to get fancy, some very cool snowflake patterns. It's the perfect holiday craft for those of you, like me, who are enthusiastic about doing crafts with the kids over the holidays but you know that trip to the craft supply store is not going to happen. And don't even get me started on glitter. I hope you love these awesome patterns as much as I do. From festive, wintry imagery to amazing pop culture icons, we want to try them all.
And we can. Because, free!
Snowflake Cutting Tips:
-If you're tackling one of the more complex patterns (especially those with interior cuts, where it's hard to get to it with scissors), try using tissue paper instead of standard copy paper.
-You might also get out a straight edge razor or X-Acto blade if you've got older kids or adults, because you'll get a way more precise cut than with a pair of scissors.
-While plain white is elegant, kids might enjoy playing with color. They can always add their artwork over the finished product, or just have them color any edge with markers before unfolding.
Top photo: Delphic Digital
Related: 8 of the most amazing DIY snowflake patterns, from beginner to whoa.
This simple Reindeer snowflake pattern at Seakettle is a great one for beginners to attempt. Once you finish cutting, let your kids get out the markers and color them like Santa's reindeer. So cute.
Beginners who also happen to love comics can try this simple Batman snowflake pattern at Good Comics.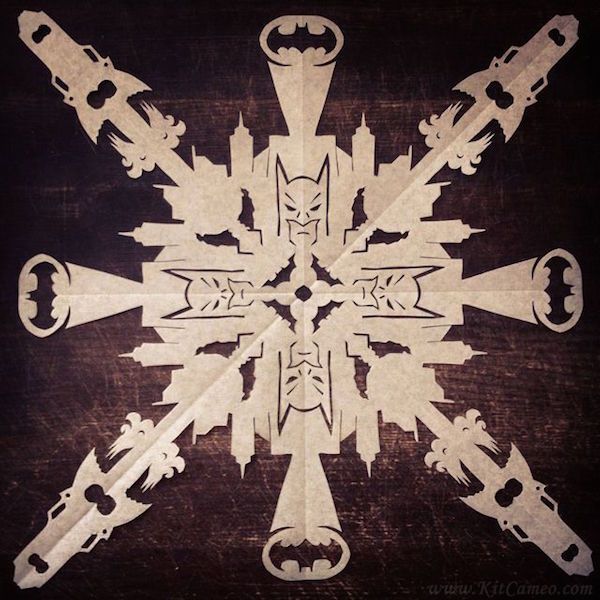 Then again, if you're a snowflake-making pro and don't need a pattern, you can try (or just admire) this intricate Batman snowflake by Kit Cameo. We loved her Frozen snowflake last year, and this one is just as amazing.
For more movie madness, we found the mega-motherload of cool pop culture patterns (also shown at top) at Delphic Digital. From a LEGO movie snowflake above, to and Guardians of the Galaxy snowflake to more adult shows like True Detective, Hunger Games, and Game of Thrones, just wow.
Maleficent! Villainess snowflakes are so underrated, right?
Also, look closely at this one. Any clues? We can buy you a Coke while you try to figure it out.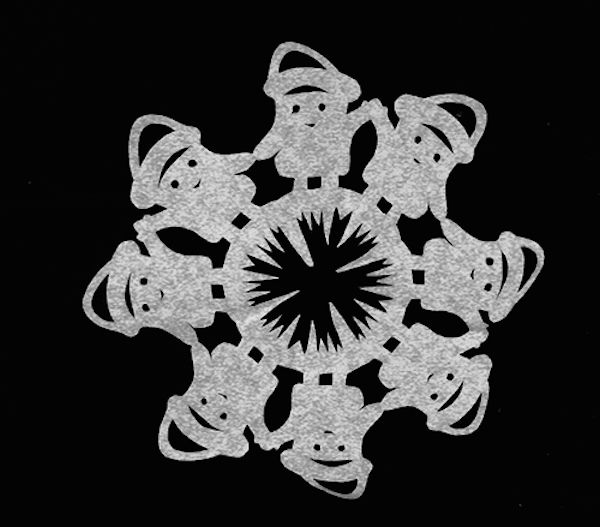 I'm admittedly a big Doctor Who geek. So I love this adorable Adipoese Doctor Who snowflake pattern at Oodly Crafting. I admit though that I'll have to get a little bit more practice before I attempt their intricate Gallifrey Falling snowflake pattern. That one might require special powers.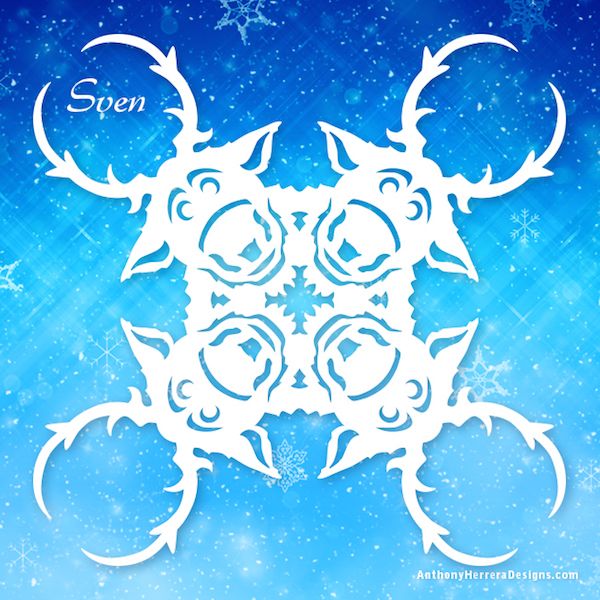 If your kids are still hooked on Frozen, we feel for you. Sate their craving for all the main characters, including the snow monster Marshmallow and my favorite, Sven, with the Frozen snowflake patterns at Anthony Herrerra Designs. These are a bit complex for little kids, but they look amazing.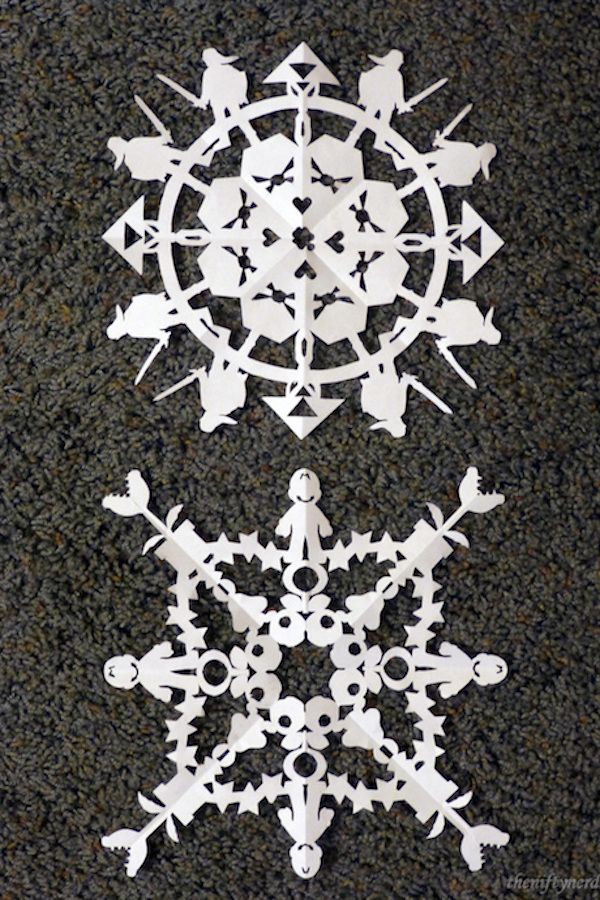 One look at these Mario and Legend of Zelda snowflake patterns at The Nifty Nerd and I immediately have the Mario theme song running through my head. And now you probably do too. Sorry.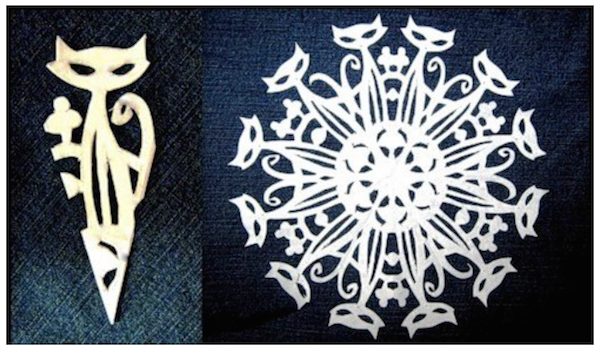 How pretty is this cat snowflake pattern from Wonderful DIY? If you have a serious cat-lover in your life, this could even be a fun small Christmas gift if you mount it against some nice card stock or pretty paper, and frame it.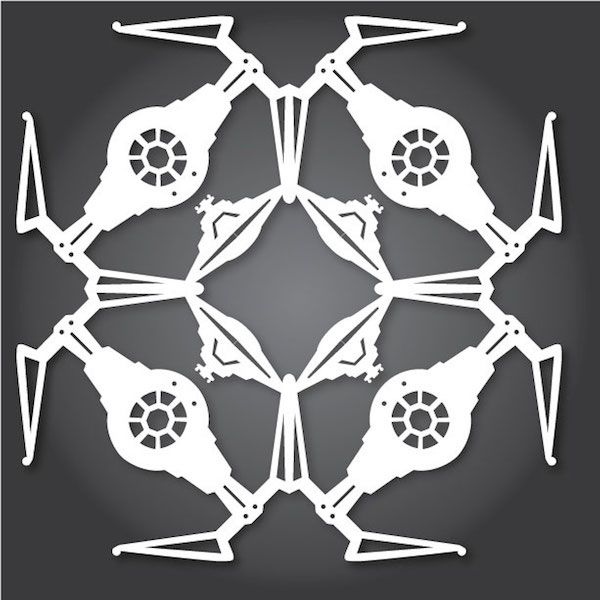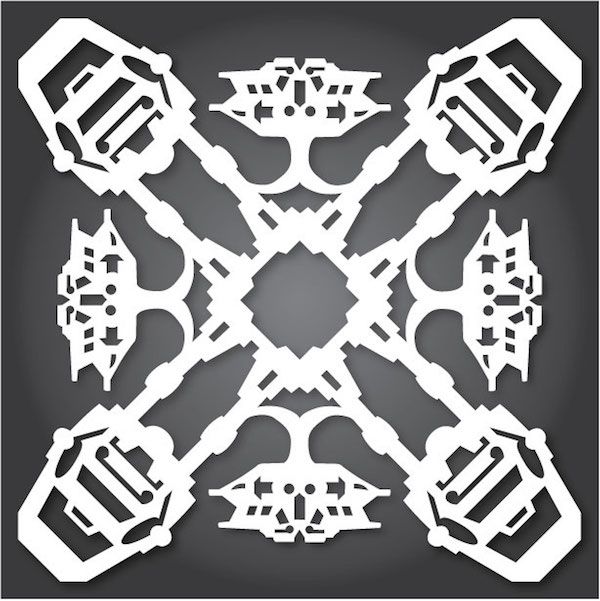 While you're camped out in line to see The Force Awakens, take some paper and scissors and try your hand at one of the many, many Star Wars snowflake patterns, from Darth Vader and Han Solo to tie interceptors and an AT-AT Imperial Walker, at Anthony Herrera Designs. You'll be the coolest geek squatting on the sidewalk outside the theater.