Full disclosure: I was at Home Depot the day after Thanksgiving, picking out the perfect tree that I'll probably keep until it's brown and desiccated on Valentine's Day. I've got plenty of space for a gigantic Douglas fir, no family members with allergies, and a dog who can usually be persuaded not to eat ornaments.
But, if you're looking for a modern Christmas tree alternative that by-Christma-passes the needles, the sap, and the enormity of it all, we've found some fantastic and beautiful alternatives, many of which will last for years and help create new traditions all your own.
Related: 17 irreverent stocking stuffers for adults both naughty and nice
CMP is an rstyle affiliate
Wood Christmas Tree ($320, ReTreeJoy)
This wooden handcrafted tree stands 6 feet tall, 4 feet wide, and is smartly constructed so you can actually see every ornament. I love that it's made from sustainably forested hardwood. And that it's also available in a 3-foot size — perfect for apartments or in case you'd rather see it on an end table than on the living room floor.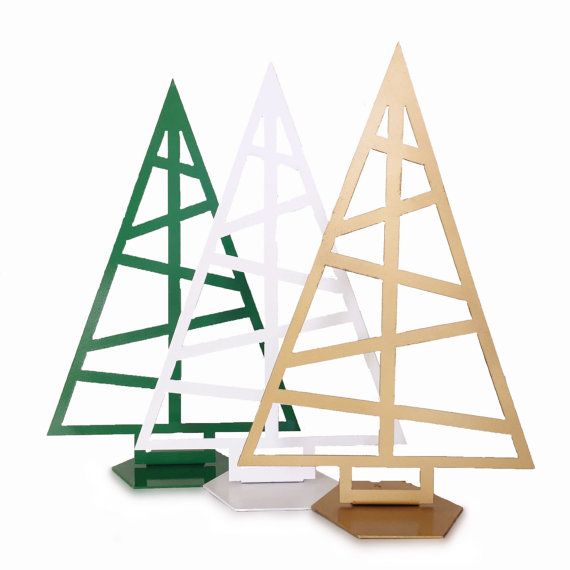 Steel Christmas Tree ($19, Saw and Steel)
These steel trees are only a foot tall, but they're reeeeeeeally sturdy and indestructible. Perfect for an office desk or a table centerpiece, it comes in three different colors and is guaranteed to last.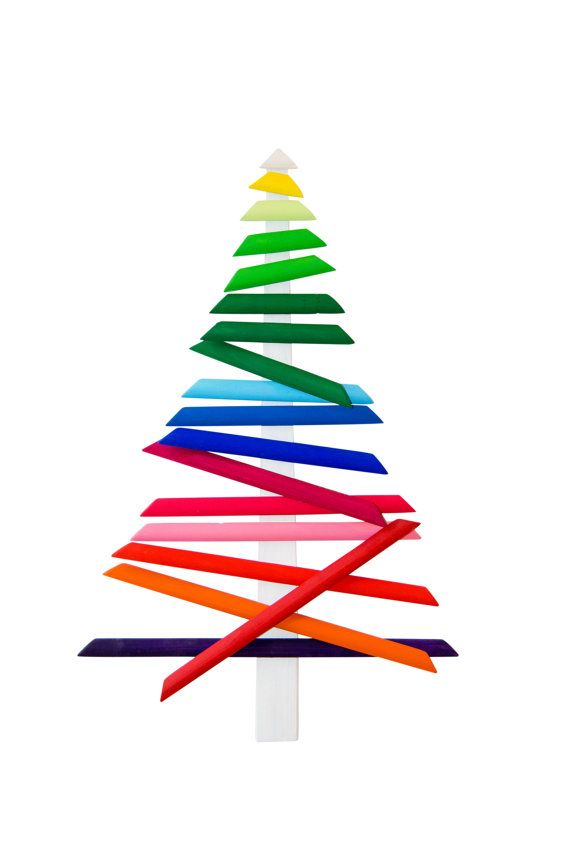 Modern Tree ($62, Deco Box Ro)
Okay, so we usually limit our finds on Etsy to companies in the US so you can avoid high shipping costs, but this entire Etsy shop from Romania is worth checking out for the gorgeous ideas alone. Artist Liliana Stoica has created eight Christmas tree alternatives from reclaimed wood and acrylic paints, many of which you could make yourself with some Home Depot scraps and nails. Really.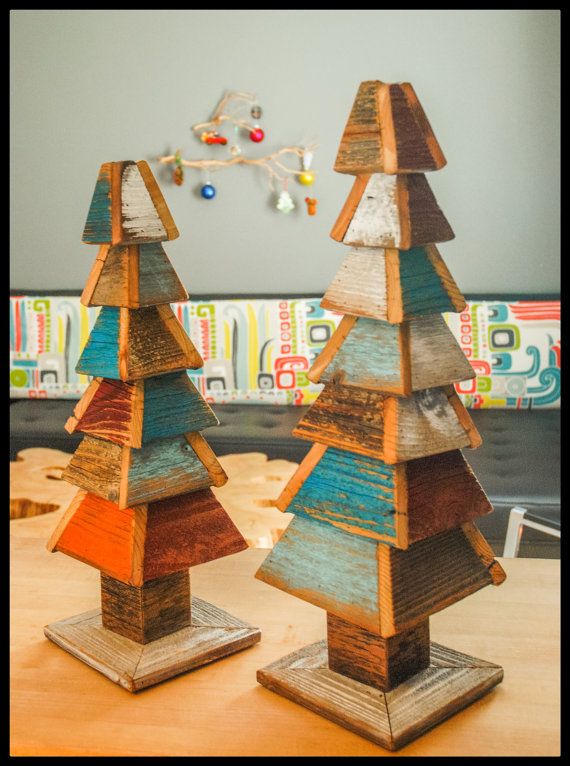 Rustic Modern Cedar Tree ($85, The Splinter Project)
Each of these rustic trees is handmade and uniquely comes with a different mix of paints and textures. At two feet tall, it's the perfect centerpiece for that long country table. And, oohh those colors!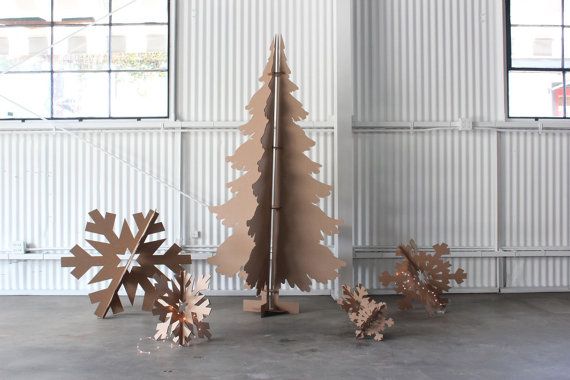 Recycled Cardboard Christmas Tree ($99, MettaPrints)
It doesn't get easier than cardboard. This tree we found on Etsy (also shown at top) comes in varying sizes from 3 to 6 feet and is knife-cut from recycled cardboard. The shop also makes one in white and will custom-create a sturdier base if you're planning on doing LED lights on this. I love the accompanying snowflakes, but be sure to click over to check out their collection of Cardboard Woodland Creatures — cutest deer family I have ever seen.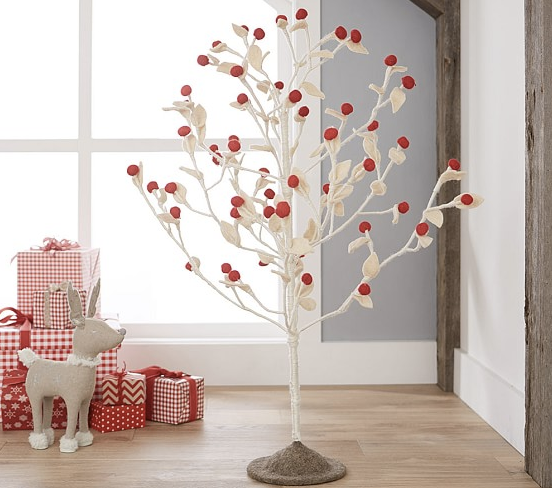 Red and White Felt Tree ($89.99, Pottery Barn Kids) 
This adorable red and white tree won't ever wither or shed. It's made from wool felt, pom poms, and iron with a sturdy base and a beautiful shape. So cute for a kid's bedroom. The American Girl Dolls will swoon.
Modern Christmas Trees ($14 and up, The Decor Room)
Create your own tiny forest by mixing and matching colors and heights of these lovely modern trees. Each one is made of hundreds of looped pieces of crossgrain ribbon. I'm loving the calming blue series, but the shop will create these in any color you choose. They also offer tons of other options, too, including felt rose trees, trees made of painted twigs, and trees in brightly colored felt pots.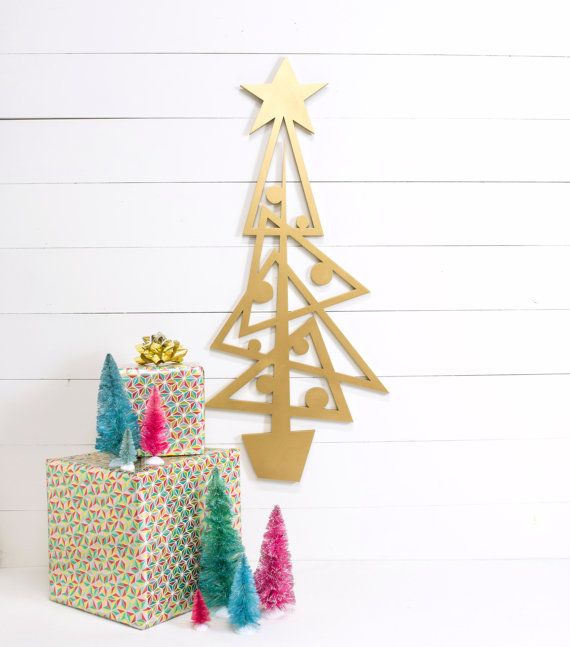 Mid Century Wooden Tree ($125, Kolorize)
This one is so easy: Just hang it on the wall. At 3 feet tall, this handcut birch veneer tree in sparkly gold metallic paint looks fabulous floating a few feet off the ground and surrounded with presents. No clean up, no ornaments, no cat horking up tinsel strings. Just plenty of style.