Have you been checking out our 2017 Father's Day Gift Guide yet? Good! Well for all you new parents out there, this list of gifts for new dads is for you. And I've been especially excited to write it. As a mom who's immersed in the first year of parenthood myself, I know how special this time is — and, how quickly it flies by.
So, I've put together what I think are 10 awesome and special Father's Day gifts for new dads to help him show off his new title, care for the baby in superb style, and commemorate the magic of that first special year.
Cheers to all the new dads out there! And don't worry, you'll sleep again. One day.
CMP is an rstyle affiliate
Related: 3 of our favorite board books for new dads that make great Father's Day presents. 
Papa Bear Mug  (Lace and Twig, $18.43)
Papa Bear's going to need a lot of caffeine to recover from those nighttime feedings, so this cool mug will definitely be appreciated. Pair it with the aptly named Java Junkie coffee gift set, and it'll be an even bigger hit for Father's Day.
Matt and Nat Diaper Bag ($99.97, The Land of Nod)
For all the champs who've been stuck toting a monogrammed, floral print baby bag leftover from the baby shower, we present: a bag of his own. Every new dad  should have one.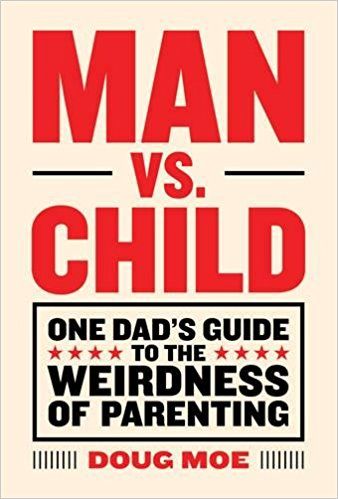 Man vs. Child: One Dad's Guide to the Weirdness of Parenting ($13.49, Amazon)
Ah, the gift of reading — and the time to actually do it. Perfect for the literary lover. This new book from comedian and actor Doug Moe is light on advice, heavy on funny, which should hit just the right spot for new dads.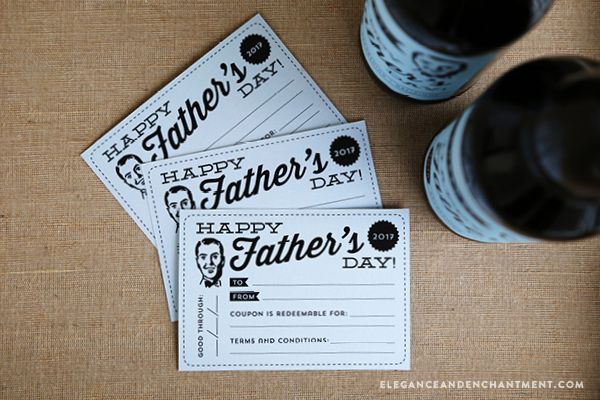 Free Printable Father's Day Coupons (Free!, Elegance and Enchantment)
Coupons for time off are the perfect Father's Day gifts for those rockin', co-parenting new dads who could use a break from rocking the baby to sleep, sorting laundry, and changing dirty diapers. We first found these in a past roundup of fun, free Father's Day printables and still love them. In fact, click through for even more cool ideas. Because hey…free.
Personalized Dad Money Clip ($155, Metal Pressions)
This sterling silver, totally customizable money clip (also shown at top) will hopefully last until the baby is grown. Although we can't guarantee the cash it holds will stick around quite as long.
Related: 13 of the coolest personalized gifts for Dad | Father's Day Gift Guide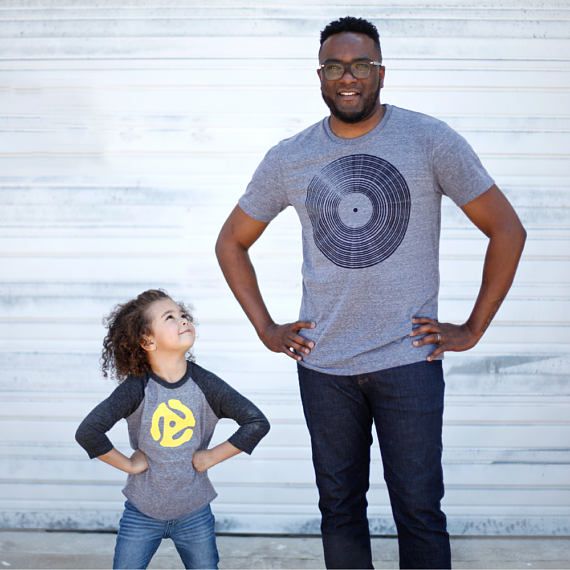 Daddy and Me Vinyl/45 Adapter T-Shirt Set ($48/set, Blackbird Supply on Etsy)
We love this Father's Day gift for new dads so much, we also included it in our list of 16 fabulous Father's Day gifts for the cool dad. Because, this is cool. Perfect for the dad raising his baby on the Alabama Shakes and Jimi Hendrix, the kids' t-shirt sizes begin at 3 months, so you can start them on great daddy n' me style — and tunes — early.
Related: 16 gifts for the cool dad | Father's Day Gift Guide 2017
Adventure Begins Journal ($24, Portland Leather on Etsy)
I always find a good-looking notebook helps motivate me to write, and I think this hip leather journal will definitely keep a first-time dad scribbling down his thoughts on the magic of early fatherhood. Or, you know, grocery lists.
Related: 16 more fabulous Father's Day gift ideas for new dads
Framed Dad Photo Art (Minted, $29+)
If you want a Father's Day gifts for new dads who are extra proud of their new job title (that's pretty much all of them), this is such a sweet idea and so easy to customize at Minted. Plus, you can add a short line of text at the bottom, like the baby's birthday, name, or a personal message.
Custom Men's Leather Bracelet  ($32.90, Eliziatelye)
If he's the type to wear a funky, chunky, hipster leather bracelet, Eliziatelye lets you personalize this cool version with GPS coordinates — of the baby's birthplace, perhaps — or a birth date. I think the Roman numerals are super sophisticated.
First Father's Day Frame ($24.95, Flowers in December)
Hey, you can always go with a simple framed print of the baby that he can proudly display, especially if the frame is as sweet as this one. Bonus: Add in a professional photo shoot with a great family photographer in your area. So thoughtful.