We always love finding the coolest personalized Father's Day gifts every year as part of our Father's Day gift guide. And by cool, we mean no cheesy "your name here" mugs. (Not that he wouldn't love it if it came from you, though.) So check out all 13 of these awesome personalized gifts for dads and grandfathers that we've found, whether you're looking for something small and sentimental, or a big splurge to blow his mind.
CMP is an rstyle affiliate
1. A Custom-Engraved Bottle of His Favorite Liquor
Both ReserveBar.com and Spirited Gifts offer a nice selection whether he likes cognac, a nice bourbon like the engraved bottle of Woodford Reserve (shown above), or he goes right for the tequila. (Prices start around $49 for a Chimay Reserve Blue Label Beer, to $450 for a Gran Patron Burdeos, to $825 for a Macallan 21 Year Fine Oak Single Malt Scotch Whisky)
Father's Day photo idea + tips via Freckle Photo
2. An Awesome Photo of the Kids
Check out our post on 7 easy Father's day photo shoot ideas and get inspired! We still love this idea, above, from Freckle Photo — click over to see tips including her lens and camera setting specs. All you need now is a beautiful frame (we're all fans of the handmade frames from O'Brien Schridde for something extra special) and kids who will sit still. Oh, and any of the ideas would also be so great for grandparents too.
3. A Personalized Cross Marvel Collection Pen
Not every dad is attached at the fingertips to his keyboard. Some still value the joy of a special pen whether it's for penning his novel or just signing all of your birthday cards. While Cross has a ton to choose from, we happen to be fans of the brand new Marvel collection of Cross pens. As if they weren't cool enough, you can now get free engraving for a limited time to personalize it to your favorite superhero. ($150 and up; for free engraving use code BESTDAD2016)
4. A Custom Illustrated Family Portrait
We recently covered 26 of our favorite modern family portrait artists, all of whom can create something absolutely incredible and memorable for Father's Day. Well, we need to add Mary and Shelly Klein of K Studio to the list. We've been longtime fans of their charming gifts like personalized mugs and pillows, and now they created this awesome custom illustrated cameo family tree portrait for Uncommon Goods. Just be sure to order soon! And visit the other family portrait artists on our list for more options, some of which you can still order in time to surprise Dad on Father's Day. (Prices range from $75–$175)
5. Keepsake Jewelry from a Child's Artwork
Whether he's more of a tie clip or cufflinks guy, or you think a keychain is more his speed, we're all the biggest fans of the keepsake jewelry from Formia Designs made from children's artwork. Artist Mia Van Beek is just meticulous with her work (my own kids' grandfather has a treasured keychain with his portrait on it) and her turnaround time is impressive. (Tie clip shown here is $229, but prices vary)

6. Custom Baseball Team Cupcakes
If he's a die-hard fan, he'll appreciate the nod to his favorite team with these cool custom baseball team cupcakes from Williams-Sonoma. While of course you could whip them up yourself — which is a totally sweet idea — we're digging the look of these, from the masters at Chicago's Cupcakes by More. Especially perfect if he's out of town this Father's Day, and you'd like someone else to do the shipping and not just the baking. Hint: To make this extra-special, include a few tickets to the game. ($65, click over to the website for personalization options)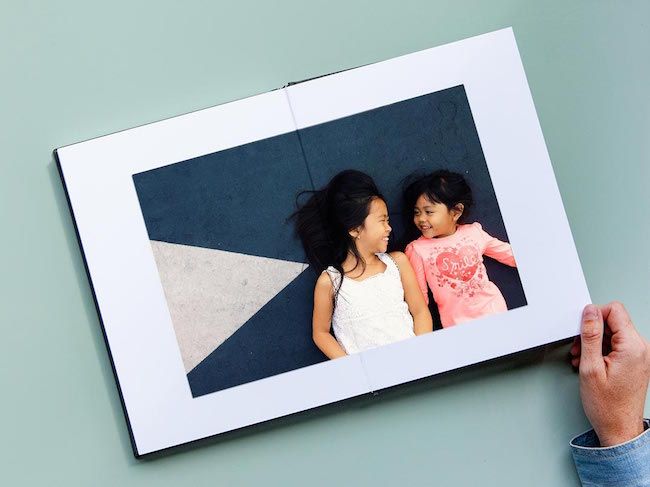 7. A Keepsake Album of the Family
Every year we recommend the personalized photo gifts for dad from favorite shop Artifact Uprising (also a recent CMP sponsor) and their collection keeps growing. This year, for something extremely special, we're fans of their new LayFlat Photo Album, which is professionally printed and just gorgeous. And the fact that it can stay open to a favorite spread makes it perfect for a desk, coffee table, or his nightstand. ($139 and up)
8. A Custom Comic of the Kids
These totally custom comics from Peanut Gallery Comics were such a hit as one of our recommendations for personalized Mother's Day gifts, that we thought it would be just as perfect for Father's Day. You get to choose the illustrator and style that brings a favorite moment to life. It's not only a keepsake, it an affordable one, too. Love that! ($24.99 and up)
9. Gorgeous Personalized Leather Accessories
There are so many cool personalized Father's Day gift ideas at Coach that are perfect for a man of style. From the stunning Monogrammed Metropolitan Coach Briefcase in Leather to a cool leather camouflage backpack with a drip print created by illustrator Gary Baseman, to the more affordable line of leather wallets, there's a whole lot we're drooling over at the Coach monogram shop. ($150 and up)
10. A Personalized Apron for Dad
Whether he's a master with souffles, dominates make-your-own-pizza night, or his domain is the grill, we love the idea of this Dad Since… personalized apron from Gift Corner on Cafe Press. It can be customized with any year, whether he's a new dad or a grandpa. And to make it extra special, kids can even decorate it with some quality fabric paints or Sharpie fabric markers — perhaps with a little supervision, of course. The apron is cute on its own, of course, but with the kids' personal touch it becomes a treasured keepsake. ($23.99 in white, khaki or lemon yellow)
Related: Cool personalized tees for dads and grandpas, new and old

11. A custom silhouette money clip
Vana Chupp is one of our favorite makers of custom silhouette gifts for any occasion, and her custom silhouette money clips in polished silver or brass are such a neat Father's Day gift idea. While you can select an existing silhouette (should you be representing a baby, for example), we think the custom idea is way cooler. Don't forget grandfathers — this is a great way to honor the patriarch of a growing family. ($75 and up)
12. A Portrait of Dad Drawn by the Kids
There are plenty of free coloring pages that make thoughtful personalized Father's Day gifts from the kids, but we keep coming back to this color-your-own portrait of dad printable from Tried and True Blog, which we included in last year's round-up of DIY Father's Day gifts from the kids. Our kids would totally go to town on it with watercolors, but whether it's perfectly colored by a tween or scribbled over with crayon by a toddler, we think he'll love it. (Free download)
13. A Personalized Doormat. Yes, Really.
We wouldn't normally think a doormat of any kind would the best Father's Day gift (no, not even the ones that say "Go Away") but when we saw this personalized amp doormat? How could we not love it?! Right down to the Fender styling. It's perfect for the guy knows that rock n roll will never die.