With Father's Day less than a week away, we can help you get things ready for dad. We are here for you! We've tracked down the very best free Father's printables (these are all fabulous, if we do say so) that include coloring pages for the kids, gift wrap, labels, coupons, and of course cards to help make his Father's Day just a little more special without a big expense. All you need is printer ink and a willing kid or two.
And we are eternally grateful to all the fantastic artists, designers and bloggers who come up with these terrific free printables in the first place.  Guess they really love their dads too.
The teeny-tiny neckties on Hazelfly's free printable Father's Day mini-banner are so cute, and they look just right in striking black-and-white. Perfect for those of us who have run out of color ink in the printer (ahem), and who don't mind spending a few minutes with a pair of scissors. It also comes with a matching card to tuck onto the breakfast tray. Though crayon-happy kids may insist on coloring it in, and we wouldn't blame them.
UPDATE: this one is no longer available; instead, please see this fill-in-the-blank Father's Day printable from  Creative Homemakers or this set of printables for dad or grandpa from the Crafty Chicks)
The kids can fill in this free printable Father's Day card themselves (or dictate it to you to fill in the blanks for a keepsake he'll hang onto for a good long time. Their answers will be priceless, guaranteed. And love that it includes the year so he can look back and remember them when they were only so old.
Though you may have to explain to the kids that no, this was not an early version of an iPad, dads everywhere will get a kick out of this retro printable Etch-a-Sketch Father's Day card from Zakka Life. And yes, it does make me want to see if I could do this with the real thing.
Customize something for the greatest dad in the world with this retro-cool set of free printable Father's Day cards and labels which include a bottle label for his favorite brew–or root beer–a greeting card to a swell guy, and a fill-in-the-blank coupon card to put on the breakfast tray. Though maybe don't serve the beer for breakfast.
We've got lots of ideas for DIY Father's Day gifts, and food is always a great idea. Grab some of dad's favorite snacks or make your own cookies, popcorn and soft drinks, and wrap them in Ellinee's rustic free printable Father's Day treat labels. It's a great way to pull together a customized gift for the father who is very particular about the kinds of treats he likes best, and to show that you're listening when he says he likes the dark chocolate chips and not the milk chocolate ones.
If he's handy with tools, check out Mr. Printables' super-clever free printable Father's Day card and gift tags. The card spells out "Dad" and the tags depict fun faces all using toolbox gizmos and gadgets–and yes, dads and tools are kind of a cliche. But if he's handy, this is a clever idea we haven't seen around a whole lot.
Make your own special homemade salsa (we can help with 7 great recipes!) or  grab his favorite jar from the store, then affix the free printable Father's Day salsa label on Minted created by Melissa of Alice & Lois. Add a bag of chips and tell him he's all that. Ha.

Instead of Mad Libs, how about Dad Libs? This Dad Libs printable card is so fun, and like the fill-in-the-blank printable at top, it would be sweet to see how kids answer questions about their fathers. Of course the big difference from real Mad Libs is you can actually let your kids see the questions first. Otherwise they'll end up with something like "My Dad's Favorite Food is…elephant."
My kids like to remember their grandpa on Father's Day too, and these sweet free printable hero labels are great for grandfathers and dads alike. Also check out the  superhero print that only needs a frame to become gift-worthy. For a special touch, let your kids sign it too.
Have a lot to say? This huge printable poster for Father's Day that we recently found from Confetti Sunshine has lots of room to list the best things about dad. It is free to download, though you'll need to get it to a place like Staples to get it printed poster-size. We can imagine his face when he wakes up to this in the kitchen on Sunday morning.
If he's hip enough to sport a pair of Converse All-Stars, he's hip enough to love this free Printable "all-star" Father's Day card at Tried & True. Hey, maybe place it atop a box with a fresh pair of cool Converse sneakers for summer?
Yes, ties again, but we can't resist this adorable free printable Father's Day necktie and card which has a certain je ne sais quoi. . .and he doesn't need to pull out the French-English dictionary to figure out that it says "the coolest of dads." If you want to make sure nothing is lost in translation, you can print it out in English too.
He may not have a mustache or wear a necktie, but I love that anything covered in this cute, free printable Father's Day gift wrap from Design is Yay will look just right for Father's Day.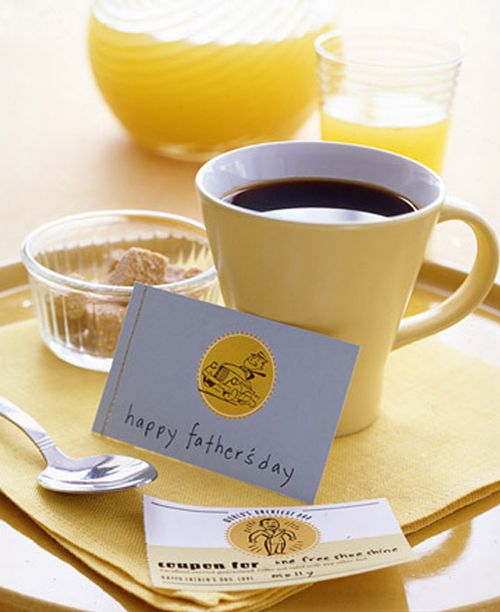 Still not sure what to give dad? It's hard to find nicely designed coupons online, but we like the  printable Father's Day coupon book via Martha Stewart Living which give him six gifts, including a free car wash, lawn mowing, breakfast of his choice, two "you decide" blank coupons, and one "King for a Day." Feel free to mix and match or just print more of the "you decide" coupons–because I say that he still has to help out during the kids' naptime.
If you still need gift ideas for Father's Day, don't miss our many awesome picks in our 2014 Father's Day Gift Guide series.