In our 2018 Mother's Day Gift Guide, we can never forget a selection of our favorite Mother's Day gifts for Grandma! There's nothing that quite makes you appreciate a cool grandma more than having your own kids, and this is the perfect time to honor her sacrifices, her pinch-hitting babysitting offers, and even those spoil-the-kids gifts that you keep asking her not to bring. (Kidding!)
Hope you enjoy these wonderful Mother's Day gifts for grandmas, nanas, grandmothers and omas of all kinds, whether they're from you, from the grandkids, or you know… "from the grandkids."
There's been no compensation for inclusion in our guide. Just the stuff we love!
CMP is an rstyle affiliate
Visit all of our 2018 Mother's Day Gift Guide posts:
–20 wonderfully creative, personalized Mother's Day gift ideas
–18 fantastic Mother's Day gifts for stepmothers, mothers-in-law, or godmothers
–17 wonderful Mother's Day gifts for grandmas
–13 Creative DIY Mother's Day gifts that kids can make and give
–15 beautiful Mother's Day gifts that give back, beautifully
–32 cool (really!) affordable Mother's Day gifts all under $15
-8 of the sweetest mother-daughter necklace sets

Ceramic Apple/Tree Mug Set
Such a sweet Mother's Day gift from a daughter or son to a mom who's now a grandma, or even from a grandchild.
$32, with personalization and gift box extra, Lace and Twig
Jo Malone Travel Fragrance Collection
Whether Grandma is a world traveler or just likes to smell fabulous right at home, this collection will give her five scents to do it.
$115, Nordstrom
Personalized Heart Photo Art
We've loved this personalized Mother's Day gift from Minted for a while, but they've just added the ability to tint the photos with a lovely blush tone, black & white, or a range of sherbert-y pastels making it even more timeless.
Starts at $42 for a framed 8×8 print, more for larger sizes and specialty frames, Minted
Available for Weekends Duffel 
What could a doting grandmother want more than more time with the grandkids? Plan a weekend for them together, complete with this cheeky hint hint duffel bag.
$54, Design Life Kids plus save 15% on the Mother's Day gift collection with code MAMA15
John Wind Celebrating Women Hoop Earrings
I love these conversation earrings from the artist's newest collection, engraved with inspirational words like courage and love — and embellished with just enough Swarovski crystals to highlight her inner beauty, not take away from it.
$66.95, Scarlett Alley or see more at John Wind's website, Maximal Art.
5% of each purchase supports 3 excellent orgs that support women including The Hunger Project, ACDN, and the Cancer Support Community's Ovarian Cancer Registry.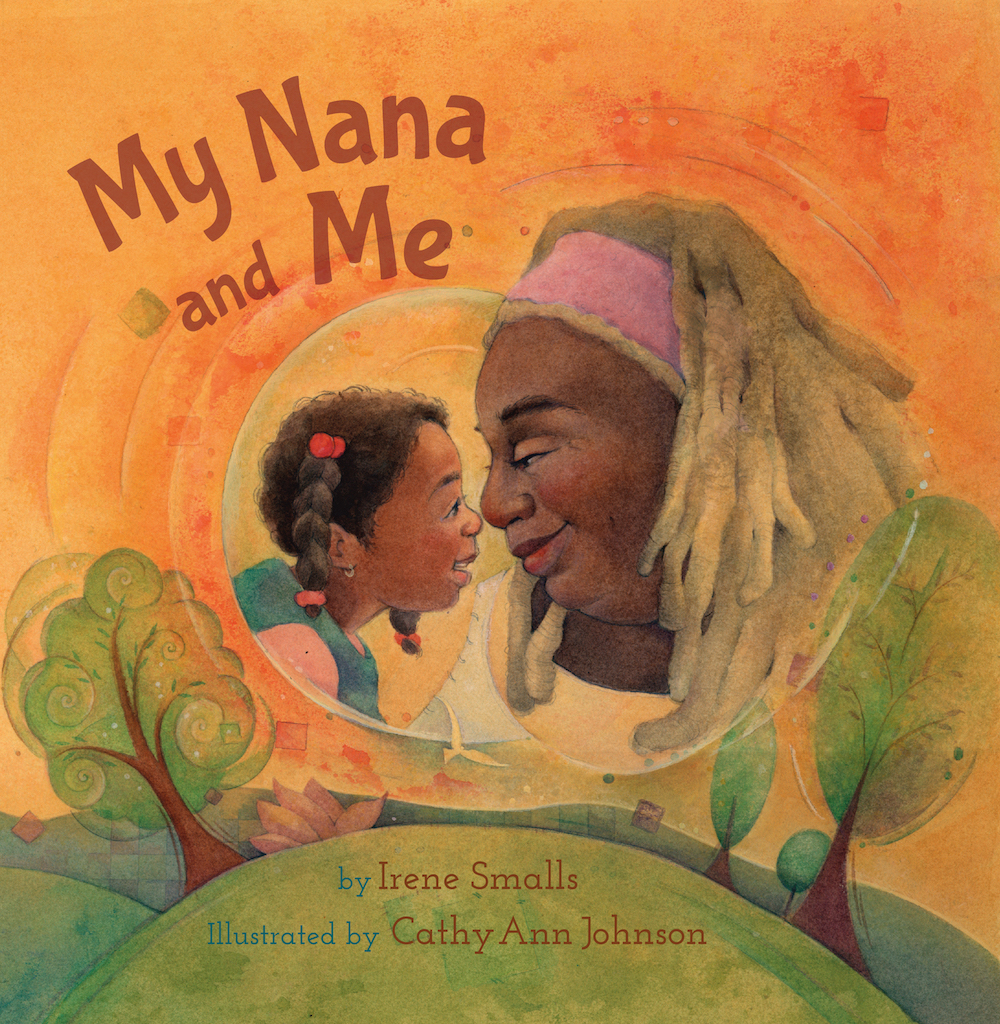 My Nana and Me, by Irene Smalls
Give her a coupon book toward 10 bedtime stories — in person, or over FaceTime — along with a favorite book she can read with the grandkids. She'll swoon.
$8.99 paperback, Amazon
Children's Signatures or Artwork on a Silver Key Chain
We are longtime fans of this wonderful shop, which can engrave signatures (perhaps all the grandchildren?), art, or a message of love onto all sorts of jewelry and accessories. She's fast, and the prices are great for the quality.
$165 for extra-large keychain shown here, Metalmorphis
DIY Prize Ribbon Cake
Party master Abby Hunter created this spectacular cake for the Derby, but we think it translates perfectly for Mother's Day! Pipe some frosting on each cookie ribbon to spell out NANA or just put  #1 in each one. She'll love it.
Tutorial, Handmade Charlotte
Cozy Long Women's Bathrobe
A soft microfibre robe she'll never want to get out of. And why should she? She's earned a little lounge time! Throw in a spa gift card too, if you're getting extra-generous this Mother's Day.
$99, Nordstrom, available in multiple sizes and 12 colors
Genetic Testing Service to Research the Family Tree (Nat Geo)
If she's a genealogy buff, she will be thrilled. We've compared three of the top services, so you can choose the one that's best for her.
All around $99, companies vary; Ancestry DNA shown here

All About My Grandma Photo Book
We also love the mom version of this photo book and are so happy to see one just for grandmas! Kids fill in prompts, you add photos…and ideally, Kleenex. Perfect.
$16.99, Pinhole Press
Wooden Perennial Garden Kit
If she's a gardener, this is the perfect Mother's Day gift for grandma. Even better, throw in some perennial seed packets for her favorite blooms, from Hyacinths to Hydrangeas, to Hollyhock.
$90, MoMA Store with 10% off for members; seed prices vary from Burpee
Custom Mother's Day Candy Trunk 
Also included in our guide to Indulgent Gourmet Mother's Day gifts on Cool Mom Eats, we love this cool Mother's Day gift for grandmas with a sweet tooth. And wow, the treats they offer are amazing, which is why we've loved Sugarfina since they launched.
$26 and up for custom boxes; $195 for this Candy Trunk, Sugarfina
DIY Paper Tissue Flower Mother's Day Cards
We always offer a ton of great DIY gifts and cards from kids for Mother's Day, but this is such a lovely, easy project.
Tutorial: Agnes Hsu for Hello Wonderful
I Love My Nana Handmade Ceramic Ring Dish
So sweet, and such a great price! She also sells dishes that say Grandma, Grammy, Oma and Mom.
$19.95, Momology Pottery
Floral Silk Scarf
Flowers for Mother's Day are guaranteed to last when they're in the form of this gorgeous 36″ silk scarf in pink or navy.
$135, Echo Design
"Love You to the Moon and Back" Wooden Journal
One of our favorite expressions preserved in beautiful, hand-constructed, USA-made journal from a terrific small company.
$35, Woodchuck USA
Visit all of our 2018 Mother's Day Gift Guide posts:
–20 wonderfully creative, personalized Mother's Day gift ideas
–18 fantastic Mother's Day gifts for stepmothers, mothers-in-law, or godmothers
–17 wonderful Mother's Day gifts for grandmas
–13 Creative DIY Mother's Day gifts that kids can make and give
–15 beautiful Mother's Day gifts that give back, beautifully
–32 cool (really!) affordable Mother's Day gifts all under $15
-8 of the sweetest mother-daughter necklace sets