I'm convinced that personalized Mother's Day gifts make the absolute best presents. Why? Because they show that the giver has actually thought ahead, and because they're designated specifically for Mom. As someone who lives in a household where everything's last-minute and my belongings are commandeered on the regular — like that cashmere sweater my son once used as a Kleenex; thanks, Bud! — I know that a Mother's Day gift that's all my own is no small thing.
So check out this collection of sweet, thoughtful, personalized Mother's Day gifts in every price range, from jewelry to photo books…even customized perfume.
But you'e got to hustle! Because you'll need to order soon to make sure your personalized Mother's Day gift actualy arrives on Mother's Day! (Not that I wouldn't take an IOU for some of these.)
There's been no compensation for inclusion in our guide. Just the stuff we love!
CMP is an rstyle affiliate. 
Don't miss a chance to win our $820 spring accessories giveaway! Details below!
Visit all of our 2018 Mother's Day Gift Guide posts:
–20 wonderfully creative, personalized Mother's Day gift ideas
–18 fantastic Mother's Day gifts for stepmothers, mothers-in-law, or godmothers
–17 wonderful Mother's Day gifts for grandmas
–13 Creative DIY Mother's Day gifts that kids can make and give
–15 beautiful Mother's Day gifts that give back, beautifully
–32 cool (really!) affordable Mother's Day gifts all under $15
-8 of the sweetest mother-daughter necklace sets

Custom Mother's Day Photo Book
There are no shortage of great photo books out there for Mother's Day — take a look at our comparison our 13 favorite custom photo book companies for ideas. But I really love that this All About My Mom photo book from Pinhole Press kicks it up a notch by letting a child fill in their own favorite things about Mom using prompts. I'm guessing younger kids will have some hilarious answers, too. Like MadLibs, but sweeter! And fantastic price for a keepsake photo gif tlike this.
($16.99, Pinhole Press)
Related: 7 of the coolest affordable photo gifts for Mother's Day, all under $50
Personalized Embroidery Hoop Portrait
Wow, how cool are these embroidery hoop portraits! They make such a fabulous personalized Mother's Day gift, whether you use a picture of your kids or create an embroidered portrait of Mom herself. This one will definitely earn a special place on a special wall.
($80, Trendy Puku, and convo the artist if you have a special request)
Personalized Silhouette Bracelet
We've been a fan of the classic and heart-melting jewelry and silhouette gifts from Vanna at Le Papier Studio for a long time — so much there to love! But right now I'm especially coveting her silhouette charm bracelets from a photo of your child. You can even have her design one for multiple kids and choose from different metals. And the price is fantastic!
($58 and up, Le Papier Studio)
Related: 16 awesome first Mother's Day gift ideas for new moms.
Personalized Handmade Candle
I love that you can choose your own scent and text (insert running family joke here) to turn these cool handcrafted candles into the perfect personalized Mother's Day gift. The scents range from banana bread to "Calm the F*uck down" (can I have both?) so you know you'll find something made just for her.
($13, A to Z Candles)
Personalized photo phone case
Even if the inside of mom's phone is already chock full of family photos, having a few to display on the outside is pretty awesome. Especially if it comes in a fun filmstrip design like this one at Shutterfly, available for all different phone models.
($44.99, Shutterfly)
Gift Card for Completely Custom Luxury Handbag
If you're shopping for a mom with impeccable — and very specific — taste in designer handbags, consider giving her a 1 Atelier gift card so she can have the fun of designing her own. You can customize every single aspect of these specularly luxurious leather bags, including colors, type of leather, the length of the straps, metal accents, and even add a name on the inside. Shown here: The 1 Atelier Universal Tote
(Starts at $295 for a small pochette or wristlet + way up for a tote or leather backpack with python accents, 1 Atelier)
Personalized Wooden Mother's Day Card
I love how these engraved wooden cards stand out from the standard drugstore Mother's Day offerings and really become treasured keepsakes. You can even write your own message to be engraved on the back, and it looks really cool too! Just pick out a card and then drop this customization add-on into your cart.
($14+, Cardtorial. Add $7.50 for personal engraved message on back)
Personalized beaded open bracelet
If a mom or grandma in your life prefers classic jewelry to mommy keepsake jewelry, but would still love something personalized, this hidden-engraving bracelet is the perfect compromise. I think she'll have more fun wearing it since it carries a little secret inside, just for her.
($119, Merci Maman)
Children's Artwork As a Framed Foil Print
Every mom adores children's artwork, which is why I love that Minted is now turning them into beautiful keepsake prints using metallic foils. You can even have it framed because she'll never want to take this one down, ever. Cue tears.
(Starts at $95 unframed  and frame prices vary, Minted)
Personalized Children's Signature Embroidery Hoop
If you're child isn't quite up to the "drawing the entire family" phase of development, there's just something about a little kid's early handwriting, whether it's his own name, or it simply says MOM. You know that one day that signature will just be just a scribble on a credit card receipt, so all the more reason to preserve that adorable rough lettering as a sentimental, personalized Mother's Day gift.
($25, Sentimental Sundays)
Personalized Perfume from Waft
If your mom's is constantly cooking with cardamom or tending to her wisteria garden, creating a scent for her with notes of those scents could be an incredibly thoughtful personalized Mother's Day gift. Or, if you think she'd rather make her own, you can buy her a gift card and let her play around with customizing her own fragrance. Very cool.
($79, Waft)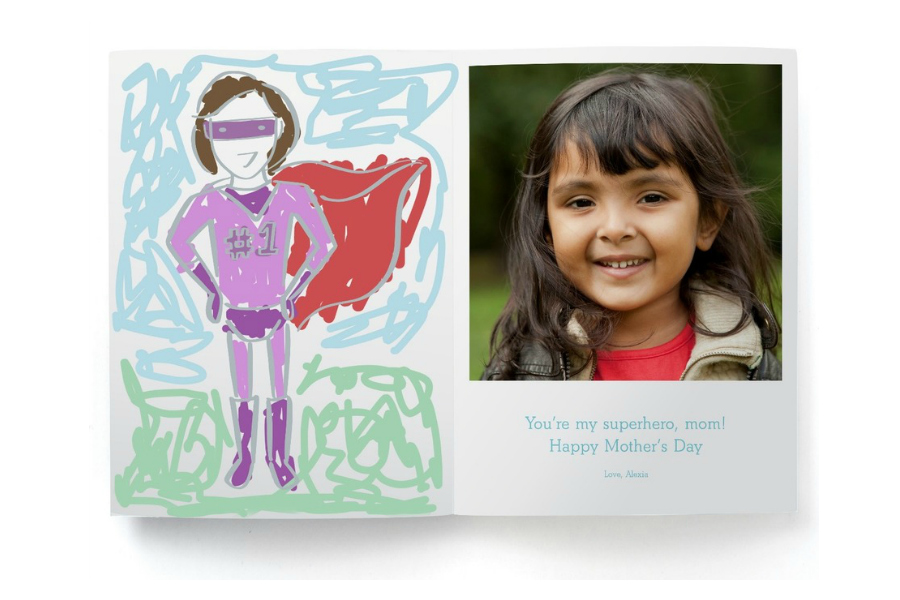 Personalized Superhero Coloring Card
This sweet Mother's Day card lets you add text and you upload a picture of your kid, and best of all, there's space to color in the supermom drawing so that it really looks like her. Or her with a more interesting hair color. And uh, wardrobe. At this price point, it makes a perfect from-the-kid gift — especially if you've got multiple kids you're "helping" to shop for Mother's Day gifts.
($3.99, Pinhole Press)
Related: 12 truly cool handmade Mother's Day gifts from kids 
Monogramed Straw Tote
My son and nieces take a manifest destiny approach with any handbag I carry, in that they feel entry into that bag is justified and inevitable. And okay, it may not solve the problem completely, but I still think mom would appreciate a bag monogrammed just for them. And it's nice to see a well-made personalized bag that's on-trend, and won't break the bank.
($88, Anthropologie)
Personalized wood photo calendar
I'm going to guess most moms have a treasure trove of kid pictures on her Instagram or Facebook, and I think she'd be so impressed to see her favorites — or ones she hasn't seen yet — beautifully curated and displayed on this cool clipboard calendar. Plus, you can start the calendar any month you'd like so no worries. She won't have to miss the first five pictures!
($30, Artifact Uprising)
Personalized Diamond and 14k Solid White Gold Photo Necklace
Looking for a serious splurge Mother's Day gift this year? Well, my budget is more suited to mall jewelry than diamond encrusted lockets, but I'm having so much imagining that one day, I could have this showstopper keepsake photo necklace around my neck. Wow. There are going to be some lucky moms and grandmothers out there with this one!
($1,795, Planet Jill)
Personalized Wooden Rolling Pin
This personalized rolling pin is the most brilliant idea, especially if the mom or grandmom in your life is a holiday cookie savant, or a school bake sale goddess. It's budget-friendly and ships fast, but you'll look like you put in a world of effort. And don't worry — the maker smartly prints your message it in reverse so that Made by Mom doesn't read moM yb edaM on her pie crusts.
($37.99, Sweet Rolling Pins)
Personalized Photo Chocolates
Boomf made a splash with their personalized photo marshmallows and we still adore them. But I'm thinking that now that they offer two kinds of personalized chocolates, that's a surefire personalized Mother's Day gift winner. Whichever treat you choose, such a cool presentation. Order soon, so it arrives in time, fresh from the UK!
($28.99, Boomf)
Related: 18 of the funniest Mother's Day cards because if we didn't laugh as moms, we'd cry.
Personalized Stacking Word Rings
If she's got more than one kid or grandkid, I love these affordable, personalized rings from our friends at give-back accessory maker FashionABLE which you honor multiple names, and even add on as your family grows.The more you add, the cooler it looks on your hand. Unless she has like 8 kids. Then you might want a different plan.
($34, FashionABLE)
Personalized Face Licker Lollipop
Yep, we're going here. If you know a mom with a sense of humor — or is willing to be set up for some exemplary Instagrams — consider this very meta gift idea. Plus, maybe having mom's actual face carved into her candy will protect it from being eaten by the kids? Maybe? It ships from the UK though, so check delivery dates and hurry!
($55.79, Firebox)
Personalized Keepsake Silver Frame
You can't go wrong with a classic silver keepsake frame like this one, which absolutely must include a picture of Mom's favorite kids. (i.e. all of them. No encouraging Mother's Day fights allowed!) Engrave it with "Mom," a nickname, or a short favorite saying.
($130+, Saks 5th Avenue)
Related: The best keepsake gifts for grandparents who love the kids more than anything in the world.
Custom Superhero bobblehead
Okay, so we couldn't resist. It's silly, but there's so much win in a bobblehead supermom that looks exactly like her (even if the perfectly toned midsection is…optimistic). Give it to a mom who needs a daily reminder of her remarkable superpowers and she can keep it on her desk, her night table, or even dead center on the living room coffee table just to remind everyone in the family how awesome she is. We're totally fine with that.
($119, Custom Bobbleheads)
Visit all of our 2018 Mother's Day Gift Guide posts:
–20 wonderfully creative, personalized Mother's Day gift ideas
–18 fantastic Mother's Day gifts for stepmothers, mothers-in-law, or godmothers
–17 wonderful Mother's Day gifts for grandmas
–13 Creative DIY Mother's Day gifts that kids can make and give
–15 beautiful Mother's Day gifts that give back, beautifully
–32 cool (really!) affordable Mother's Day gifts all under $15
-8 of the sweetest mother-daughter necklace sets

Extra Cool: WIN IT!
We are so happy to be able to giveaway one amazing $820 accessories bag donated by the Accessories Council. (Follow them on IG for some great finds!) It's the same bag gifted to top fashion editors in NYC this spring, and now…maybe, you too! It includes:

Items may not be exactly as pictured, but will be of comparable value and you will love them regardless, so there's that. 
Kipling Laptop Backpack • Pink Karma Meet Me at the Bar Necklace • Pink Karma Wave Necklace • Jubilee Jones Singer Dress Clip • Karen Salmonson Instant Happy Journal • Blossom Box Drop Earrings • Marcia Moran Statement Earrings • Deux Luxe Clutch • Mila & Such Silk Scarf • John Wind New Spring Collection Ring
That's enough to keep you, your mom, your grandma, and all your mom friends in swanky spring swag!
To Enter for a Chance to Win:
1. Share any one of our 2018 Mother's Day Gift Guide posts on your Facebook feed. See the list above. There will be a total of 7 posts. Then, send us a permalink to your update (or a screenshot if you have a private page) to info@coolmompicks.com with the subject line MD18 CONTEST. (You don't have to like @coolmompicks on Facebook but if you did we'd be happy!)
You may enter one time with one link per gift guide post, for a total of 7 entries.
(Hint: Maybe spread them out a little? You probably don't want to inundate your friends and family with consecutive updates!)
2. Follow @coolmompicks on Twitter, then share a link to any of our gift guide posts on your Twitter feed.
Be sure to tag us @coolmompicks with the hashtag #cmpmothersday
Tip: You can tweet something like:
"The @CoolMomPicks Mother's Day guide is the coolest I've ever seen! I want everything here: [link to post] #cmpmothersday" Or,  feel free to get creative. You do you.
You may enter one time on Twitter per gift guide post, for a total of 7 entries. Again, spread them out! More for you than for us.
3. Follow@coolmompicks on Instagram, then share a photo featured in any of our gift guide posts on your Instagram feed.
Make sure to tag us @coolmompicks with the hashtag #cmpmothersday AND (important!) give credit to the shop or maker. Their name is very easy to find under the item you're sharing.
Example:  "Look what I found on the @coolmompicks Mother's Day Gift Guide from [name of maker here]. It's perfect for me because _____. #cmpmothersday" Or again, feel free to get creative. You can do it!
You may enter one time on Instagram per gift guide post, for a total of 7 entries.
Total possible number of entries: 21. Sweet!

Nitty gritty and important legal details

Contest ends 11:59pm PDT on May 13, 2018. We'll draw one lucky winner at random from all the entries. You must be 18 years or older to enter, U.S. residents only. Void where prohibited. Read more detailed contest and giveaway rules here.