When you're looking for a cool birthday gift for a 6-year-old, it's all about fun. Kindergarteners and first-graders are ready for more complex toys and games that stretch their imaginations and sometimes even their bodies.
We love gifts for 6 year olds that get them thinking, moving, and — most importantly — having a blast just being themselves. While it's also worth looking at our ideas for cool birthday gifts for 5 year olds and cool birthday gifts for 7 year olds, here are just some of our (very many) favorite cool gift ideas that we created specifically with 6 year olds in mind. You're sure to find something perfect that goes beyond the expected.
Please note that we've included links to both big and small shops for convenience and price. But we always encourage you to shop your own local independent toy stores, book stores, and boutiques!
Be sure to see our full list of the coolest birthday gifts for kids by age
The best gifts for kids by age 2023
The coolest first birthday gifts
The coolest birthday gifts for 2-year-olds
The coolest birthday gifts for 3-year-olds
The coolest birthday gifts for 4-year-olds
The coolest birthday gifts for 5-year-olds
The coolest birthday gifts for 6-year-olds
The coolest birthday gifts for 7-year-olds
The coolest birthday gifts for 8-year-olds
The coolest birthday gifts for tweens and big kids 9-12
The coolest birthday gifts for teens
The coolest gifts for 6 year olds this year 
All gifts have been editorially determined by our staff, there is no compensation in exchange for picks. We may get a small commission from affiliate link sales at no cost to you. This helps us remain independent and support our team.
This post is new for 2023.
($91.99 at Maisonette)
Our pick for the best little-kid scooter now makes our favorite bigger-kid scooter. It's the best gift for a six-year-old because they'll use it for a long, long time before passing it down to a sibling or friend.
($34.95 at Amazon)
Self-expression at its most colorful! Five little adhesive patches come with almost 500 LEGO DOTS that can be put together to create the most imaginative designs.
($19.95 at Fat Brain Toys)
Whether it's "dream big", "veggies are gross", or "I want a dog", this dry-erase, light-up message board can change as often as they want and makes a great gift for a 6 year old with lots to say.

($219-$349 at Pottery Barn Teen)
Don't worry, he won't bite. Chewie is just inviting some lucky 6 year old to come snuggle in this oversized beanbag chair. It's as cuddly as it looks.
Voice of Inspirational Women sound book
($25 at Uncommon Goods)
Share quotes from the actual speakers with this unique and inspiring book featuring 14 incomparable women. It also includes calls-to-action for those of us raising the next generation of activists.
($36.95 at Amazon)
In loads of colors including this pretty tie-dye rainbow, we love that these durable, volume-limiting headphones from LilGadgets fold up easily when not playing their favorite tunes. Very cool gift for any 6-year-old.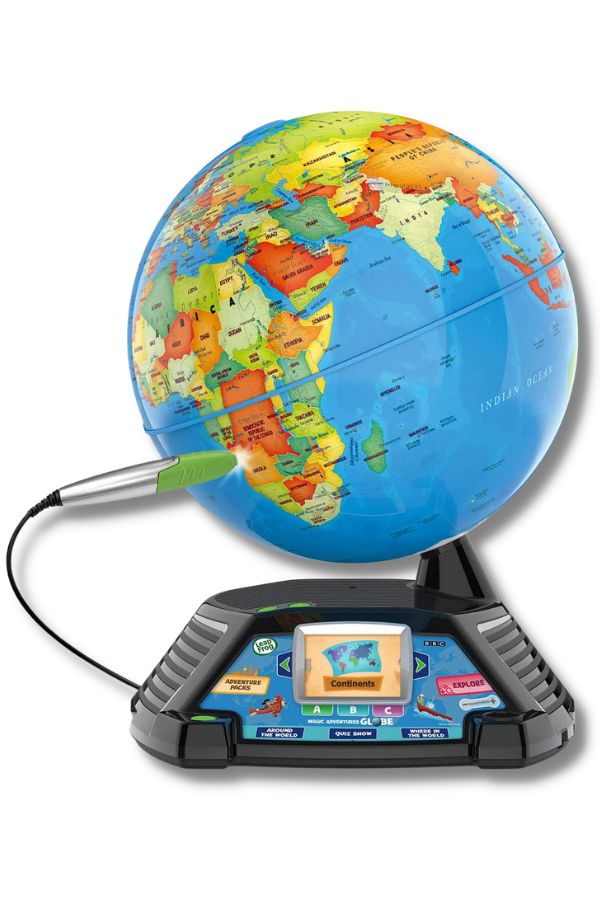 ($75.08 at Amazon)
6 year olds are learning about everything around them, and this interactive globe from Leap Frog will bring them around the world with just a touch of the stylus.

($19.99 at Amazon)
Bring some of the fun of the Magic Kingdom to family game night with this beautifully illustrated, easy-to-play game that can be completed in about 20 minutes. Or, the time it takes to walk from Cinderella's Castle to Space Mountain.
($41.01 at Amazon)
Move over Lizzo and Harry! Our favorite 6-year-olds can be their own rising stars with this new Tobi 2 interactive karaoke machine,which includes wireless Bluetooth connectivity. Not only can they sing along to any song, there's a pitch correction feature which, depending on your child, may be the best feature of all.

($22.46 and up at Chalk of the Town)
Kids love these t-shirts that let them doodle, draw, or write their own message with special chalk pens included in the kit — then wash and start again.

($179.98 at Amazon)
A long-time favorite that will last until they head off to college, this outdoor obstacle course helps build strength and confidence as they tackle everything from the monkey bar ladder to the spinning ninja wheel.
($20 at Positive Charm on Etsy)
Such a pretty personalized gift at a great price, this also makes a thoughtful present for one of their many 6-year-old friends.

($39.55 and up at The Felted Tree on Etsy)
If you're a fan of Waldorf-style toys, or you have a kid who adores tiny things, this lovely DIY fairy garden kit is worth a look. It comes in its own container ready to be set up indoors or out. Just add soil, plant, and magic.

($48 at VANS)
Classic checkerboard pattern in a mid-rise sneaker, these go on in a jiffy and look good with anything.
($14.97 at Amazon)
Can you think of a more fun way to do science experiments than getting to eat the results at the end? Love this kit from Thames & Kosmos because you know, anything with "gross" in the name is going to be a hit with 6 year olds.

($25 at Butterfly Flight Shop on Etsy)
Handmade from lightweight parachute material, they'll love fluttering around with these pretty wings.
Image © Christina Refford for Cool Mom Picks; throwback to the Pawsox who moved from Pawtucket RI to Worcester MA
(prices vary; find your nearest Minor League Team here)
Take them out to the ballgame to see games played by teams with the most awesome names like the Akron Rubber Ducks, Richmond Flying Squirrels, or the Montgomery Biscuits. With game nights especially for kids, teams make it really fun with contests, giveaways, and sometimes even fireworks to end the night.

($119.99 at Amazon)
With double the storage and a longer battery life than the older model, the new Kindle Kids is a voracious reader's best friend. And if you need a gift for a six-year-old who isn't a bookworm yet, a one-year Amazon Kids+ subscription can help make them one, thanks to access to thousands of books and hundreds of audio books.

($44.70 at Amazon)
They'll be pinball wizards in no time with this high-quality, no-batteries-needed, tabletop pinball machine from Brio with an out-of-this-world space theme.

($79 at Funboy)
Great for sleepovers or to keep at the grandparent's house for overnights, this snazzy convertible deflates for easy storage. Or set them up in front of the television for a unique "drive-in movie" night! Also available as a sleek silver airplane air mattress if your 6-year-old prefers that mode of travel.
($49.99 each at Target)
The first three dolls in what we hope will be a long series, Okoye, Shuri, and Nakia are beautifully made, bendable, and posable dolls from Black Panther: Wakanda Forever. They'll look great displayed in your child's room which is good because we couldn't bear to see them tossed in a toy box.

($29.95 at Art2theExtreme on Etsy)
Each individually made letter will look terrific standing up in their bedroom, but it's also an actual crayon that they can use to draw and color to their heart's content.