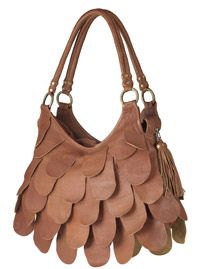 I love handbags. I mean, really, I love handbags — they're the perfect accessory, because they're beautiful and practical. Your stuff has to go somewhere, after all. And right now, I am extra super in love with the Tabitha bag from HelpingHandbags, because it's pretty and useful — and because this bag will make the world a better place.

When you buy a Tabitha bag, HelpingHandbags donates 100% of the net profits to help abandoned and institutionalized children in Bulgaria. The money provides one child with 60 hours of time with a "Baba," or grandmother, through the Give a Granny program. In other words, you get a stunning bag and a child gets some much-needed love and attention.

I think that combination alone makes the Tabitha the perfect handbag. But the bag itself is pretty much perfect, too; it's a beautiful leather hobo with thoughtful details and incredible craftsmanship. This is a limited edition bag, so get yours now — because how often does doing good look so great? -Susan

Order your Tabitha bag at HelpingHandbags — and use code TAB25 to get $40 off the price.