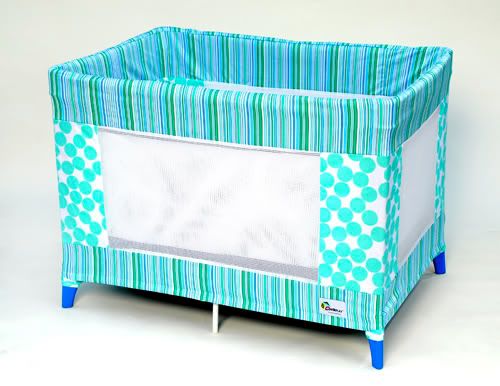 As a fairly frequent flyer, I've always packed my own portable play yard because, well, you know why. The thought of using a hotel crib or that borrowed play yard that's been growing mold in your friend's basement for a few years gives me shivers on top of shivers.
Well hooray for the briliance of mom Allison Costa who came up with safe and adorable covers for the things called, simply enough, Coverplayards. They are absolutely perfect for avid travelers ,or parents who are tired of that playpen fabric that was the best of what was available when you registered for it. The variety of styles in either fuzzy chenille or cotton lycra will instantly gender neutralize any playpen hand-me-down or create a bit of synergy between your own living space and your baby gear.
Plus the Coverplayard starts at just $59 – way cheaper than buying a new one when the fabric starts to get grody.
One more benefit? Maybe a little less guilt for using the baby jail as often as I do. -Kristen
Get 10% off your purchase with code "cmp"
Find the Coverplay play yard covers from >Coverplayyard