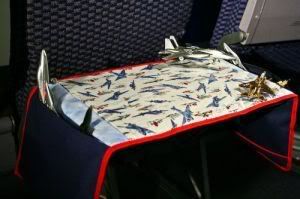 To be clear, I'm not planning on solo air travel with three children anytime soon. However, I've got friends planning vacations (lucky dogs!) and on my recommendation list is the Portable Playtime backpack.
This streamlined mom-designed pack allows kids to carry up to 20 toys along with snacks and other goodies with ease. Then once you're airborne, it transforms into a tray mat for play time and germ-free snacking.
Not only can your kids pack and carry their own toys, they won't have to bug you to reach under your seat or worse, in the overhead compartment every five minutes. Anything that makes flying with kids easier and isn't made out of 100% sugar–I'm all for it. -Kristen
Use code "coolmom" for 20% off your order through 12/31/08!
Congratulations to Carie W, winner of the Aero-Playin' backpack!