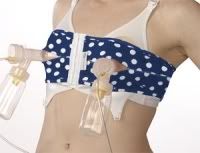 I know I'm very lucky to only have to pump as an extra curricular activity. But that doesn't mean I can't enjoy the benefits of owning a PumpEase, a cool mom-created product that allows you to use your regular old electric breast pump with no hands.
Okay so the photo is hilarious, we know. But the product is great.
The simple stretchy band attaches around your bust like a bra. Just feed the pump horns through the slits, start your pump, and then go about your business. We love the 50's pin-up girl fabric (or is it pump-up girl?) which definitely helps to make you feel a little less like a cow.

It's amazing how much of a pleasure it is to be able to check my email or read a magazine (gasp!) with my completely free hands. Who knew I'd actually look forward to pumping? -Kristen
Use code "FREESHIP" for free shipping on your PumpEase order!