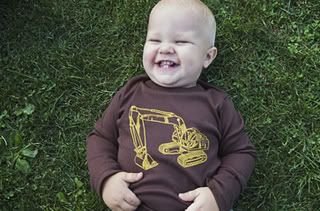 When my second born, a boy, joined our brood, I entered the fascinating world of Things That Move. I point out the backhoes on our drive to school, and we clamor to the window on Mondays to watch the garbage truck come by our house. You should hear the squeals when we pass a working bulldozer.
So if you've got a little boy or girl who's all about trucks, then you'll want to make sure to check out the cool transportation kids' shirts from Brooklyn's Two Blue Cars. They create detailed drawings of real live excavators (pictured), diggers, even cement trucks, then screen print them on American Apparel kids' t-shirts that will make any truck lover swoon…er, cheer.
If you've got a kid who knows the difference between a front loader and a backhoe, you'll be cheering too. -Kristen
Find these awesome truck shirts for kids and more at Two Blue Cars.
Congratulations to Jessica B, winner of the van tee!