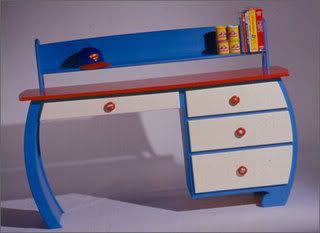 The problem with a lot of desks for kids' rooms is that they look so
serious and boring, I can't blame my kids for falling asleep before they even get through their spelling assignment.
That is certainly not the case with the kids' desk from Fun House Furniture, which reminds me of
something I might see walking across the screen in Fantasia.
Each piece of kids' furniture at Fun House is custom built by
experienced cabinet makers in North Carolina in your choice of color combos, using formaldehyde-free
maple plywood and maple lumber. Given how many hours my kids would log
at this desk, I appreciate that the stain is water-based, non-toxic and
strong. Plus this desk will hold a whole lot of stuff.
I can't promise
the kids that their work will suddenly become more interesting, but at
least they'll have a fun spot to sit and daydream. –Christina
Custom order the Fat Desk at Fun House Furniture or order the desk as shown from the Funhouse Furniture etsy shop.