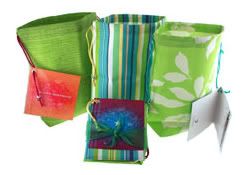 I have been a fan of gift bags for a long time, because I truly suck at wrapping gifts. And, we all know the dirty little secret when it comes to gift bags — what comes around goes around. And around and around.
That's why I love these Traveling Gift bags from Celery Street. They're made from cheery 100% cotton fabrics and each comes with a gift tag that travels with the bag to proudly show where else it's been. Now, instead of feeling like a tightwad when you reuse a gift bag, you'll feel like an eco-friendly, earth conscious, gift giver. -Betsy
Find these reusable gift bags in time for Mother's Day at Celery Street and get 15% off your first order with code COOLMOM15.
Congratulations to Helen L, lucky winner of a set of Traveling Gift Bags!