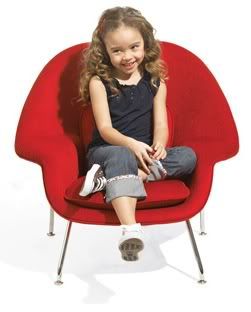 We're all major fans of Knoll studio, which is synonymous with elegant, modern furniture design. So we're especially happy that they've rolled out Knoll Kids, featuring scaled down versions of some of their most famous pieces.
Your child can return to the womb, literally, in Knoll's funky Womb Chair, which I have always loved for its simplicity and comfort. Imagine your child doing arts and crafts at a Rinsom table and chair set. I swoon just thinking about it.
Although the pieces are smaller than the originals the price tags are anything but. The Maya Lin children's stone stools are a bargain-ish at $220 each, but the Barcelona Chair and Stool? $3600. Of course we're talking about finely crafted pieces that represent the future of the modernist movement here. (You buying that?) -Betsy

Find the new Knoll Kids collection of modern children's furniture at a Knoll Retailer near you.