Like so many of you, we were super bummed to discover last week that SIGG bottles are not BPA-free. But after a few minutes of being bummed, we had this idea: What if, instead of everyone just tossing out their bottles, we ask one of our favorite sites to create some sort of bottle trade-in program so that folks like us (and you of course) can recycle your old SIGG bottles and get a product you feel better about in exchange?
And so, the BIGG Bottle Swap was born, thanks to our amazing partner, The Soft Landing.
As part of this cool limited time initiative, you've got the opportunity to send in your old SIGG aluminum bottles in exchange for a special 30% discount on your choice of smart stainless steel alternatives, including Kid Basix's Safe Sporter, Klean Kanteen, CamelBak, Thermos and more.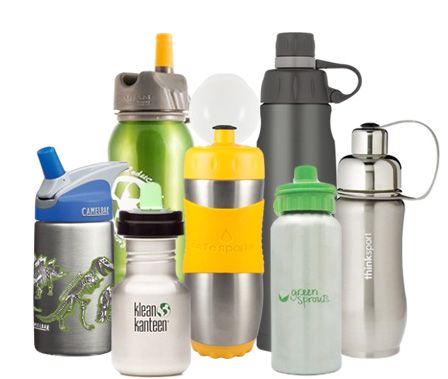 Considering that these bottles are rarely on sale and the manufacturers have agreed to participate, this a really fantastic deal. Just hop over to the BIGG Bottle Swap website for info on how to take advantage. And even if you don't have a SIGG to trade in, you can still get 20% off a new stainless bottle. Cool, huh.
Don't you just love a great outcome from a not so great situation? -Kristen and Liz
Visit the Bigg Bottle Swap at The Soft Landing or BigBottleSwap.com for more info on how to how to trade in your SIGG bottles for a discounted stainless steel alternative. But hurry! Offer ends September 14.